ST. LOUIS — A St. Louis woman could face 37 or more years in federal prison after admitting a role in luring four men to separate carjackings in 2017, including one that resulted in the fatal shooting of De Smet Jesuit High School assistant football coach Jaz Granderson.
Jherrica Dixon, 25, pleaded guilty to eight felonies, including armed carjacking, brandishing and discharge of a firearm in furtherance of a crime of violence and discharge of a firearm in furtherance of a crime of violence resulting in death. In court, U.S. District Judge Ronnie White told Dixon that three of the sentences carry mandatory minimums of ten years and one carries a seven-year sentence. All of those sentences must run consecutive to the other counts.
Granderson's mother attended the plea hearing in U.S. District Court in St. Louis. She declined to comment afterwards.
Dixon's co-defendants, Kurt Wallace and Floyd Barber, have pleaded not guilty. Defense lawyer John Stobbs said that Wallace has "indicated a complete desire to go to trial."
As part of her plea agreement, Dixon admitted carjackings on Aug. 14, Sept. 16, and Oct. 15 and 16, 2017.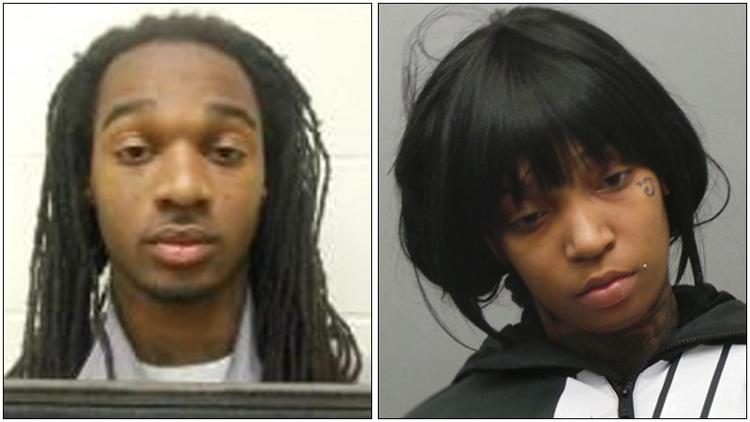 Dixon's plea says that on Aug. 14, Wallace, her boyfriend, told her to call someone identified in the plea only as "B.H." and set up a meeting so he could be robbed. She did and told B.H. to meet her in the 800 block of Gustav Avenue, in the Baden neighborhood. Wallace and others robbed B.H. at gunpoint when he arrived, and took his 2017 Dodge Charger and a gun that was inside, her plea says.
On Sept. 16, Dixon asked another man, M.H., to meet her, again at Wallace's request, the plea says. When M.H. arrived in the 300 block of Walsh Street, in the city's Mount Pleasant neighborhood, Dixon got in his 2005 Chevy Monte Carlo and told him where to park. Wallace then appeared with an assault rifle and told M.H. to empty his pockets, but the man had nothing of value, the plea says. Wallace shot M.H. in the shoulder and he ran away, while Wallace stole the car, the plea says.
On Oct. 15, Dixon called another man, J.O., and claimed her car had run out of gas in the 5800 block of Kennerly Avenue, in the Wells Goodfellow neighborhood. When J.O. arrived, Wallace fired a shot into his front windshield, then robbed him of his cellphone and 2008 Cadillac CTS, Dixon's plea says. He also shot J.O. in the leg, the plea says.
On Oct. 16, Dixon and Granderson agreed to meet in the 300 block of Walsh Street, at Wallace's direction, the plea says. When Granderson arrived, Wallace confronted and shot him, Dixon's plea says. Granderson ran, and was later found by police and medical personnel a short distance away in the 5100 block of Minnesota Avenue, along the west side of Interstate 55 south of Delor Street. Wallace and Barber fled in Granderson's 2017 Jeep Grand Cherokee, the plea says.
Granderson, who lived in the 1500 block of Biddle Street in St. Louis, was a former standout on the Kirkwood High School football team who went on to play at the University of Northern Iowa and Lindenwood University and had a tryout opportunity with the Kansas City Chiefs.