BEL-RIDGE — A Bel-Ridge police lieutenant passed his business card to a domestic-abuse victim the last time she was attacked, urging her to contact him if she needed help again.
The card with his cell phone number came in handy this week when the woman and her two young children were held captive inside her home by an angry ex-boyfriend, Bel-Ridge Police Chief Mark Harris said.
The woman texted pleas for help.
It happened about 2:45 p.m. Tuesday in the 4300 block of Rozier Drive. The 22-year-old woman at first texted a friend, saying an ex-boyfriend had just forced his way into her home. The friend called police, who were outside the home on Rozier within minutes, Harris said.
With police outside, the victim then texted Lt. Keaton Strong, whose cell phone number the victim had saved in her phone. Strong happened to be one of the officers outside.
"He's watching you out the blinds," she warned the police in a text, adding that the man was holding her against her will.
She told her ex-boyfriend she needed to call a doctor because the babies were sick. The ex-boyfriend loosened his grip so she could call a doctor, but instead she called the lieutenant. She was able to give him clues that she wasn't okay. The lieutenant asked if police should come inside, and she said yes.
They kicked open the back door and arrested Jalan E. Fowler, 23, of the 6400 block of Mount Avenue in Hillsdale. Officers found Fowler hiding in a closet, and he resisted arrest, Harris said.
The woman was treated for injuries at a hospital. The children were unhurt.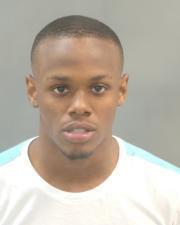 St. Louis County prosecutors on Wednesday charged Fowler with first-degree burglary, second-degree kidnapping, second- and third-degree domestic assault and resisting arrest. He was held without bail.
Harris said police had been to the house before for disturbances between the couple. Once, after Fowler was arrested in a domestic dispute there, he overpowered a police officer and ran off in handcuffs, later to be arrested in St. Louis.
The chief said he's glad his lieutenant had passed along his number because, Harris said, he believes that helped the situation end more quickly, without anyone being seriously hurt or killed. After Tuesday's attack, once the woman was released from the hospital, officers took her to Clayton to fill out paperwork for a restraining order against the man.