ST. LOUIS • A woman was killed Monday while driving on Forest Park Parkway when a 1-ton chunk of concrete fell on her car from above in what authorities called a "freak accident."
The section of concrete barrier was toppled when a white sedan crashed on Lindell Boulevard where a bridge carries Lindell over Forest Park Parkway, authorities said. The piece of concrete landed on a woman's black Tesla sedan below.
"This was a very freak accident," said Lt. Paul Lauer of the St. Louis police traffic safety division. "Unfortunately this car was here at the wrong time."
The driver of the white sedan told police she was heading south on Union Boulevard and lost control of her car shortly after she made a right onto Lindell Boulevard about noon, Lauer said.
She crashed into the concrete barrier, sending a 1-ton section of it toppling to Forest Park Parkway below. The driver of the Tesla was killed instantly, Lauer said. She was the only person in that vehicle. Police did not release her name.
Lauer said the 22-year-old woman who was driving the white sedan that set the accident in motion was taken to a hospital and was stable.
Her condition was not available.
A third car, a white SUV, was behind the black Tesla and rear-ended it. The driver pulled over a few feet in front of the Tesla. The SUV's front bumper was missing.
Police closed off vehicle and foot traffic near the bridge after the car crash and asked people to avoid the area of Forest Park Parkway between Union and Kingshighway while the crash was being investigated.
The department's accident reconstruction team was investigating. Lauer said the city's streets department will determine whether the bridge is structurally sound before it reopens.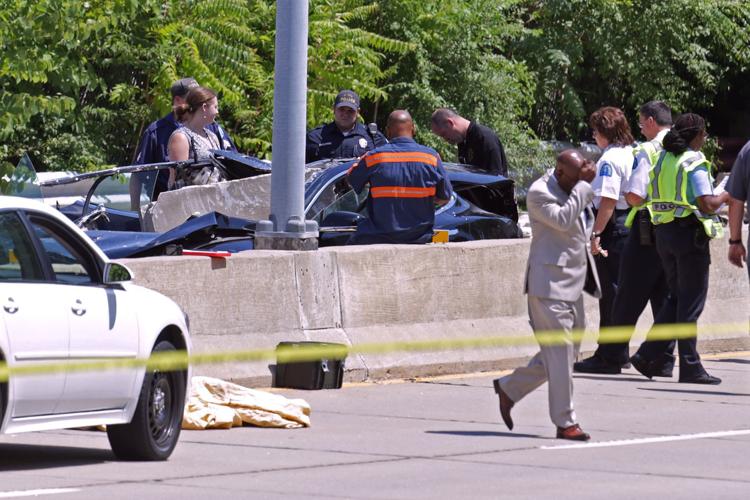 Jesse Bogan of the Post-Dispatch contributed to this report.