ST. CHARLES • A woman announced a robbery by handing a note to a teller at First State Bank, 206 North Fifth Street, at about 10 a.m. Monday, police said.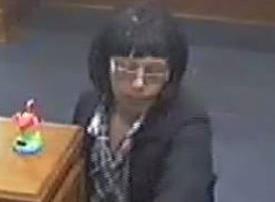 The woman never presented a weapon, and she walked away with an undisclosed amount of money.
The woman is described as black, about 5 feet 5 inches tall with a medium build and short straight black hair that is possibly a wig. The woman was wearing glasses, a black jacket, a black-and-white plaid blouse, jeans and black knee-high boots. 
After the robbery the woman left the bank and walked to the southeast, police said. 
Officials encourage anyone with information about the robbery to contact the St. Charles police at 636-949-3320.