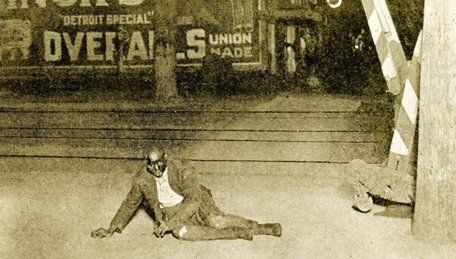 EAST ST. LOUIS • Those who live here have heard the same descriptions of their city over and again. Dangerous. Beleaguered. Forgotten.
Investors consistently bypass it for neighboring communities such as Fairview Heights and Belleville, where the tax bases are stronger and the populations are whiter. Reporters only come knocking when the story is bad news. In this town, where 98 percent of its residents are African-American and the median household income is $19,500, little good news comes to the surface.
However, those who grew up in East St. Louis remain devout about a turnaround. But that can't come, they say, until there is a wider understanding of why the city is the way it is today.
Most will point to the summer of 1917. Specifically July 2.
"100 Negroes Shot, Burned, Stabbed To Death In E. St. Louis Race War," read a newspaper headline.
"Man-hunting Mobs Burn 60 Homes and Slay Fleeing Blacks by Bullet and Rope," read another. News accounts said blacks were "roasted alive" and "shot down like rabbits" in a 48-hour period that would so severely ravage a city that it never recovered.
In fact, resilience only brought resistance in the dawn of the Civil Rights Movement, and ultimately whites abandoned the city, shutting down their businesses and leaving little tax base and few jobs.
Today, hundreds of buildings stand abandoned and crumbling. Blocks upon blocks of vacant lots are filled with weeds and trash.
The news reports from a century ago are hard to read and harder to fathom but must never be forgotten or whitewashed, said the Rev. Joseph Brown, a professor of Africana studies at Southern Illinois University Carbondale.
"One of the problems we have that people bring up all the time is that the full, unvarnished history of America is seldom told," said Brown, an East St. Louis native.
He said his hometown is talked about "as poor, broken down, welfare people. What's wrong with them? They are survivors of one of the most traumatic incidents in the U.S. I want people to have to deal with that story. We don't have to cast my past pain as a burden. We can use it as a story to heal others. That's what I teach in my classes and preach in church. You can take any trauma and help find ways so that it is no longer paralyzing or crippling."
That is the goal of Brown, 72, and others who for the past three years have served on a mayor-appointed commission to organize a series of events to commemorate the riots that happened 100 years ago.
Between 1900 and 1920, more than 100 manufacturing plants opened in and around East St. Louis, making it one of the fastest-growing cities in the country, topping out at more than 82,000 people by mid-century, a nearly 9 percent jump in a decade.
With those new jobs, blacks began migrating from Southern states such as Mississippi and Alabama to land a blue-collar job. Factory owners saw cheap labor in the 10,000 new residents; unions saw a threat to their livelihood.
"The immigration of the Southern Negro into our city for the past eight months has reached the point where drastic action must be taken if we intend to work and live peaceably in this community," wrote a leader of the Central Trades and Labor Union to its delegates on May 23, 1917.
The letter called on all union members to demand that the mayor and City Council "take some action to retard this growing menace and also devise a way to get rid of a certain portion of those who are already here."
Five days later, white laborers showed up at a City Council meeting. Later that evening, groups leaving City Hall began fanning out through downtown "attacking any blacks that they came upon," according to a St. Clair County Historical Society account.
The arrest of a few rioters did little to stop the chaos. East St. Louis Mayor Fred Mollman called the Illinois National Guard but was unsuccessful in getting them to intervene.
No one was killed in the May eruption, but that evening instilled fear in African-Americans, concerned about the escalating violence. Hundreds packed their belongings and crossed the Free Bridge (now called the MacArthur Bridge) into St. Louis, where many families would stay and their descendants live today.
Five weeks later, after two plainclothes detectives were killed by black militiamen, thousands of blacks were driven out of their homes, beaten, burned and shot. At least 7,000 blacks fled across the MacArthur and Eads bridges. But mobs soon blocked the bridges to prevent others from escaping.
Total casualties are unknown. News accounts at the time say as many as 250 blacks died, but authorities gave the official casualty count as nine white men and 39 black people.
Sandra Pfeifer, who made the documentary, said covering the riots was not where she began her work.
"I am a social issues filmmaker and was looking to do a documentary about an African-American community organizer in St. Louis," said Pfeifer, who lives near Carbondale, Ill. Along the way, Pfeifer heard about East St. Louis resident Fern Watts, a longtime community activist. Watts was a regular at City Council meetings, imploring elected leaders to improve their city by picking up trash, paving streets, beautifying vacant lots and creating neighborhoods that would attract new residents.
Watts began taking Pfeifer to neighborhood meetings and introduced her to other residents. Along the way, Pfeifer heard stories about the city's history, including the riots. She had found her story.
"There are good people there, working against a system that isn't in their favor," Pfeifer said of East St. Louis. Telling the history is vital to understanding the present, she said.
"America doesn't do shame very well," Pfeifer said. The documentary is dedicated to Watts, who died in 2008.