ST. LOUIS — More than 65 prosecutors have quit or have been fired from the Circuit Attorney's Office since January 2017. That's more than 100% turnover — a half-dozen more lawyers have left the office than were on the roster when Kimberly M. Gardner took charge 2½ years ago.
Some prosecutors became judges. Many forged new paths in criminal or civil practice. Others now teach criminal justice at area colleges, while a few retired from law after decades as prosecutors.
The departures mean a combined 470 years of experience prosecuting crimes in St. Louis has left, according to a Post-Dispatch analysis of staff rosters. The effect, according to former staffers and defense lawyers, is a state of dysfunction, low morale and a dearth of legal wisdom.
"It's not normal to lose that many people," said former Assistant Circuit Attorney Jeff Ernst, who left last year to join his brother in private practice. "The real concern is you don't have the people that are entrenched that can teach the people fresh out of law school how to be prosecutors."
Fewer than 15 assistant prosecutors who served under former Circuit Attorney Jennifer Joyce remain. The turnover means serious cases are often reassigned to overloaded, less experienced prosecutors without the necessary trial preparation or ability to retain witnesses, critics say. As a result, major cases often get dismissed on the eve of trial.
Gardner declined to discuss the state of her office with the Post-Dispatch. Her spokeswoman, Susan Ryan, did not respond to emailed questions or make Gardner available.
Mary Fox, district public defender in St. Louis, says high turnover is natural and that her office, too, constantly struggles to keep pace with departures. She said about two dozen lawyers from her staff of 28 public defenders have moved on since the start of 2017. And it's understandable that turnover is even higher in Gardner's office, she said.
"Whenever there's a new person in charge, there is turnover," Fox said.
Gardner campaigned as a reformer, part of a nationwide wave, and has promised to reduce jail populations, expand diversion programs, demand more thorough police investigations, and reduce crime before it starts.
"You're going to get some of that turnover when you have a progressive agenda," said defense lawyer and former city prosecutor Jerryl Christmas, who spoke at a Gardner support rally Thursday at City Hall. "Because that has not been the norm for the circuit attorney."
Others say the exodus is anything but normal.
Bennett L. Gershman, a law professor at Pace University in New York and and former prosecutor in Manhattan, said the turnover rate in Gardner's office is "astonishing." It's unusual, he said, for enthusiastic new hires, their minds focused on "serving the public, making the community safer and doing justice," to leave so quickly.
"That has a drastic, drastic impact on the system," he said.
Major staff upheavals can make it tough to maintain momentum on cases and put more pressure on remaining prosecutors as well as crime victims, said St. Charles County Prosecutor Tim Lohmar, who is also president of the Missouri Association of Prosecuting Attorneys.
Critics of Gardner say the exodus of experienced prosecutors has led to fewer convictions and a rising dismissal rate.
Data from the 22nd Circuit Court show the dismissal rate of felony cases over the past 32 months is the highest it has been in a decade. Through August of this year, the Circuit Attorney's Office has dropped 31% of all resolved cases, more than double the dismissal rate of any year this decade except for last year, when it was 23%.
"Quite honestly, the office is made up of rookies and that's why I think the win rate is so bad," said Terry Niehoff, a longtime St. Louis defense lawyer, former Jefferson County prosecutor and frequent Gardner critic.
"Some people want to go through it with me, and some do not," she told the Post-Dispatch in 2017. "Most of those people who left, I'm not missing them."
About 20 more prosecutors left last year. So far this year, the office has lost more than a dozen prosecutors including former First Assistant Robert Steele, who now works under St. Louis County Prosecutor Wesley Bell. Five others have quit or have been fired in the past several weeks; another is heading to a U.S. attorney's office in Illinois.
It's not just trial attorneys leaving. Executive staffers have gone, too. Gardner's second chief of staff recently quit; she is on her second first assistant and her fourth chief trial assistant.
By comparison, Bell, who runs a similarly-sized office, has lost seven prosecutors in his first nine months: three have resigned and Bell has tried to fire four, resulting in $170,000 in legal settlements for three of them. The key difference between the offices is that St. Louis County prosecutors have civil service protections, whereas city prosecutors can be fired at will.
In public, Gardner continues to emphasize the importance of restoring trust in the community, repeating a mantra central to her reform agenda: "We cannot arrest or prosecute our way out of this situation."
She says her office's diversion programs have helped reduce crime and the city jail population; she says she's proud of holding police to account, prosecuting bad cops and scrutinizing evidence presented by police. At a July 18 public forum at St. Louis University, she said her office declined charges in 60% of the 5,000 cases brought by police between January and June because of insufficient evidence.
"I'm not saying that we don't have a crime problem in the city of St. Louis. But with these reforms," Gardner said at the forum, "crime is going down with the efforts of a public-safety and harm-reduction model."
Jail populations are dropping: The average daily inmate count at the city's two jails has declined 23% since 2016. Violent crime rates, however, are on their way back up: homicides through August are up 16%; robberies are up 3%; shootings, 6%. Only reported rapes are down, by nearly 20%.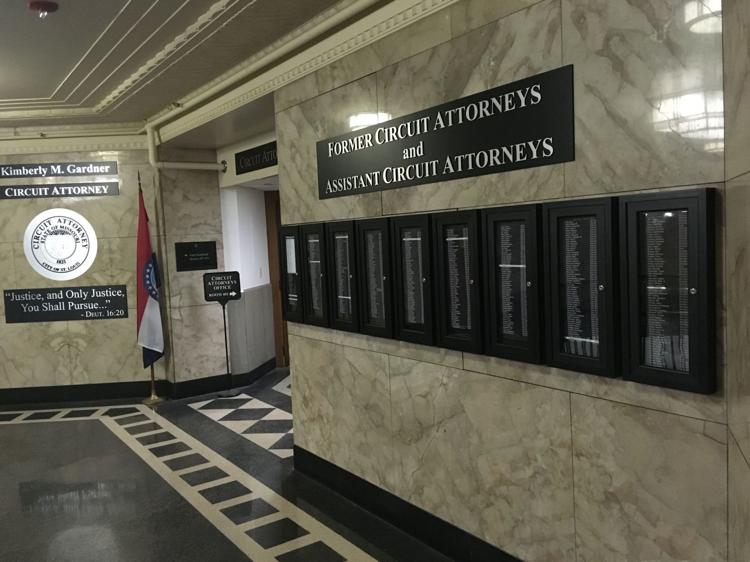 The lobby wall just outside the Circuit Attorney's Office in the city's Carnahan Courthouse features nine glass cases that list not only the names of former circuit attorneys, but also the hundreds of prosecutors who have left over the years.
The far-right box includes Gardner's hires.
It's already full of the names of those who have left.
And it hasn't even been updated since June.