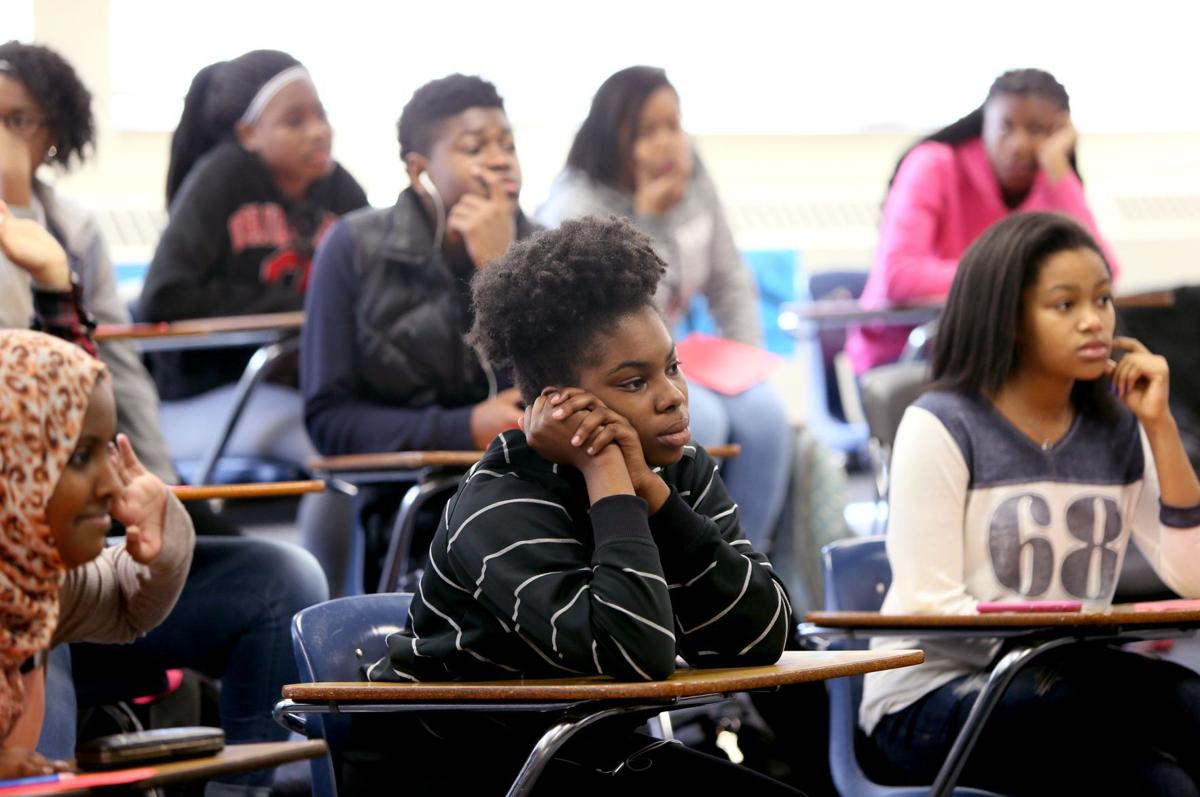 UPDATED to include the number of AP courses that Normandy High will offer during the 2016-17 school year. 
Chris Belcher was alarmed several years ago when as superintendent of Columbia, Mo., schools, he entered the city's diverse high schools and saw very few African-American and low-income students in Advanced Placement classes.
"It was terrible," Belcher said.
So he took a drastic step. Working with principals, he changed procedures in the 2012-13 school year and removed prerequisites, such as high grade-point averages. All students with college ambitions, the district hoped, could enroll in at least one AP class.
That year, 239 additional low-income and minority students in two high schools enrolled, almost entirely erasing the racial and income disparities in the courses. The passing rates on exams remained unchanged. Of the juniors who otherwise may not have taken the classes, 90 percent took another one the following year, Belcher said.
Now Belcher is working with three districts in the St. Louis area to increase access to the rigorous college-level courses.
The Parkway, Ferguson-Florissant, and Belleville Township High School districts have agreed to a yearlong partnership with Equal Opportunity Schools, a nonprofit organization based in Seattle that worked with Belcher to address the disparities in Columbia. Belcher now works for the organization as a superintendent-in-residence.
"We want to change the whole conversation about education reform," he said. "It's not about fixing what's broken. It's about leveraging what we're doing well already and getting more kids into the rigorous programs."
Equal access to AP courses is a concern throughout the area and the nation.
Expanding access to rigorous high school curriculum is a goal of the Missouri Department of Elementary and Secondary Education, which considers the issue on par with improving teacher quality in high-poverty schools. The state also is working to encourage the expansion of AP course offerings in rural high schools, where they're in short supply, said Paul Katnik, an assistant commissioner of education.
Illinois is the first state partner to work with Equal Opportunity Schools on a statewide level to tackle the issue.
Curriculum for AP classes is developed by college professors. Studies show that students who take those classes are far more likely to complete college with a degree.
African-American and low-income students are less likely to enroll in these classes for a number of reasons — partly because high schools with high concentrations of black and low-income students tend not to offer them.
At Lafayette High School in the Rockwood School District, which is predominately white, 27 AP classes were offered in the 2014-15 school year, ranging from Latin to environmental science and art history. In the Normandy Schools Collaborative, which is almost entirely black and low-income, no AP courses were offered in that year. Next year, however, Normandy High will offer seven.  
In schools where AP courses are plentiful, education experts here and elsewhere say barriers have limited access to the classes for minorities and low-income students. Those barriers appear in the enrollment procedures, which often require permission from counselors and teachers to enroll.
In Parkway, district staff has worked for years to improve access to tougher classes and gifted programs. But the disparities persist.
Lisa Meridith, assistant superintendent of teaching, learning and accountability for Parkway, said she was eager for Equal Opportunity Schools to challenge district staff on their practices.
"Traditional public schools have been working the same way for many, many years," Meridith said. "Sometimes when you work and live that on a daily basis, it's hard to see some of the unintentional barriers that may exist."
The organization will be surveying teachers and students in each of the high schools in Belleville, Ferguson-Florissant and Parkway to get a sense of how they view AP classes and issues related to access.
They'll also use the survey to identify students who show potential for success by considering nonacademic factors, such as a student's college aspirations and perseverance. Those attributes are better predictors of success in AP classes than grades, Belcher said.
Through that analysis, Equal Opportunity Schools will give high schools a list of students who should be recruited to take the classes.
And in places where there's a shortage of AP courses, such as the Ferguson-Florissant School District, the organization is helping administrators plan which AP courses to offer and how to foster student success in them.
Superintendent Joe Davis has been talking about increasing rigor throughout the Ferguson-Florissant district since his arrival last summer. A number of teachers are working to get certified to teach AP, so that schools such as McCluer South-Berkeley High can expand AP course offerings. Davis said he hoped the partnership would help identify students who could be successful in more challenging classes.
Davis is speaking with parents of gifted sixth-graders about potentially expanding the middle school gifted program to five days a week, starting with sixth grade.
"It's really about preparing children for college," Davis said. "Many of our students are living in poverty. That should not be a predictor of whether our kids are ready for college."
The partnership with Equal Opportunity Schools costs about $50,000 per school. Donors who support the organization cover $25,000 of that cost. In Missouri, the education department is covering $10,000, Belcher said. It was up to school districts to come up with the rest.