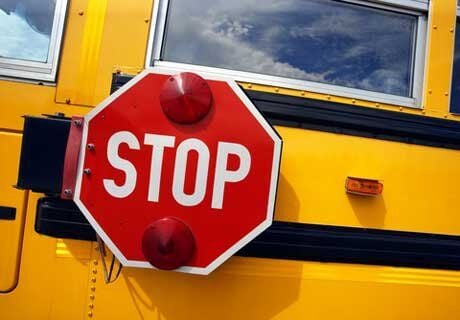 Three Parkway West Middle School students were suspended in connection with a fight on a school bus last week that at one point involved a student with a "Make America Great Again" cap.
The conflict began with an argument Wednesday between two male students on an after-school activity bus, according to the school district. It was unclear why they were arguing.
At some point during the dispute, one of the students put on a "Make America Great Again" hat, which sparked further conflict with the other student, said Cathy Kelly, Parkway School District spokeswoman.
The phrase was President Donald Trump's campaign slogan during the presidential election.
Both students hit each other in the face, Kelly said, but neither was seriously hurt.
In a Snapchat video of the incident obtained by KMOV (Channel 4), an argument about Trump's proposed Mexican border wall could be heard, in addition to multiple curse words.
The mother of the student with the hat spoke to KMOV and said she believes her son was targeted and bullied because of his political beliefs.
She could not immediately be reached by the Post-Dispatch.
Both students involved were suspended. A third student who videotaped at least part of the incident and posted it online was also suspended, for "verbally escalating" the conflict.
"We regret that this incident occurred as it does not reflect the positive character we expect from our students," the Parkway School District wrote in a statement published Sunday.
"We will continue to work together with students, staff and families to ensure all students learn to treat each other with dignity and respect."
Parkway administrators conducted an investigation of the incident using video footage from cameras inside the school bus.