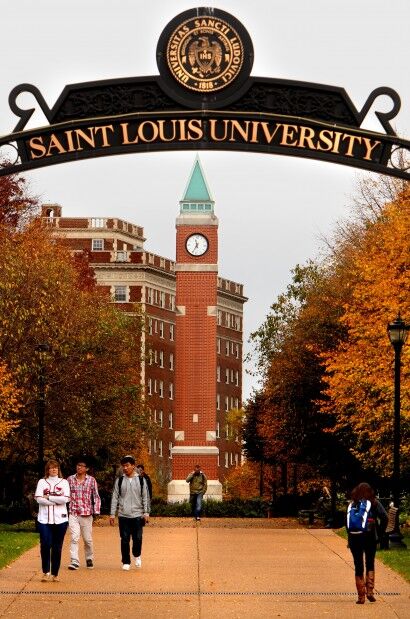 ST. LOUIS — St. Louis University will formally launch a department of African American Studies this fall, during a time of racial reckoning for the Catholic church.
The campus will be the fourth of 27 Jesuit universities in the U.S. with a department of African American studies, following Fordham, Georgetown and Loyola Marymount universities.
People enslaved by Jesuits helped build Catholic schools and universities, including Georgetown, founded in 1789. Earlier this year, the leaders of the Jesuit conference of priests said they plan to raise $100 million in reparations for the descendants of slaves and to put toward racial reconciliation programs.
While courses in Black Studies have been offered at SLU since the early 1970s, the promotion to full department means greater autonomy and resources for hiring professors and developing a curriculum.
The push for a full department at SLU has been in the works for decades, but the police killings of Michael Brown in Ferguson, VonDerrit Myers Jr. in St. Louis and George Floyd in Minneapolis all accelerated the movement.
SLU is "really trying to be responsive to what the local community in St. Louis was demanding of all institutions," said Christopher Tinson, the new department's first chair.
The move also puts graduate-level degrees on the horizon at the university, which has offered a bachelor's degree in African American studies since 2010. About 25 students graduate in the major each year, with another 30 minoring in African American studies. More than 300 students take courses each year. Black students represent less than 6% of the SLU undergraduate population.
After months of campus sit-ins and vigils following Brown's death in 2014, the 13-point Clock Tower Accords for equity were developed by the campus community "to at least gave some guidance to a vision for a transformed university in regards to racial justice," Tinson said.
One of the demands included increased funding for the African American studies program, which led to Tinson's hiring as director in 2018.
After Floyd's death last May, Black faculty and staff members met virtually every Friday over the summer, building more pressure to create a full department.
"The Clock Tower Accords gave SLU the space to think more critically about what kind of community it wanted to create," Tinson said.
Programs and departments in Black studies first emerged on college campuses during the Civil Rights Movement of the late 1960s. At Washington University, courses in Black studies were offered starting in 1969, "to reassure students about the core mission of their education: to change the world's values to bring about the liberation of African-descended peoples from the thralldom of Eurocentric hegemony," according to the university's website.
In 2017, Washington U.'s Black studies program evolved into the African and African American studies department. Gerald Early, the first department chairman, said at the time that starting a department was a political as well as academic goal, to "bring more presence and prestige to the study of African-descended peoples."
Graduates of African American studies at SLU have gone on to law school, teaching, working for nonprofit organizations or crafting policy, Tinson said.
"We're preparing you to be a conscious and critical citizen. These are skills you're going to develop as a result of being here," he said.