When schools let out in May, there were signs of a more normal return to class this fall. Most teachers got vaccinated, summer schools and camps started without masks and COVID-19 cases continued to drop.
But in July the highly contagious delta variant of the coronavirus took over and cases spiked again, particularly in kids younger than 12 who are ineligible for the vaccine.
As St. Louis-area schools prepare to open their doors Monday, uncertainty hangs over the third academic year disrupted by the pandemic.
There are hints from schools that have already opened. Districts scattered across the country have delayed their starts or already switched to virtual learning. More than 20,000 students are under quarantine in Mississippi one week after school started there.
The challenges could be a preview for local schools, particularly districts in Jefferson and St. Charles counties that aren't requiring masks for students or staff. And because most school districts are not providing a virtual or hybrid option, kids can't spread out in half-empty classrooms like last year.
But there is room for optimism. Last year, schools did not turn out to be super spreader sites and experienced very few outbreaks. Many districts reported no confirmed cases of the virus in their schools.
"We're in a way, way better position this year because we have a lot more knowledge," said Dr. Jason Newland, a Washington University pediatrician. "No doubt delta is more transmissible. But it should not matter what the variant is, if you put a barrier in place like a mask, it's still going to work."
Academics
The phrase "learning loss" is debated in education circles as schools grapple with the academic impact of the pandemic. Some worry that virtual school was a poor substitute for the classroom and students will need to make up a lot of ground. Others say learning loss is a myth — that living through the stresses of a pandemic will ultimately prove more valuable than algebra.
Early indicators show significant drops in test scores from spring of 2019 to spring of 2021 (all public schools canceled standardized testing in 2020). Elementary school students tested five months behind in math and four months behind in reading, when compared to similar students before the pandemic, according to a July report from the consulting firm McKinsey and Company.
In Missouri, statewide test scores from spring 2021 are expected to be released as early as next month. School-specific numbers will be delayed because a number of districts will test again this fall after falling short of the minimum participation requirement in spring.
One local tutoring program is ramping up its efforts based on requests from superintendents. The Oasis Institute, based in St. Louis County, pairs older adults as volunteer reading tutors with students in schools. The group needs more than 500 extra volunteers this fall, said Paul Weiss, president of the nonprofit.
Last year the group launched virtual tutoring and pen pal programs, but they weren't as effective as in-person partnerships, Weiss said.
"Kids have been disconnected from people outside of their families, and the results are synchronous because adults have had to deal with social isolation themselves," he said. "This connection is especially important right now."
Cash and kids
Missouri public schools are set to receive nearly $2 billion in federal pandemic relief money allocated last spring. District leaders have broad flexibility to use the funds to counteract academic loss and promote the well-being of students and staff. Hancock Place School District in south St. Louis County hired 13 staff members to reduce class sizes and offer more counseling services.
But the emergency cash infusion won't help in the future if enrollment continues to decline.
Missouri public schools lost 28,450 students, or more than 3% of the total enrollment in preschool through 12th grade from fall 2019 to fall 2020. In some local districts and charter schools, including Maplewood-Richmond Heights, Normandy and City Garden Montessori, the enrollment drop was higher than 10%.
The top question is whether the record number of students who shifted to private or homeschooling last year will return. One survey in July showed about 94% of white parents and 82% of Black parents said they planned to send their children back to school in-person this fall, according to the Rand research group.
Anecdotal evidence from social media shows some local parents threatening to pull their kids from class over mask policies — either they believe it's not safe to send them without a mandate, or they don't think kids should have to wear them.
'Adjustment struggles'
Some students haven't seen the inside of a classroom in 18 months, if ever. They've been separated from their peers and missed out on social activities.
Parents can help ease their child's transition back to school and larger crowds, said Jameca Woody Cooper, a local counselor and professor at Webster University's School of Education.
"Pretty much all children are going to have some level of anxiety returning because they've been out so long," she said. "I would tell parents to expect adjustment struggles."
Cooper said anxiety looks different in children than in adults, so parents should watch for temper tantrums, changes in sleep and appetite, and sudden complaints of headaches or stomachaches.
"A lot of times parents think, I'll be able to just look at my child and see if they're struggling," she said. "I would encourage parents to communicate frequently and check in with their children daily."
School districts boosted their summer social activities, with many ditching the drive-thru events that were popular last year.
For the first time, the Normandy Schools Collaborative hosted Rock the Block parties this month in four of the cities where their students live — Pagedale, Wellston, Velda Village Hills and Pine Lawn — to build enthusiasm for a full return to in-person school.
University City schools hosted wellness activities on opening day for staff, including walking with llamas, decorating cupcakes, making lotion and dancing.
Superintendent Sharonica-Hardin Bartley told her team that she expects them to practice self-care this year.
"I know from experience that it's hard to radically love others if you don't at first radically love and care for yourself," she said.
Teachers prepare for the start of school at Mesnier Primary
Waving to the Cougar mascot during open house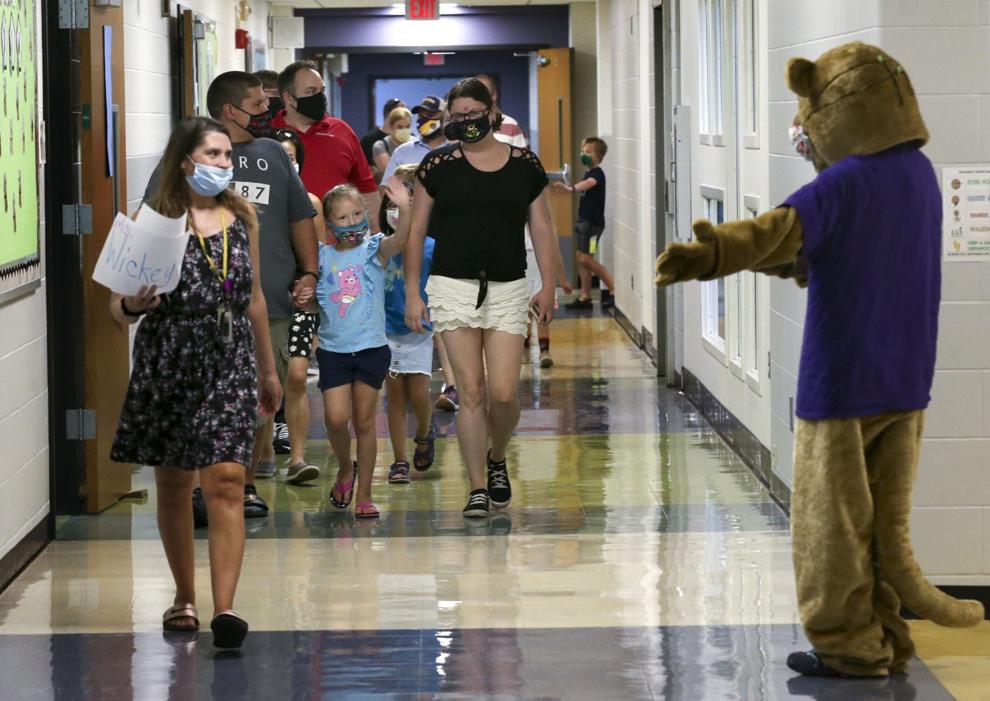 Welcome back flip-flops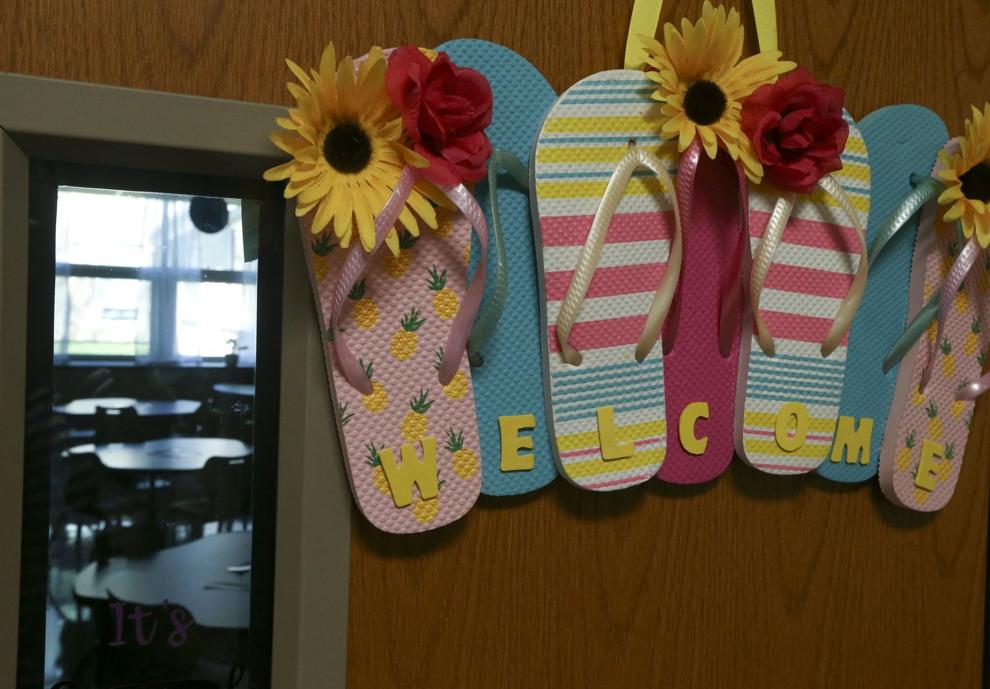 READ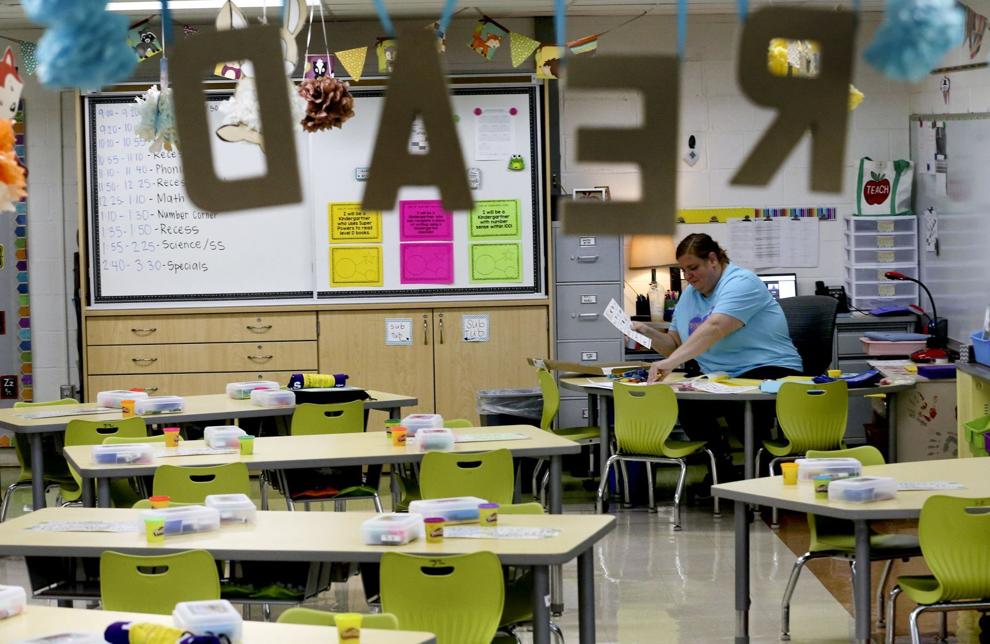 Second grade teacher Courtney Thomas meeting her students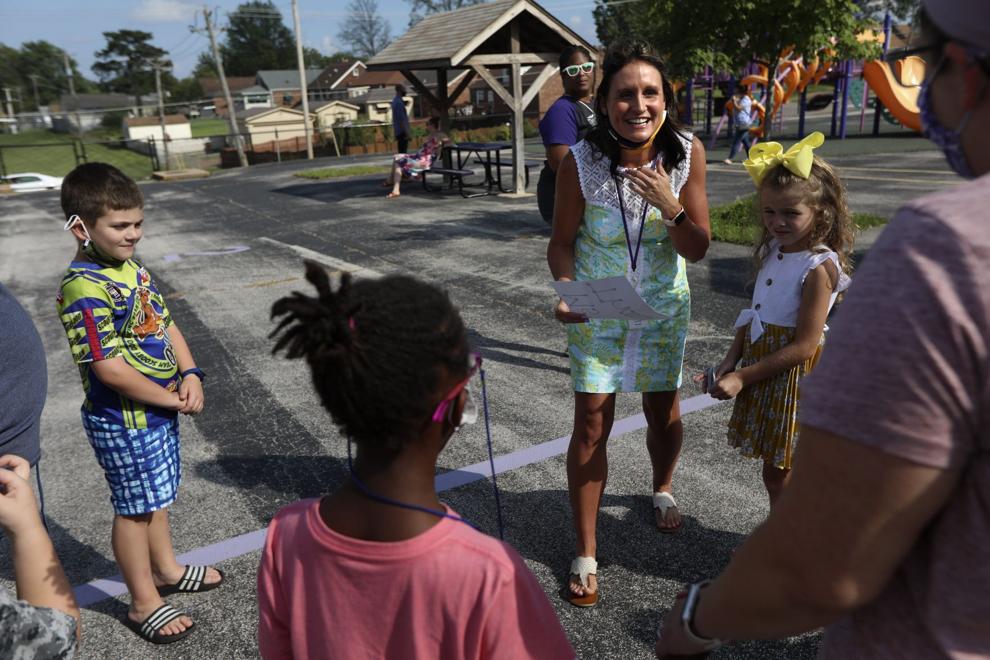 Waving to the Cougar mascot during open house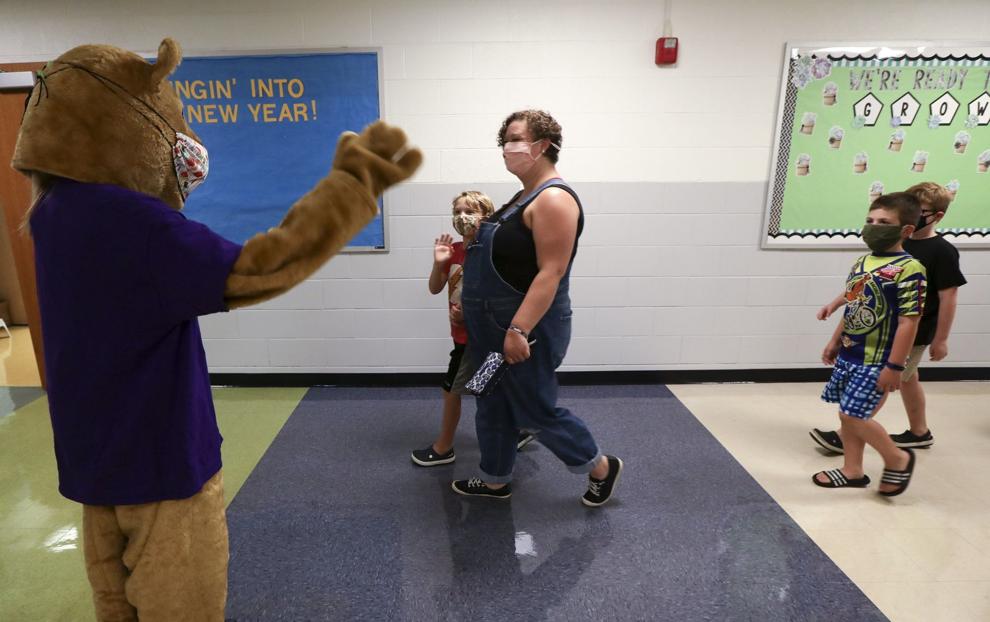 Second grade open house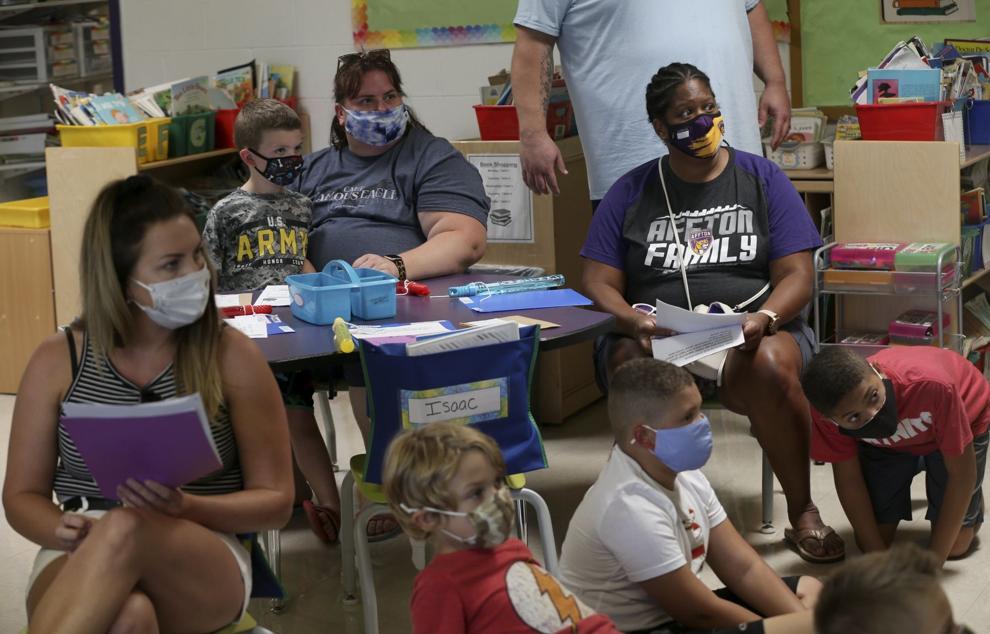 Second grade open house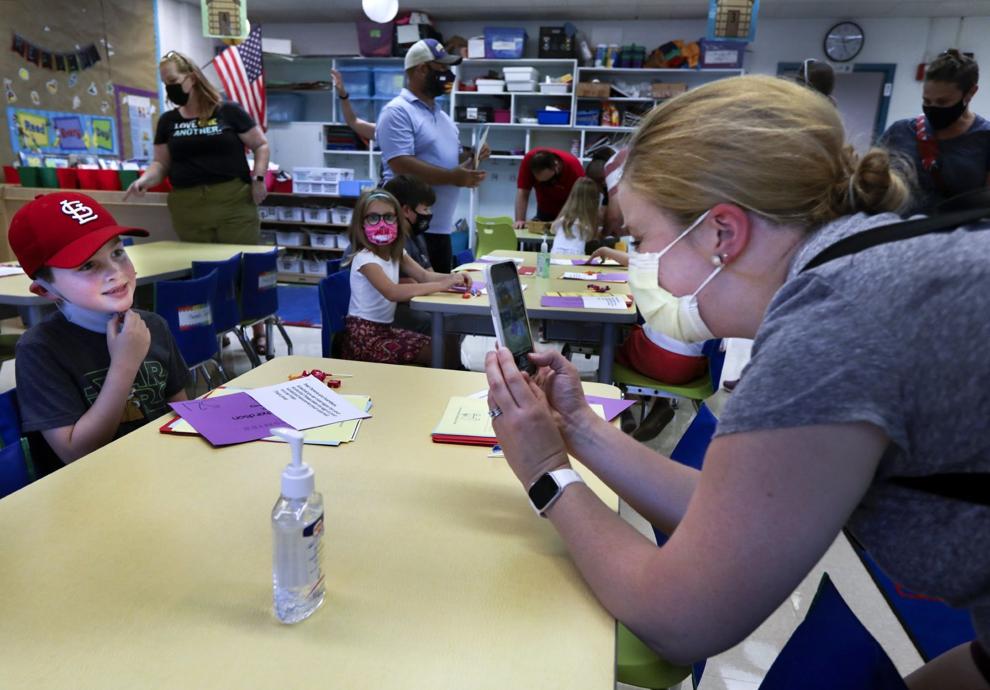 Soaring into second grade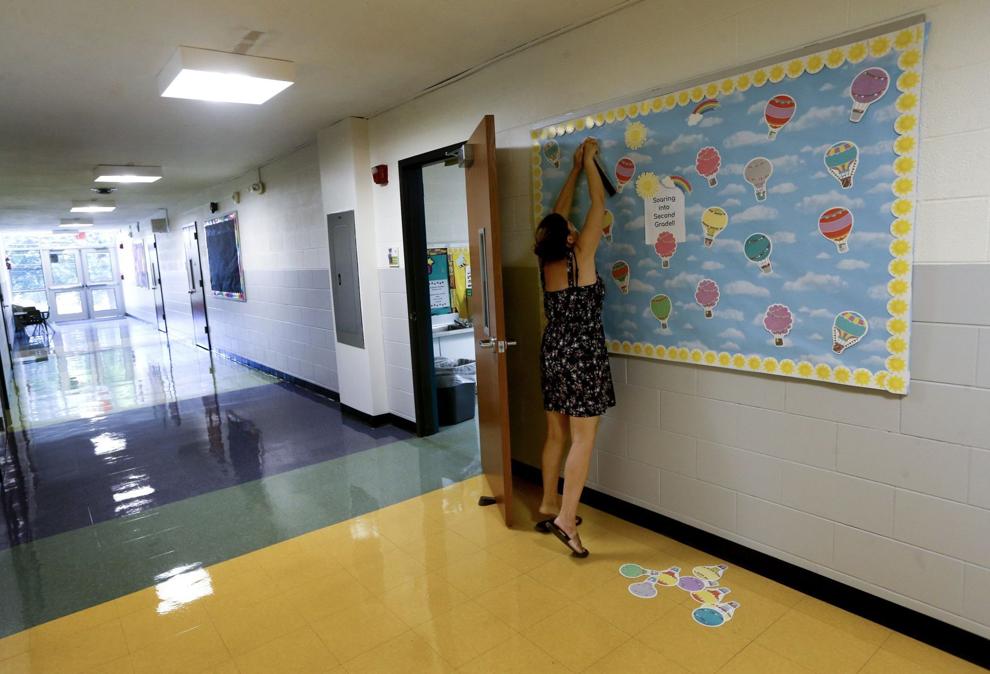 Organizing classroom library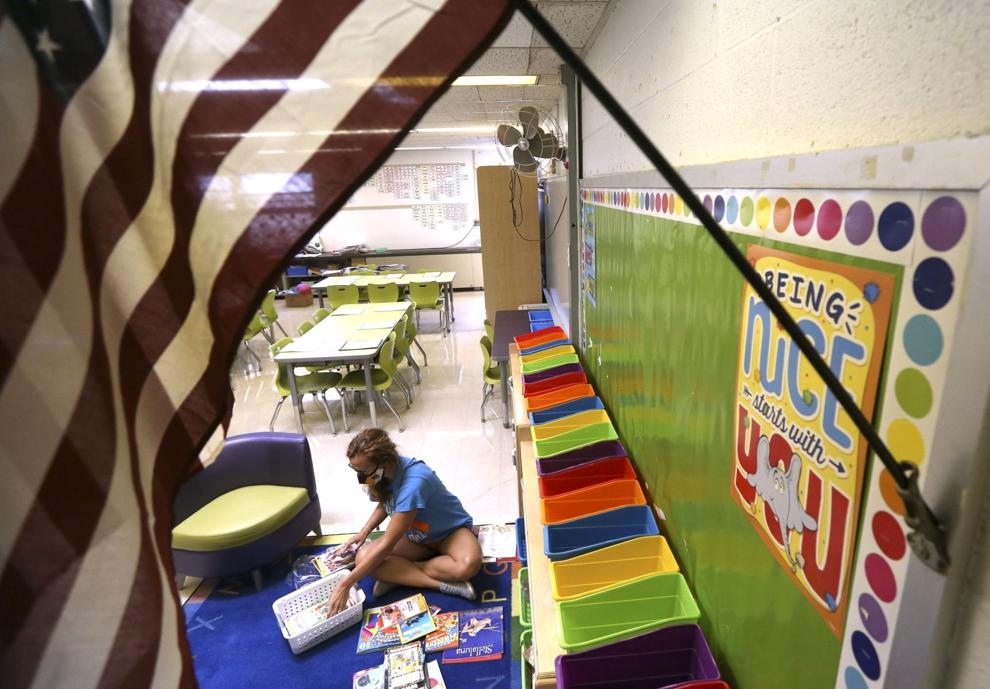 Meeting the students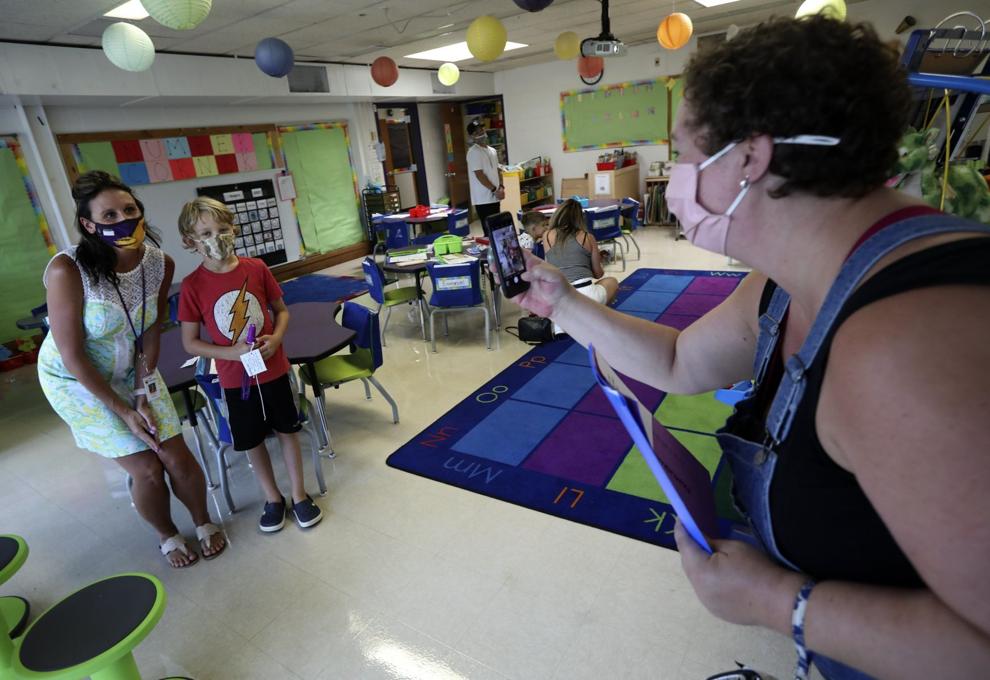 Treasure hunt during second grade open house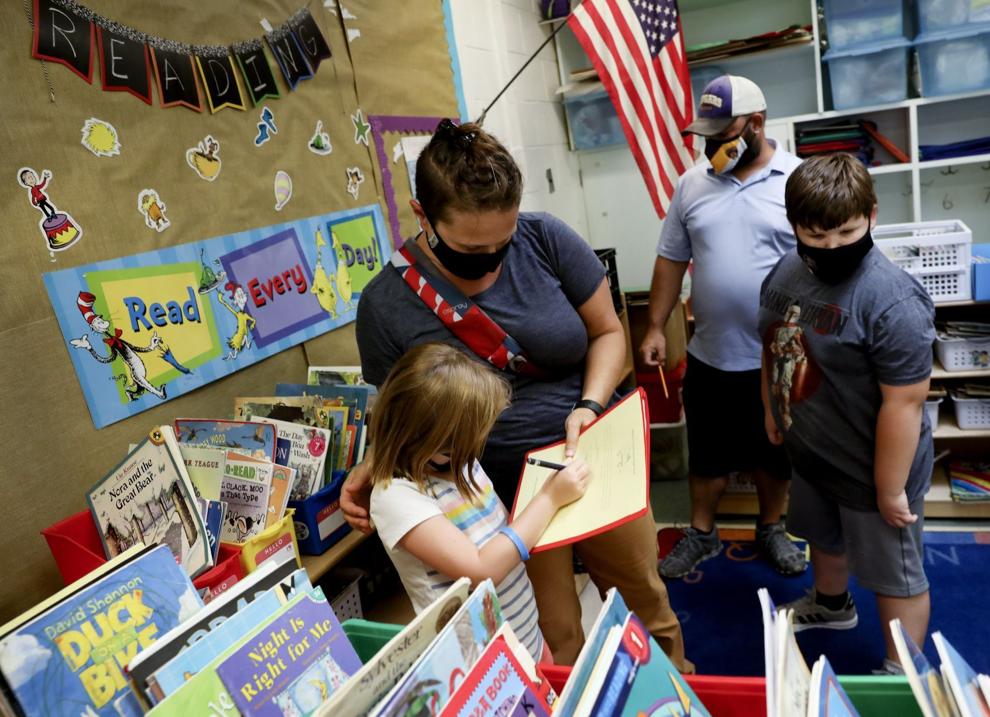 Soaring into second grade