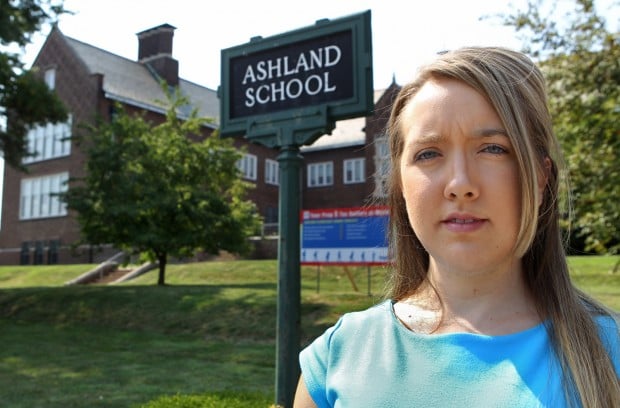 ST. LOUIS • Laura Sahaida knew teaching kindergarten at a low-performing elementary school in the city would be a tough job — but not like this. Just six days after she started at Ashland Elementary this school year, she decided to resign.
She was leaving each day feeling defeated. She had no teacher's aide. She couldn't control her classroom of 21 kindergartners, most of whom had not attended preschool.
"I had lessons planned for teaching them the routines and procedures. But I couldn't get the class to sit still for five minutes," said Sahaida, who previously had worked in the Kirkwood and Ladue school districts.
More than 50 teachers have resigned from St. Louis Public Schools in the past 10 weeks, putting the district in the difficult position of looking for replacements when there aren't many applicants.
Half of those resignations came after the first day of school, according to the district. They are reflective of the high number of new hires in the 72-school city system and the challenges new teachers face when teaching in a city classroom for the first time.
"There are a lot of people coming to the district who can't cut it," said Mary Armstrong, president of St. Louis American Federation of Teachers Local 420. "They don't feel it's a fit for them and they're quitting."
The district employed about 1,900 teachers in June. Teacher departures this school year are about 25 to 30 percent higher than in recent years, district figures show.
Since last spring, the district has sent recruiters as far as Michigan and Mississippi in search of talented educators who could elevate the level of instruction in the struggling city school system. They have had to replace 207 teachers who accepted an early retirement package the district offered last spring to save money. An additional 187 teachers, principals and other staff resigned at the end of the year, most to take jobs at charter schools or districts in surrounding counties.
Andrew Goodin, St. Louis' science teacher of the year, left Soldan International Studies High School for Grand Center Arts Academy, a charter school near the Fox Theatre. Some principals departed for neighboring school districts where they often received more than $20,000 in additional pay.
"It's a perpetual and significant challenge for St. Louis Public Schools," said Rick Sullivan, president of the district's Special Administrative Board. Keeping talented teachers and principals, and mentoring new hires, is a common item of discussion in the district. School officials are looking at "alternatives and options that will allow us to retain more good people," Sullivan said.
The district's human relations staff has also had to scramble to hire teachers in recent weeks to respond to larger-than-expected enrollments at some of its 72 schools, particularly at the elementary level.
Sahaida accepted her job one day after the school year had started, and was hired to address the influx of kindergartners at Ashland, 3921 North Newstead Avenue, in the Penrose neighborhood.
She arrived the following day without any introduction to a classroom where computers were not yet hooked up. The smartboard didn't work. The support she has encountered in other districts wasn't there, she said. And then there was the challenge of teaching children who hadn't acquired the social skills that more affluent children receive in preschool.
Sahaida's experience is typical of new hires in urban classrooms, where a greater percentage of children live in poverty and come to school with health, family and other issues on a larger level than in more affluent suburban districts. Teachers often aren't ready for it.
"This is a pattern we see in all urban districts," said Carole Basile, dean of the College of Education at the University of Missouri-St. Louis. The university is working to do a better job of training teachers for these experiences.
Based on historical data, a quarter of teachers in St. Louis Public Schools leave after the first year in its schools. In charter schools, the percentage is greater — 30 percent, according to the most recent annual report by the city teachers' pension system.
St. Louis Superintendent Kelvin Adams has worked since 2008 to slow the revolving door. He's working with the teachers union to match up new hires with master teachers to provide support and mentoring throughout the school year. He's working to set up a similar program for new principals.
But that can only go so far when a job across the county line can mean a salary increase upwards of $20,000.
Bruce Green, the principal credited with turning Carnahan High School of the Future into a school with national standing, left this year for Hazelwood Central High School in the Hazelwood School District. His salary jumped to $119,187 — a $21,000 pay increase.
Evelyn Woods and Gerald Williams, principals of Sigel and Monroe elementary schools, also left for Hazelwood schools. Woods' salary jumped by $26,000 to $105,000. Williams rose by more than $16,000 to $96,000.
Hazelwood Superintendent Grayling Tobias said his district did not recruit the principals away from St. Louis Public Schools. They applied, he said.
"We placed them on a salary scale that's commensurate with their abilities," Tobias said.
Other principals left for Normandy and Riverview Gardens schools, where they also received a bump in pay. So did the pay of most teachers who left for other districts, based on average salaries.
"In order to be on par with other districts, we have to find a way to increase the amount of money that's filtering into the classroom," Armstrong said.
Sullivan said the issue is broader than just pay.
"While salary is always important, in my view it's a lot less of an issue in education than other professions," he said.
For Sahaida, the issue was simply support. In the six days she was at Ashland, teachers tried to help her as much as they could, she said. But it was being thrown into a chaotic environment without backup that persuaded her to leave.
And now the district looks to replace her and the other hires who have resigned. "People aren't breaking down the door to come to St. Louis Public Schools to work," Armstrong said.
EDITOR'S NOTE: THE TURNOVER RATE AMONG FIRST-YEAR TEACHERS AT CHARTER SCHOOLS WAS CHANGED IN THE STORY DUE TO A MORE RECENT PENSION SYSTEM ANNUAL REPORT.