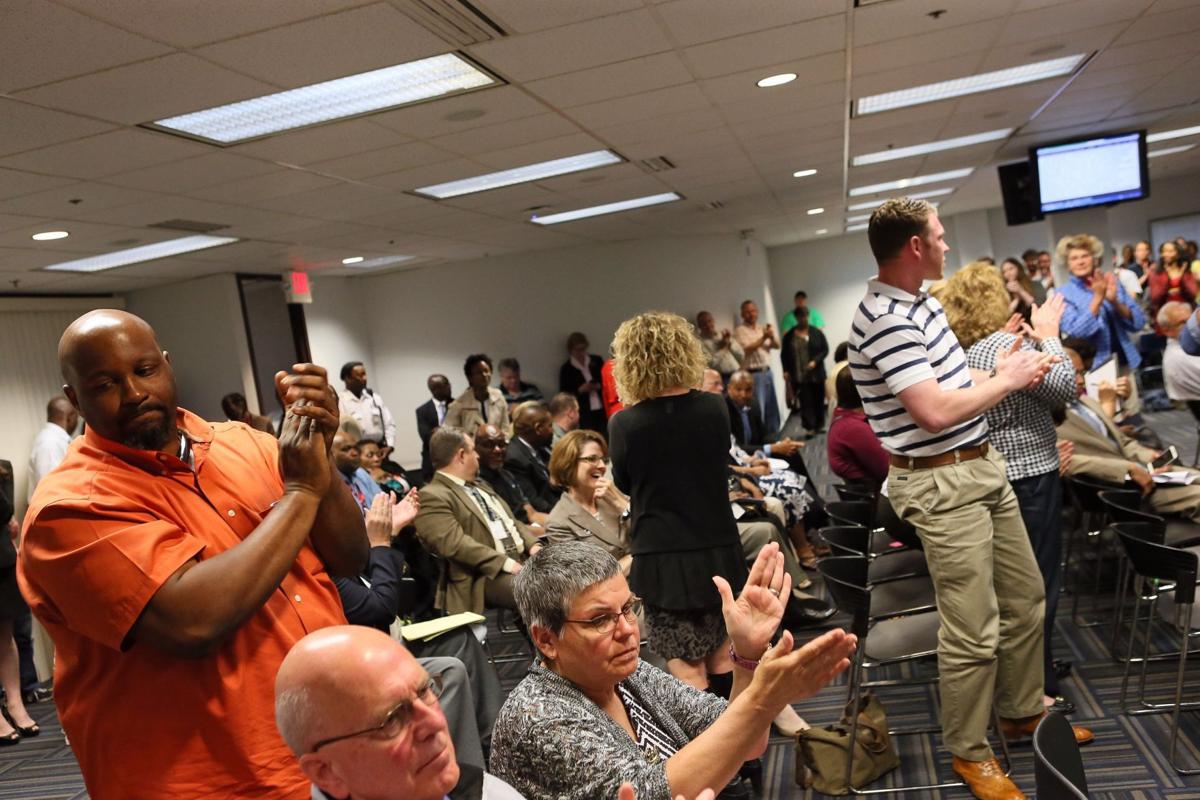 ST. LOUIS • About 70 charter school parents filled the boardroom of St. Louis Public Schools' central office Thursday hoping to convince district leaders to drop the legal action that threatens the survival of charter schools.
Some parents described how their children are thriving in charter schools such as Lafayette Prep Academy, St. Louis Language Immersion Schools and Gateway Science Academy — schools some chose over moving to the suburbs, they said. And they asked the three members of the Special Administrative Board to withdraw their request that a federal judge enforce the decades-old desegregation settlement agreement, which could bankrupt the city's system of charter schools.
"Whether or not your motion is justified, this action hurts our city," said Angelee Brockmeyer, whose children are in district and charter schools. "The impact is negative, both short and long term."
Half of the crowd stood and applauded her.
Rick Sullivan, Melanie Adams and Richard Gaines were silent as parents took their turns at the lectern. The three members of the SAB haven't yet spoken publicly about the situation since they and other plaintiffs filed the motion in U.S. District Court on April 11.
Their motion is not a lawsuit against charter schools. Rather, it argues that the Missouri Department of Elementary and Secondary Education has violated the 1999 desegregation settlement agreement by indirectly sending more than $42 million of desegregation money to charter schools over 10 years — money they say should be returned to the district.
The money in question comes from a 2/3-cent sales tax city voters approved in 1999 to replace state funding that was paying for expensive court-mandated desegregation programs in district schools, such as full-day kindergarten, transportation to magnet schools, and the buses that take thousands of African-American students to predominantly white schools in St. Louis County.
The local funding was required by the desegregation settlement agreement in which a federal judge specified the money could only be used for those purposes.
Then in 2006, the state began including the desegregation revenue when it determined how much money to withhold from the district each year to send to charter schools. About $8 million was diverted this school year alone.
Parents asked the SAB if getting the money back from charter schools is worth the crisis that could ensue if all 35 schools were to close in one year. "Once this money is taken away from the charter schools, charter schools will crumble," said Michelle Neals, whose son is a second-grader at Lafayette Prep Academy. "Please listen to us."
Charter schools are tuition-free public schools that operate independent of the school district. They enroll about one-third of the children who attend public schools in St. Louis.
Sources say the outcry from the charter school community has caught district officials off guard. Throughout the meeting, members of the SAB listened with unsettled expressions as parents accused them of hurting education in the city. Superintendent Kelvin Adams left the meeting before public comments to attend commencement at Clyde C. Miller Career Academy.
"I did not expect the narrative to be charters versus St. Louis Public Schools," said Veronica Johnson, an attorney who represents the NAACP in the litigation, before the meeting began. "I expected there to be an outcry among the voters that a sales tax they had approved for a certain purpose was being diverted. That's a principle that should offend every taxpayer."
Johnson said plaintiffs have no intention of withdrawing the motion. "It's the state that is responsible for the diversion," she said. "It's the state that has to repay the money that they diverted."
Susan Turk, usually a critic of the SAB, commended the board for going after the funding. "It is doubtful that vote would have passed if voters thought the money would go to schools who were not required to use it for those specific remedy programs," she said. And then she turned to charter school parents. "If you would like your children to benefit from those funds and those programs, then I invite you to enroll your children in St. Louis Public Schools."