ST. LOUIS — Parking lots became fishing ponds and school gyms turned into roller rinks and bike tracks as physical education teachers got creative in local schools this spring.
"I think it's pretty cool because you don't have to be at a skating rink to skate," said Wesley Teater, 10, after cruising around the gym on eight wheels at Premier Charter School in south St. Louis.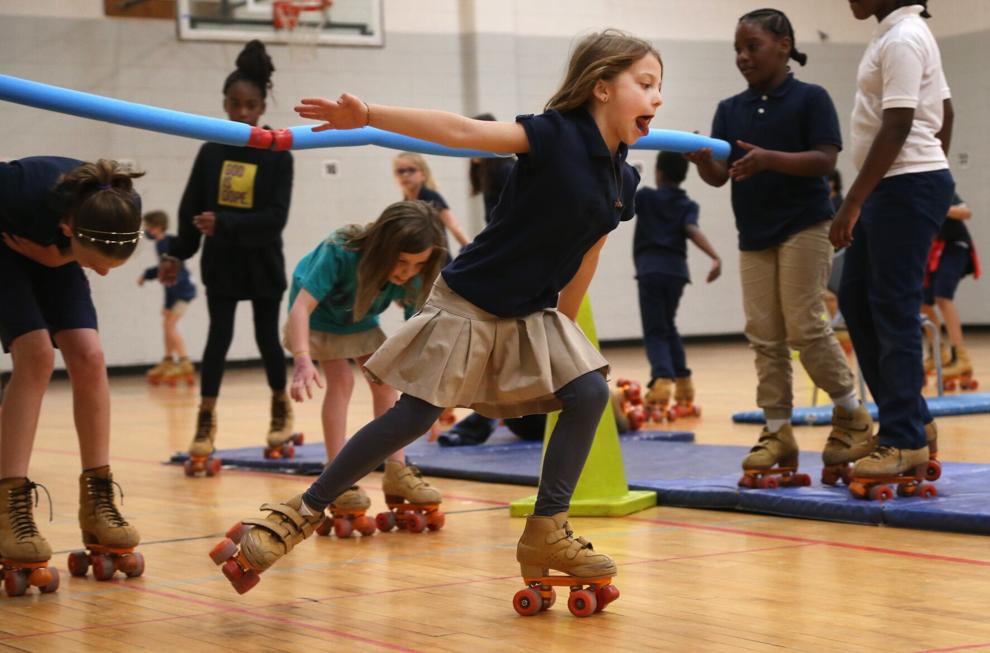 After a few years in and out of virtual learning during the pandemic, PE classes are back with new ways to get kids moving. Several schools like Premier have hired the national company Skatetime to bring the roller rink to the gym. For $11 per student, the company provided loaner skates and a curriculum for a three-week unit that teaches kids how to start, stop and even fall down safely on wheels.
Many of the students had never roller skated before, said Premier PE teacher Joanie Ryback.
"They have learned a lot of perseverance," Ryback said. "They get back up and keep going. It's a skill they can take with them throughout their lives."
At Long Elementary School in south St. Louis County, kindergartners and first graders spent a few weeks of PE this year on balance bikes. The local nonprofit Living Life on Two Wheels awarded grants to Long and another Lindbergh School District elementary, Dressel, for 24 bikes, helmets and a curriculum. Another Lindbergh school, Sappington, has a fishing unit where students learn to cast in the parking lot.
"It's something that you wouldn't expect from a PE program. These are memories being made," said Long PE teacher Natalie Luna.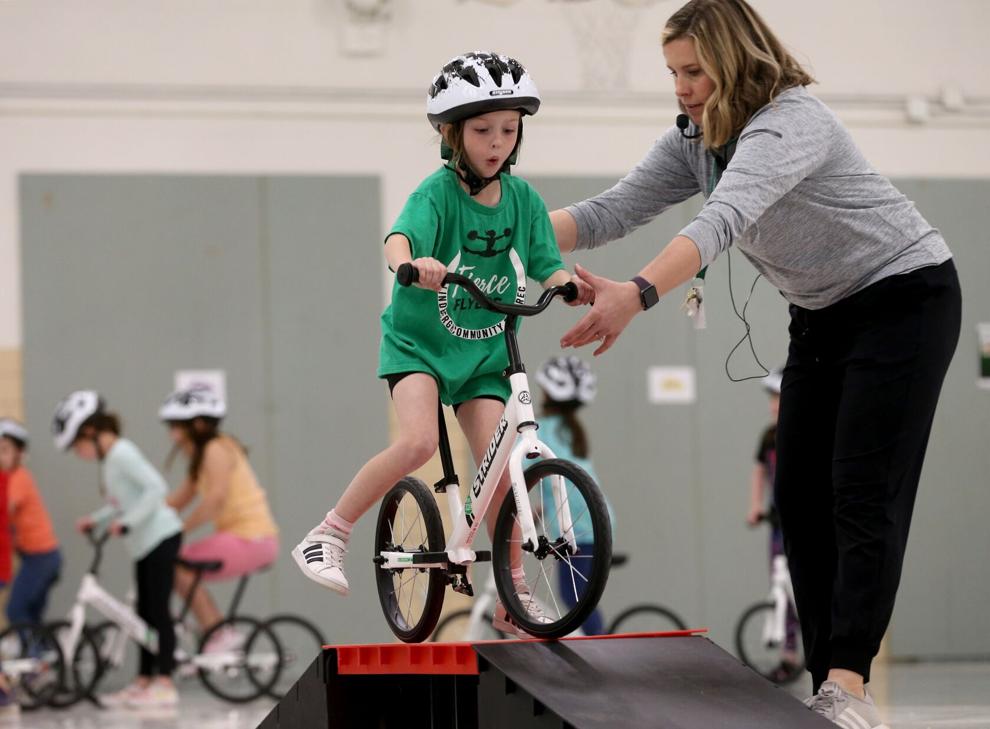 Stella Wirjadi, 7, mastered the bike ramp in a recent class.
"I liked that it was tricky and I could go so fast, like Sonic," said the first grader.
Luna said the bike course boosted students' confidence levels.
"Pushing kids to do something hard is really important for their development," Luna said. "They're doing something brave."
At Valley Park High School, the physical education offerings next fall will expand from two to five courses, including four electives:
• Intro to Fitness: All ninth graders will enroll in this course to help them meet their fitness goals, fulfilling the state's one-credit graduation requirement.
• Lifetime and Team Sports: includes rules, etiquette and skills for sports including badminton, basketball, Frisbee, hockey, pickleball, softball, tennis, volleyball, washers and Wiffle ball.
• Wellness and Fitness: designed to enhance core strength, tone muscles, improve flexibility and practice mindfulness. Includes yoga, Pilates and fitness walking.
• Strength and Conditioning: Students will work on increasing their agility, cardiovascular and muscular endurance, flexibility and strength. Includes nutrition education, safety and strength training using free weights, exercise machines and conditioning exercises.
• Adventure Pursuits: Following the conservation regulations in Missouri, students will learn team building, critical thinking and basic survival skills through activities including hunting, fishing, hiking, camping, archery and competitive shooting. Students will practice archery and shooting with airsoft rifles on the baseball field and take field trips to conservation areas. Includes hunter safety education certification.
The school district of 750 students needed to improve its curriculum compared to larger districts, said Meghan Aydelott, Valley Park's college, career and success-ready director. Mehlville School District, for example, offers an adventure course where students learn to kayak in the pool.
"We wanted to make sure we offered something in physical education for all kids, not just the athletes," Aydelott said.
The changes will include converting a middle school classroom to a wellness room with rubber floors for yoga and fitness equipment.
Registration for PE courses at Valley Park High is already up 15% for the fall compared with 2022-23, Aydelott said.
"Old-school PE style was 'roll the ball out,'" said PE teacher Zach Turner. "We're getting to where we have all these course offerings to teach kids there are other ways to be physically fit."
---