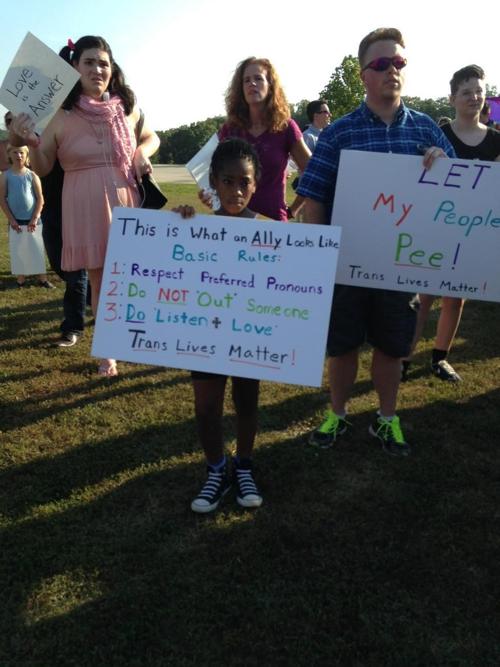 HILLSBORO • Nearly 100 people gathered in Hillsboro Friday evening in support of a transgender student at the town's high school who has garnered international attention.
Among the signs at Friday's event in favor of Lila was one that read: "Let my people pee!: Trans Lives Matter!"
Lila, who addressed the group from a gazebo at Hillsboro City Park, said the show of support was heartening.
"When people talk to me and treat me as an equal, I feel celebrated," Lila told the crowd.
Others spoke in support, including leaders of the Metro Trans Umbrella Group, an organization that supports transgender people in the St. Louis community.
"We have the same struggles as everyone else," said Jaimie Hileman, of the organization, who told the crowd she was "looking to close the gap of ignorance."
Capella Marissa, a transgender woman from Ballwin, said the event showed there is help for Lila and others.
"If you are trans in the St. Louis metropolitan area, you are not alone," she said.
Some traveled a long distance to attend the rally in the small town.
Hobbes Entrikin, 25, a student at the University of Kansas in Lawrence, said, "If you accept that Lila doesn't get to use the bathroom of her choice, what do you think the larger implications are?"
"Biology doesn't matter. Gender is what matters. The implication is Lila is not a woman." Gender is self-determined, Entrikin added.
And while a prayer group of about 100 had gathered on Highway 21 the day before, the Rev. Wes Mullins of the Metropolitan Community Church of Greater St. Louis said he had decided to attend the rally because "it's the church's job to stand up for the inherent worth of all people."
Lila came out as transgender in the middle of last school year. Previously she had been living as a gay male.
She determined this year she would no longer be content using a gender-neutral restroom.
Lila said she had dropped out of her physical education class because there was little supervision and that made her uncomfortable. And she rarely uses the restroom now while at school. Still, Lila said, she should be able to use the facilities girls use.
Her decision triggered a student walkout, with most opposing Lila's having access to girls' facilities. Parents and community members have joined in the outcry, saying female students should have the right to use girls' locker rooms without the presence of someone who is still physically male.
A smaller group of students have supported Lila, including some who staged a counterprotest Monday.
The story has been picked up by news outlets across the country and internationally.
At the rally, Lila said her circumstances were not that peculiar.
"I believe our school really isn't special," she said. "I believe there are schools all over the country where young people are hurting."
Editor's note: An earlier version of this story had the wrong spelling of Hileman's last name.