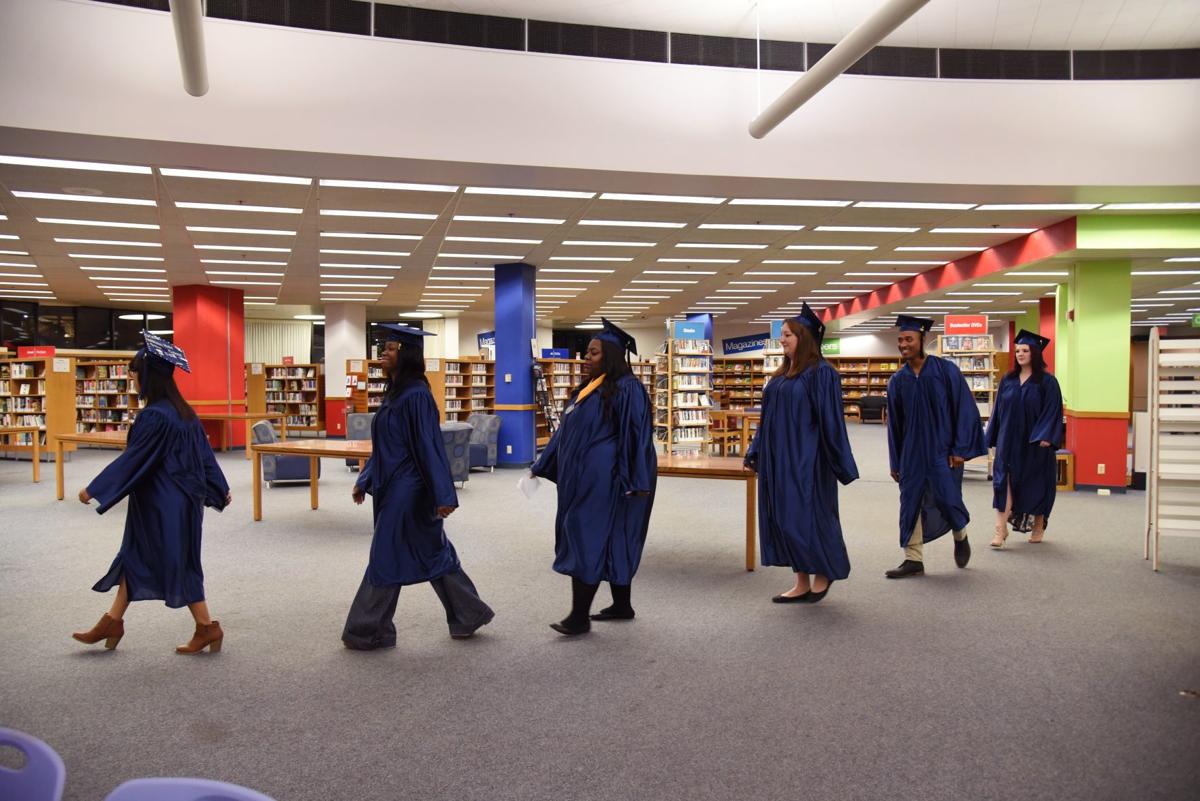 Like many high school students, Sharita Davis-Campbell's most dreaded subject was algebra. Biology, American history, English? Those were no problem. But the mathematical equations proved tortuous.
"I would write notes and take pictures with my phone to study for tests. I was pushing day in and day out," said Davis-Campbell, who lives downtown. "I'd get up the next day and start over again."
She was determined to graduate in June, and, with the help of an academic coach who bolstered her confidence with encouraging emojis, she did. That same month, Davis-Campbell celebrated her 45th birthday.
She had dropped out of Roosevelt High School almost 30 years ago, when she became pregnant with her second child.
"I felt like I didn't have a good support system," Davis-Campbell said. She eventually became a certified nursing assistant and ran a catering business on the side. But it was hard to provide for her family on $11 an hour.
Davis-Campbell, who never told her five children she didn't finish high school, tried a few times to take GED classes.
"I got embarrassed; I was always asking questions," she said. "I kept giving up on myself."
Earning a scholarship
The accredited high school was developed in 2012 by Smart Horizons, an online education company based out of Florida; more than 100 libraries across the country have a Career Online High School program.
The St. Louis Public Library and St. Louis County Library systems offer scholarships to residents within their districts to cover the $1,255 tuition. In St. Louis and St. Louis County, more than 103,000 residents over the age of 25 do not have a high school degree, according to census figures.
The first week of the program's launch, in October 2017, the city library received more than 200 applicants for 31 scholarships, which were funded by Emerson.
Those who met the initial requirements — including being 25 or older and having completed eighth grade — took a two-week prerequisite class, which they had to pass with a score of at least 70 percent. Then they were interviewed by library staff.
In St. Louis County, more than 720 people submitted preliminary applications for the program between October and December of last year.
"Every individual we thought was qualified and would succeed, we were able to award the scholarships," said Ricqui Brooks, adult literacy coordinator at St. Louis County Library. The library's foundation, funded through private and corporate donations, was able to give out 57 scholarships.
The first group of Career Online High School students started in January and had a 30-day probationary period to finish two career-related classes. Of the 18 credits students can earn through COHS, 14 are core academic subjects and four have a career focus selected by the student, such as child care or commercial driving.
Students have up to 18 months to complete the curriculum, but some work more quickly. St. Louis Public Library has had four students complete the program; St. Louis County Library has had 10.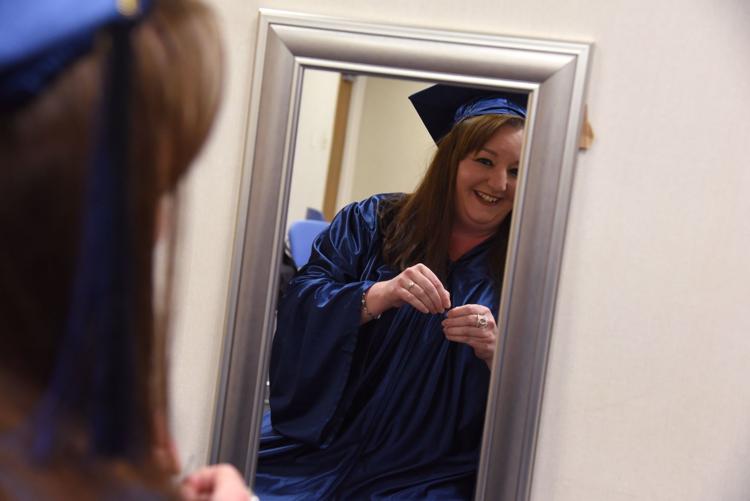 One of those new graduates is Erin Fendler, 41, of south St. Louis County. She dropped out of Affton High School after her sophomore year.
"I was a know-it-all," she said. "I didn't have to finish high school because I would be fine."
For a while, she was. She took care of her two children while her husband worked as a carpenter. But when he was laid off, she found herself needing a paycheck. She cycled through a couple of minimum-wage jobs — sometimes lying about having a diploma.
She was afraid of failing the HiSET, the exam Missouri uses as a high school equivalency. When she heard about COHS, she decided to apply.
"It was difficult," said Fendler, who said she spent about 30 hours a week on coursework. "I (studied) on my lunch hour, came home and cooked dinner for my family and then shut the door and studied. I have a 15-year-old who is a sophomore in high school who would help me a lot."
Finding support
Students are paired with a certified teacher who serves as their online coach. Library staff also provide support — sending emails, offering tutoring sessions and checking in if students haven't logged into their accounts in a while.
"They live really busy lives, have jobs and children, and getting this in is a huge commitment," said Susan Davids, the adult outreach supervisor at St. Louis Public Library.
So far, the program has drawn more women than men, ranging in age from 25 to 67. Most students have been in their late 30s to early 40s. Davids credited the program's quick success to the flexibility it offers students.
"They can do it anywhere. It's compatible with smartphones. That's what attracts students to it," she said. "There are deadlines, but you don't have to be somewhere at a certain time."
For Fendler, the self-pacing could be double-edged.
"The hardest part is staying focused and dedicated," she said. "There are distractions. You really have to put in the work."
In the end, though, the lunch hours and late nights spent hunched over a computer were worth it. Not having a diploma "is just something you carry," she said. "It was just nice to know I could do it. No matter what stage of your life you're in, you can do this."
Both Fendler and Davis-Campbell have plans to further their educations. Fendler, whose COHS career focus was office management, wants to get a degree in business administration. Davis-Campbell studied food service but has decided to stick with her health care background. She enrolled at St. Louis Community College to start classes next semester to become a surgical technician.
The community college has offered all COHS graduates a scholarship to cover three credit hours. Brooks, of St. Louis County Library, said she hoped other area colleges would partner with the library program to help graduates broaden their career possibilities.
Meantime, Brooks is focused on the library's current students and interviewing new applicants.
"I'm always in awe of their ability to acknowledge they didn't complete something, and they have the courage to step up and correct that mistake," she said. "This is not an easy thing for an adult to do, and we have to be there to honor and support them."