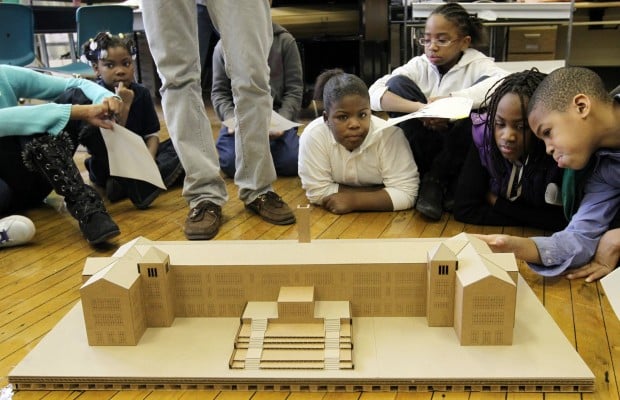 ST. LOUIS • For three years, the principal of Patrick Henry Downtown Academy directed the school secretary to alter attendance records, helping the school reach the numbers it needed to meet federal No Child Left Behind requirements, a state audit says.
Missouri Auditor Thomas Schweich released an audit Tuesday that says Principal Esperansa Veal orchestrated the alteration of hundreds of attendance records since arriving at the school in July 2007. In 2010, the school's reported attendance had risen to 97.3 percent, giving Patrick Henry the highest attendance record among elementary schools in St. Louis Public Schools.
"We found attendance data was manipulated to inflate attendance at that particular school," Schweich said at a downtown news conference. "When we looked at other schools we did not find evidence it was happening elsewhere. ... It does appear to be an isolated but serious incident."
Irregularities were first reported by the Post-Dispatch in May.
Superintendent Kelvin Adams said Veal remained on paid administrative leave pending the outcome of an ongoing district investigation into additional allegations at Patrick Henry, a school of about 270 students at 1220 North 10th Street. Whether to file criminal charges will be up to the school district. Adams said that pending the outcome of its investigation, the district will hand over any information to the proper authorities if necessary.
Questions concerning attendance are significant because school districts receive state funds based on the number of hours students spend in class. The state sends St. Louis Public Schools about $20 for each day a student spends in class, according to a district spokesman.
"The principal reason we look at this is to follow the money," Schweich said. "That's the main reason we came in here."
Schweich's audit concluded that the method of recording attendance at Patrick Henry violated school district policy, which requires teachers to record attendance data directly into the district's computerized student information system. But at Patrick Henry, Veal instructed teachers to record attendance on manual attendance forms, the audit found. The school secretary would later input the data from those forms into the computerized system. Data from that system go directly to the Missouri Department of Elementary and Secondary Education and are used to calculate funding.
According to sworn testimony cited in the report, Veal regularly told the secretary that students marked absent on the manual classroom records had actually been in school that day.
Veal also "often instructed her to change absences to tardies," the audit states. The secretary testified that 'she did not believe these changes were accurate or appropriate."
The audit found that the school did not record out-of-school suspensions as absences until 2011. There were instances of students who had left the school but were still being counted as present. And there is one case involving a student with a 10-day illness who was improperly withdrawn from school, then re-enrolled, so that the child would not be counted as absent. The audit states that in the 2010-11 school year, Veal told the secretary to "clean up" attendance by finding all students with five or more absences and recording those absences as tardies in the computerized system.
Schweich said his office spent more than 700 hours cross checking manual records with computerized records. In a sampling of 86 students last school year, auditors found 355 absences on paper forms that were recorded as present or tardy in the computerized system.
Determining the full extent of the misreporting is impossible, the audit indicates. Teachers reported that some manual attendance records were missing. One teacher's door had been "kicked in," and his records were gone, the audit said. Another teacher reported her desk had been ransacked and files were missing.
Concern that records were being destroyed led Schweich to activate the Auditor's Swift Assessment program on May 2, less than two weeks after receiving the initial tip. That day, 10 subpoenas were sent to school and district personnel. Veal was the only individual who received a subpoena who did not provide testimony. On May 9, she was placed on paid leave.
Ryan Smith, a sixth-grade teacher who initially reported the problems to the auditor, said he hoped the outcome would make St. Louis Public Schools better.
"Part of me hopes some good is going to come of this and some change that will positively affect the students and the district," he said. "Maybe someone who may not fly straight and right will now maybe follow the rules."
Smith no longer teaches at the school.
For several years, Patrick Henry had been considered a success story in the struggling St. Louis Public Schools. Its attendance and enrollment numbers outshone other schools. Its test scores were rising. Community groups and corporations had a presence at the school. Architecture students from Washington University taught children lessons in recycling and sustainability. Veal had been held up as one of the district's strongest administrators.
"The data speaks for itself," Adams said today. "The data clearly indicates there were things that were inappropriate at the school."
Schweich complimented Adams and other district officials for their cooperation during the investigation. The district has agreed to the auditor's recommendations, which include consulting with software developers so any changes made in the student information system also record the time, date and user identification of the person who made those changes.