One day after Missouri education leaders criticized religious influence in local charter schools, the U.S. Supreme Court appeared poised to weaken such church-state separation mandates.
As part of a routine review, state education officials found that Eagle Prep "appeared to be controlled" by nonprofit Open Sky Education, which also runs charter schools in Arizona and Hope Christian Schools in Wisconsin. The state scrutinized Eagle separately after religious influences were found in the schools during the review.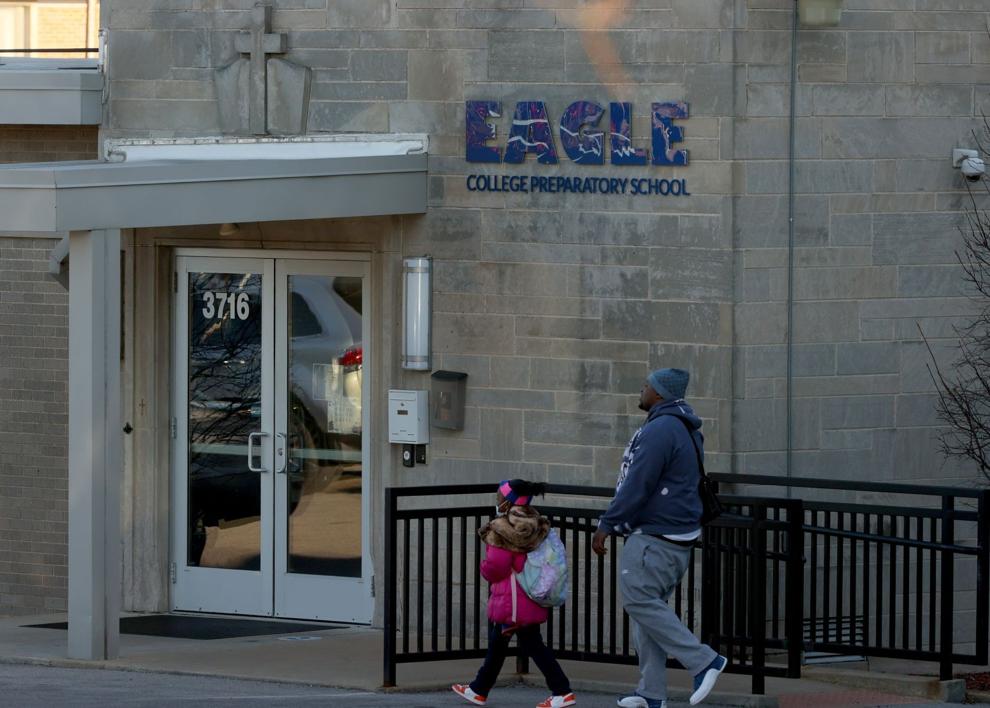 Missouri law requires that tax-funded charter schools "be nonsectarian in (their) programs, admission policies, employment practices and all other operations," assistant state education commissioner Chris Neale said at a July public hearing on Mizzou's sponsorship status.
Open Sky's mission includes "a world where education prepares all children to live flourishing lives and serve Greater Purpose," according to its website.
Eagle no longer pays Open Sky to manage the schools but is "still using them for some back-office functions like posting jobs and financial stuff," said Gerry Kettenbach, Mizzou's director of charter school operations, on Wednesday. "Part of the reason they separated, there were those blurry lines that can cause some confusion."
Courts have long interpreted the Constitution to require governmental neutrality on religion. But a majority of Supreme Court justices now seem agreeable to tax-funded religious schools. Legal experts say that could open the door to church-sponsored charter schools.
In their investigation of Eagle, state education officials found a religious poster hanging in a school cafeteria, a teacher wearing a religious shirt in a video on social media and job postings that mentioned a Christian after-school program, according to the investigation.
Open Sky also sent "affirmation of faith" contracts to job candidates for executive director at Eagle, the state found.
The contracts were sent in error and the position is now funded through Eagle and not Open Sky, according to Kettenbach.
"All curriculum decisions and programmatic decisions are now all controlled by the executive director who is an employee of Eagle's board," he said.
Eagle's board of directors includes two members, Judith Meyer and Kathy Kirk, who formerly served on the Lutheran High School Association in St. Louis.
"We talked with the board about how well Open Sky was serving them in terms of running programs, and they decided they were not the best provider of services," Kettenbach said. "I agree there is an appearance issue there."
On Wednesday, Open Sky's website listed several jobs at Eagle schools, among them teaching assistant, middle school science teacher, custodian and Christian after-care leader.
A representative of Open Sky did not respond to a request for comment.
Eagle College Prep opened in 2013, recruited to St. Louis by former Mayor Francis Slay, and has several campuses in former Lutheran schools in south St. Louis. There are 837 students enrolled in kindergarten through eighth grades. Eagle is among the city's lowest-performing charter schools, with 16% of students scoring proficient in English and 7% in math on spring 2021 state tests.
Open Sky developed the charter schools a decade ago to provide "three pillars" of education to families, according to its website.
"Eagle schools deliver the excellent academics and character formation pillars. Parents could also choose the third pillar — faith formation — through wraparound care provided by Compass Educational Programs."
Open Sky still manages Eagle's before- and after-care programming, which is Christian-based and hosted in adjacent churches. The arrangement is considered legal as long as students are not encouraged or mandated to participate, according to the First Amendment Center in Nashville.
Eagle schools also use the "civic" version of Open Sky's Character Formation Project that "prepares people to lead fulfilling and virtuous lives serving Greater Purpose." The curriculum has a religious version used in schools including Christ Community Lutheran School in Kirkwood.
Mizzou's charter office reviews Eagle's curriculum to check for Christian influence, Kettenbach said.
"I like my schools secular and my churches religious, and so I wanted to make sure there was no infringement," he said at the July hearing.
The distinction could soon prove irrelevant, legal experts said. On Wednesday, the U.S. Supreme Court heard a new test of church-state separation in a case from Maine dealing with state tuition payments to nonreligious private schools. A majority of justices have signaled that the payments could violate anti-discrimination laws.
If charter schools are included in a high court definition of school choice programs, they could take advantage of a ruling forbidding the exclusion of religious schools, said Notre Dame law professor Nicole Garnett.
Garnett predicts there would then be a move "in the near future to permit religious charter schools," either through the courts or the states.
The Associated Press contributed to this report.