TOWN AND COUNTRY • When companies shared their need for more employees who can handle cybersecurity, Maryville University President Mark Lombardi got with his crew.
Eight weeks later, the small, private college's cybersecurity program was born.
Employers also want more software developers and coders, so that program is coming to life this fall. Lombardi's pace might have made accreditors sweat at first, but the college president says they're on board now. More importantly, so is his team.
They are completely data- and market-driven, merging the attitude of a for-profit college with old-school academia.
They call students customers.
Their recruiting and admissions teams use a data analysis tool to help leaders draw conclusions about how well a student would fit on the Town and Country campus using everything from academic interests to what people are reading in the student's household.
Rather than look to other universities, Maryville leaders look at companies like Apple for inspiration.
Enrollment numbers suggest that their approach is working.
Against the grain
Paradoxical to higher education norms, Lombardi said that he doesn't believe it's necessary for decisions to take forever.
That could mean getting an academic program off the ground or just simplifying student services.
For example: If students order something from Amazon, they get it in two days. So why is it normal by academia's standard that if students want to change their major, they have to visit multiple offices and potentially wait a week or longer to get approval?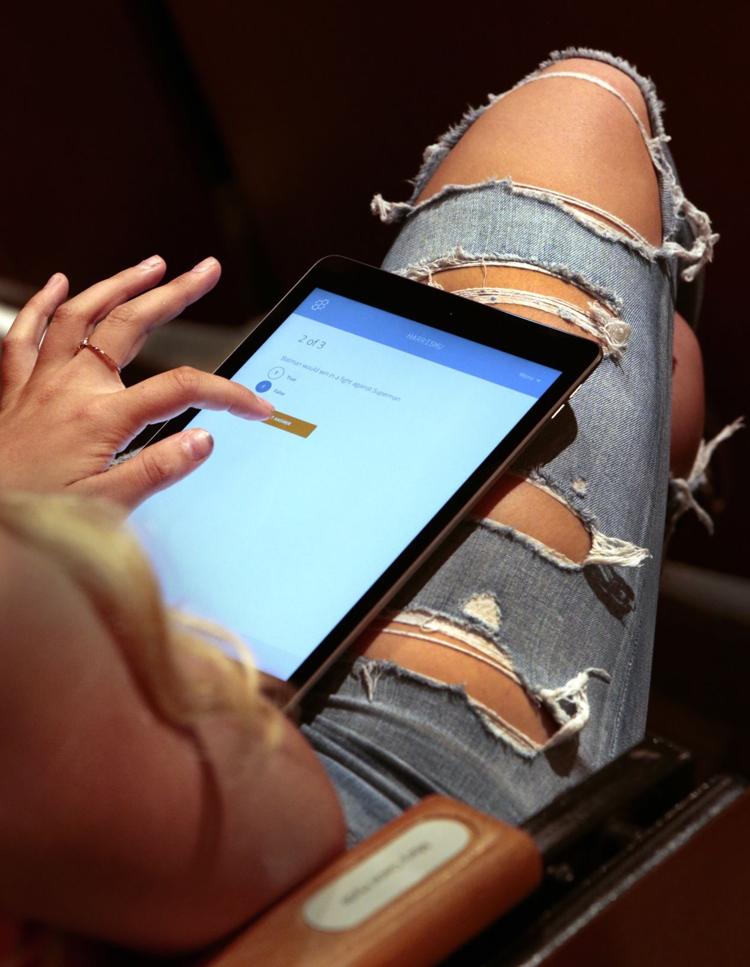 That's absurd to Lombardi. At Maryville, students can access their own information online, submit requests for a major change and get an action plan for how to proceed with their new program's course schedule right away.
"Everything inside of the classroom should be challenging, and everything outside of the classroom should be easy," Lombardi said. "In our day, these things were hard because we didn't know any better."
It all comes down to the Maryville mission, which the president describes as "student-centered." He says this isn't normal for other universities, despite how they might describe themselves.
"Universities are byzantine bureaucracies," Lombardi said.
While some schools are seeing a dip in enrollment, Maryville is seeing growth.
"The world is changing rapidly and they didn't adapt fast enough," he said.
Strides with data
Maryville's undergraduate, on-campus student population has grown by an average of 2.4 percent a year over the past decade, from 1,846 in the fall of 2007 to 2,292 this past fall.
School leaders point to a few of the school's secret weapons as the reason why.
Part of it comes down to program offerings. Cybersecurity has boomed at the school since 2014, as has a sports business management program.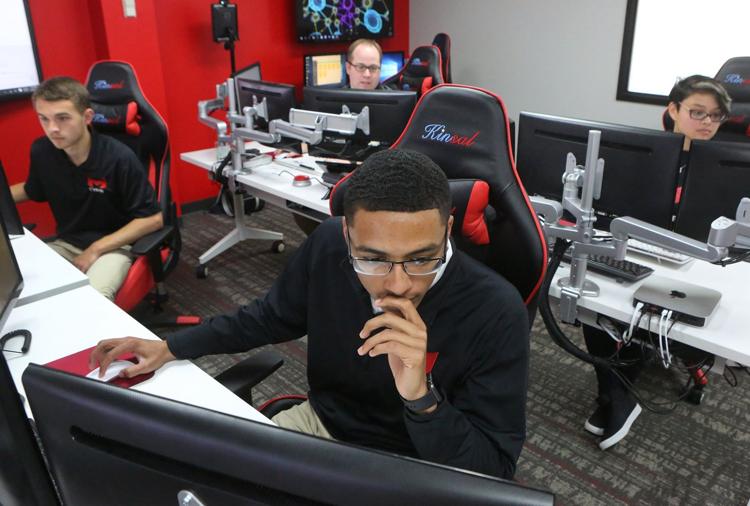 That sports business management program was the icing on the cake for Russell Susuki, a rising senior from Maryland Heights. He was also considering St. Louis University, but landed on Maryville after learning about the school's partnerships that put executives from area sporting companies in the classroom as instructors.
Maryville also strategically targets potential students, and that plays into its enrollment success in the traditional student market, in particular. It uses demographic data in a way similar to retail companies.
Shani Lenore-Jenkins, associate vice president of enrollment, said it comes back to looking at students as customers.
"Admissions has always been based on hunches and feelings, traditionally," Lenore-Jenkins said. "You'd come back from a trip and say, 'I met this great family in Dallas. Let's do more recruiting in Texas.'"
But in the last almost 10 years, they've played with geodemographic data that analyzes household spending, education levels and a variety of other characteristics, and compares those to prospective students in ZIP codes across America.
When a recruiter comes to Lenore-Jenkins about a college fair invitation, they pull that ZIP code up on a map and look at a breakdown of how many students there share the characteristics of current Maryville students.
Attracting students is important, but keeping them is the next hurdle. Administrators don't want to see students transfer to other schools. That negatively affects the graduation rate of the college where the students started, and data is key at Maryville.
A few years ago, Maryville rolled out a life coach program.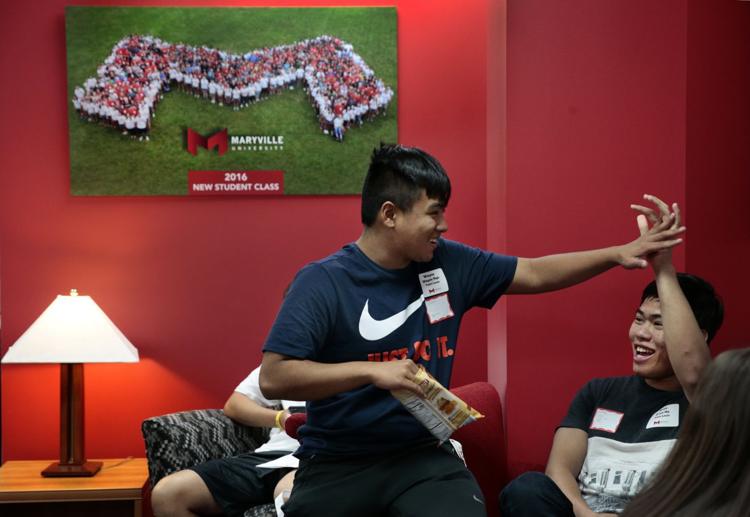 Students are assigned a life coach before they arrive. That person goes deeper than ACT scores and high school grade-point averages to gather information about a student's confidence level in specific subjects, what his or her family support system is like and other factors that the school has pinpointed to be areas that affect student success.
"We talked a lot about how we're seeing 30-somethings in the corporate world finding life coaches and asked, 'Why wait for that?'" said Jennifer McCluskey, vice president for student success. "This generation is changing careers often. Let's support them."
Online boom
The biggest gains at Maryville have been in online enrollment, which has grown by 724 percent since the school started offering online courses in the fall of 2012. It has grown from 425 students in 2012 to almost 3,100 in 2016.
That's another area where leaders try to be calculated as they plan to bring more programs online.
When Dan Viele, dean of the school of adult and online education, joined Maryville four years ago from Webster University, he thought it was odd that Maryville's master's in business administration online program was the third-most expensive program in the metro area, behind Washington University and SLU.
Viele's team shaved hundreds of dollars off the cost of the MBA and tinkered with admissions requirements. Almost immediately, Viele said, enrollment shot up in that program.
The enrollment boom in online programs comes largely from people ages 25 to 40 who Viele said have decided early in their careers to switch the industry they're in, or have realized they're going to need an advanced degree to climb the ladder.
'Disrupter-in-chief'
Lombardi came to Maryville in 2007 from the College of Santa Fe, where he also was president. He jokes that he's the "disrupter-in-chief" at Maryville. His team won't argue.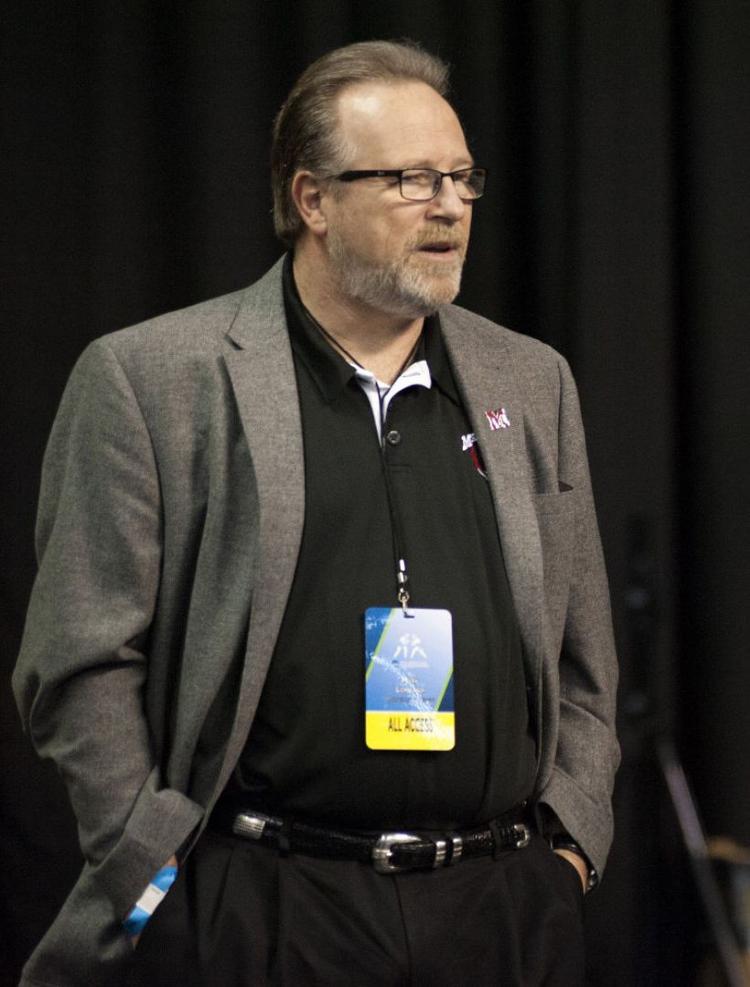 Lombardi's provost is Mary Ellen Finch, who at 84 years old has worked at Maryville for decades.
There are times, though they're not often, when she said old-school academia has kicked in and pushed back against how quickly Lombardi wants something done.
"If you move too fast, you get sloppy and you don't do due diligence, but that's not who we are and not what Maryville has ever been," she said.
Maryville is on the cusp of a higher education revolution, Lombardi says.
"That's what energizes me," he said. "It's fun to know we're making the new model of a new university, rather than tinkering with an existing one. It might not seem that way on a given day, but over time, it certainly feels that way."
Daily updates on the latest news in the St. Louis business community.