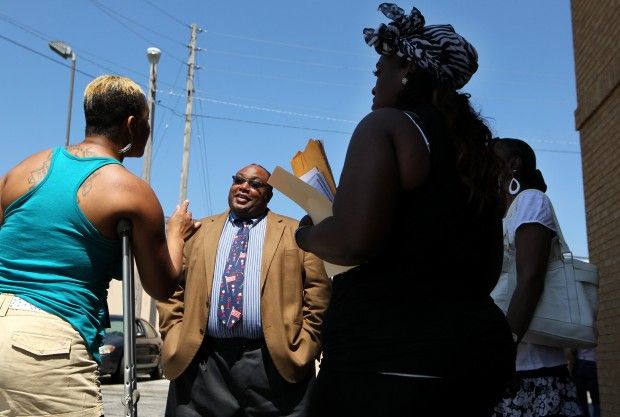 Diane McCrary was dealing with the sting on Tuesday.
She was trying to digest an hours-old decision by the Missouri Board of Education that would remove her daughter from Brentwood Middle School and return her to the Normandy School District, where she's lived and paid taxes for 14 years.
Only, McCrary's daughter has never attended school in the Normandy School District.
On Monday, the state Board of Education ruled that the only children who can continue to transfer out of Normandy at the district's expense are those who have attended public school there for at least one semester. That leaves out McCrary's daughter, who attended private school before transferring to Brentwood.
Education leaders have sought to weed out cases in which families have moved into the district only so they could transfer to superior schools.
"Some students moved into Normandy just to take advantage of the situation," state board member Victor Lenz said Monday.
Normandy Superintendent Ty McNichols says he believes some have rented cheap apartments simply so their children can transfer. He has cited an uptick in occupancy permit applications as partial proof. But state officials say they lack solid evidence.
"It's all conjecture on our part," said Ron Lankford, deputy commissioner of education. "We don't know motives."
On Monday, the state school board moved to dramatically cut back the number of student transfers out of the new Normandy district — which will be reconstituted as the Normandy Schools Collaborative on July 1.
No new transfers will be granted. Others will continue, but only if the school districts that receive the students accept lowered tuition payments.
The board eliminated transfer rights for current transfer students who have never gone to Normandy — a decision that will shave about $352,000 from the projected transfer tab this next school year.
That action frustrated state school board member Michael Jones of St. Louis.
"We might not know their names, but we need to be aware this is more than a financial consideration," said Jones of the students to be affected.
Among those losing the right to transfer are Connie Holtrop's three children, who attended Ladue schools this year.
Holtrop moved her children back to the Normandy district in 2012 from Michigan, where she went through a divorce. Hoping to get back on her feet financially, she moved back into a home she's owned since 1999. She had them at a Lutheran school for a year, and saw the transfer option as a better choice.
In Ladue, her children have thrived. Her fifth-grade son struggled until December, but made friends in the spring. Holtrop says the rug has now been pulled from beneath them. Her children, adopted through the foster care system, need stability, particularly after the recent upheaval in their family life.
"I've got kids with special needs," she said. "They've been through multiple school changes. I don't know what I'm going to do. I do not want to put them in Normandy."
McCrary said finding a private school took months. Deadlines to apply for the 2014-15 have passed.
"I'm not someone who moved into the district to take advantage of this situation," she said. "I'm a resident who's paid taxes in to this system for 14 years and I've never been able to put my daughter in a good school here. I've spent additional funds to send her somewhere else because I'm not satisfied with the schools."
In June 2013, a Missouri Supreme Court ruling upheld the transfer law, which lets children living in unaccredited district transfer into better schools at their home district's expense.
Throughout legislative debate on the transfer law this year, some lawmakers have repeated speculation that parents have moved into Normandy and Riverview Gardens purely to qualify for transfers. Sen. Maria Chappelle-Nadal, D-University City, has called this educational larceny.
But state school board member Charlie Shields of St. Joseph said he wanted to give parents the benefit of the doubt.
"Parents moved into the Normandy district for a host of reasons, and then they were faced with a decision," Shields said. "They could either enroll their child in an unaccredited school district or they could enroll their child in an accredited school district. Many of them made what was in their mind a rational decision, to enroll their child in an accredited school district."
Vielia J. Evans had lived in Normandy for more than a year before applying to transfer. Living in the Normandy district allowed her and her husband to afford both a nice home and private school tuition for their son. Then he was diagnosed with attention deficit hyperactivity disorder — which public schools have better resources to address.
"I never considered Normandy," Evans said. "I thought we'd do private until his diagnosis."
Her son thrived at Brentwood Middle School this past year. She said she was not ready to accept that the state board's decision was final.
"If they made a decision, they can go back and revisit it to include home ownership," she said. "We're paying our taxes. We're actually using our own gas to take him to school. Our own time. And it is our tax money. It seems to me if you want to live in a nice home and have your son or daughter to go a nice school, you're being penalized. That's just craziness."