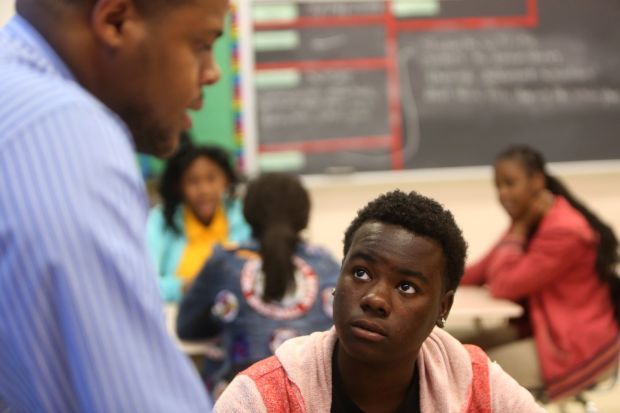 St. Louis Public Schools will close Langston Middle and Cote Brilliante Elementary at the end of this school year because of low enrollment.
"Consolidation is a natural process to free up additional dollars to support all of our schools," Adams said. "When you have small enrollment numbers, it impacts how we can spread dollars to other schools that have larger enrollment."
The vote was made with little discussion and no public comments. The board meeting was over in about 20 minutes.
Adams believes the decision was made quietly, swiftly and with no controversy on Tuesday because those involved already understood the numbers were stacked against their schools.
"I think they saw that we exhausted every opportunity to try and keep the schools open, but the data did not support it, so I think they were realistic in that sense," Adams said.
In the weeks leading up to his decision, Adams avoided holding free-for-all community feedback meetings. He went to specific people involved, including school staff, aldermen and church groups who wanted to keep the schools open, and showed them the data that convinced him keeping the schools open is not a viable option.
Only 170 students attend Cote Brilliante, down from 218 in the 2012-2013 school year. Langston has 176 students, down from 291 in 2012. Langston's enrollment is 35 percent of what it should be, while Cote Brilliante's is about half.
"It's never easy to close schools," Adams said. "But when you have populations under 175 it makes it very, very difficult to continue to provide those resources. If we had some inkling, some idea that those numbers would increase, we would not be having this conversation."
Students at those schools will get a chance to apply for magnet school or may be fed into nearby schools. Those include Hickey Elementary and Laclede Elementary, which Adams said could be turned into a K-8 school to absorb Langston students.
Cote Brilliante and Langston now join a list of about 16 schools that have closed since 2008, according to Adams.
Adams recommended the closure of the schools based on the attendance as well as their academic performance, the age and condition of the school buildings and the future expected population trends for the area around the schools. Their closures are indicative of a larger district-wide enrollment decline.
As of November, 24,165 students attended St. Louis Public Schools. That's down from about 27,000 three years ago.
The district has faced competition from St. Louis County schools and the increased number of city charter schools, which now enroll almost a third of all public students in the city.
On Tuesday, the special administrative board also accepted Adams' recommendation to consolidate the football programs of Sumner High School and Northwest Academy of Law, which has struggled to keep coaches.
The district will also hold more community meetings in the coming months at eight schools Adams had targeted as having low enrollment, including Roosevelt High School and Northwest. Some of those schools may be assigned themes or specializations in the coming years to attract enrollment.
The district will update the special administrative board on its transformations and closures of schools in March.