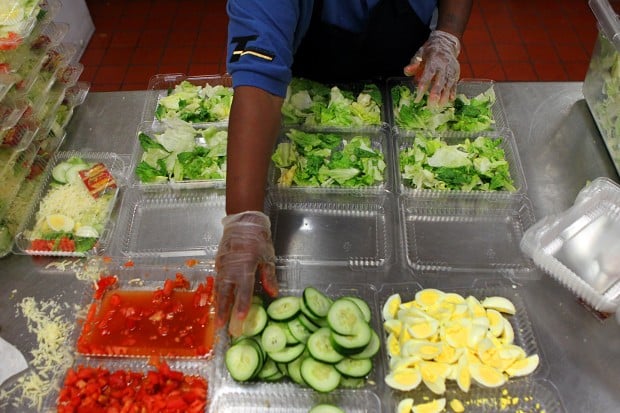 Ferguson-Florissant, Riverview Gardens and St. Louis Public Schools are among the school districts in the region that are planning to offer free lunches to all students, regardless of need, through a federal program new to Missouri schools this year.
Some of the districts had been offering free breakfast for all students and will continue to do so.
Now, district officials are participating in the so-called Community Eligibility Provision funded by the U.S. Department of Agriculture. The program is part of the Hungry-Free Kids Act of 2010, which was projected to boost federal spending on nutrition programs by $79 million over a decade.
The program was piloted in a few states last year, including Illinois, and became available nationwide on July 1. The intent is to improve access to free school meals in high poverty areas, as well as relieve districts of some of the administrative burden. It also eliminates the stigma for students who don't want other to know they get free meals.
"We felt there were good results and now extending with lunch, we think we'll have even better results with helping kids not be hungry at school," said Jana Shortt, district spokeswoman for Ferguson-Florissant. "We have a large population of kids that just didn't quite meet the criteria for application, but still weren't able to get food."
Ferguson-Florissant spends $70,000 to $80,000 a year on food for children who are at school and don't have a lunch, so the program that will allow all kids to eat for free will save the district money.
The district had about 68 percent of its students in the free or reduced-lunch category last year. In some cases, eligible students did not turn in required paperwork.
Melanie Powell-Robinson, spokeswoman for the Riverview Gardens School District, said parents there will no longer be required to complete the free and reduced-meal application process, which is cumbersome.
In Ritenour, the district announced this week that all students in kindergarten through 12th grade can receive breakfast at no cost every school day during the upcoming school year. About 77 percent of students qualify for free or subsidized meals in the district.
The free breakfast will be offered at each of Ritenour's six elementary schools, two middle schools and Ritenour High School beginning on the first day of the 2014-15 school year, which is Aug. 14. Breakfast is available 20 minutes before the start of the school day. The Ritenour initiative is separate from the federal Community Eligibility Provision program.
Patty Poretti, Ritenour's director of child nutrition services, says offering breakfast at no cost for all students will provide all Ritenour families an easier start to the school day and a healthy breakfast at school.