OVERLAND • The first-graders in Jennifer Thompson's room put thoughts to paper with their No. 2 pencils, providing a glimpse into their 6- and 7-year-old lives.
Bella Nerio likes toaster strudels for breakfast. Ja'Kyra Montgomery will be getting a baby animal soon — a guinea pig. Jerome Hill-Buckner spent last weekend with his mom. And Edwin Cervantes loves his teacher and friends.
In many ways, the group isn't much different from first-graders 23 years ago when Thompson started teaching at Wyland Elementary School, a brown brick building surrounded by middle-class bungalows and ranch-style homes in the Ritenour School District in north St. Louis County.
But they represent an extraordinary shift taking place in public schools throughout much of St. Louis County. In the next decade, they and their peers will transform the complexion of many of the region's schools from predominantly white classrooms to a mosaic of races, cultures and backgrounds.
Inside Thompson's room, the morning announcements had just wrapped up. The children had finished saying the Pledge of Allegiance.
It was Edwin's turn to read from his journal. The boy with short-cropped dark hair struggled with several words as he looked at the lines he'd written describing his school and his teacher.
"He speaks Spanish," said Kyng Jackson in a loud whisper, across the table.
"I speak even more Spanish," said Jorge Bejarano, who speaks Spanish at home. "And more English."
When Thompson began teaching at Wyland, her students were predominantly white and middle class. Some of them were second- or third-generation Wyland students, like Damian Salmieri, a boy with light brown hair whose mother attended elementary school here.
But the rapid suburbanization of black, Hispanic and Asian families, coupled with a decline in the white population, is diversifying this school and others. In St. Louis County as a whole, minority groups are gaining in numbers as the white population drops.
The transformation is manifest first in the earliest grades. Immigration and higher birth rates among some minority groups means that young children are more diverse than the general population. As those children age, the racial makeup of all schools — and ultimately the population as a whole — changes.
It's a phenomenon happening across much of the St. Louis area, in districts stretching from Collinsville to St. Charles, where most first grades are among the most diverse groups of children the region has ever seen.
The increasing diversity is embraced by many educators who say putting children of different races, cultures and backgrounds into the same classroom ultimately reduces prejudice and leads to richer learning.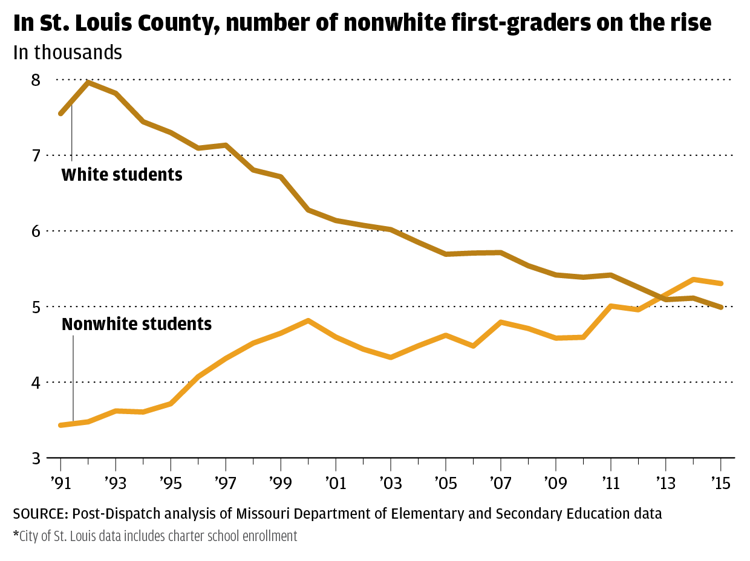 "That experience really broadens horizons," said John Koeneker, principal of Walker Elementary School in Hazelwood, whose first grades were predominantly white in 2003 but no longer have a racial majority group. "That's going to help our students become the best holistic child and prepare them for an America that is not what it looked like 50 years ago."
New diversity also bringing challenges — ones that could make it more difficult for the region's schools to ensure that all children succeed.
In Missouri, black and Hispanic children continue to lag behind white children in academic achievement. They're more likely to end up in remedial courses in college.
Graduation rates for black and Hispanic students lag behind white students by 10 and 15 percentage points, respectively. Less than two of every three students who speak English as a second language make it to graduation. This is partly because children of new immigrants often quit school to get a job and help support their families.
Even as the racial population shift is diversifying many of the region's white classrooms, those changes are largely bypassing and further segregating most African-American students.
More than half of black first-graders in St. Louis County and more than two-thirds of those in the city of St. Louis attend schools where 90 percent of their peers are also black, according to a Post-Dispatch analysis of state education data.
Schools with large concentrations of black children also have the highest concentrations of poverty in the region.
"It's that combination where you're seeing effects that are not positive," said William Tate, vice provost for Graduate Education at Washington University. "What you have to worry about is, are these kids surrounded by the broader opportunity to develop as young people who can be productive?"
At a two-day seminar last month at the University of Missouri-St. Louis, educators from several area school districts attempted to tackle the challenge of serving the rising numbers of disadvantaged students.
"It's a wake-up call," said Anjale Welton, an assistant professor of education policy at the University of Illinois. "You're going to have to engage in training on how to shift classroom practices, how you teach, how you connect and relate to parents."
About a decade ago, the word "diversity" in the Ritenour School District referred to the mix of black and white students.
And then six years ago, the district hired a full-time English language teacher at Wyland Elementary for the non-native speakers there. It now has 26 interpreters on call to help district staff communicate with parents whose native languages are Spanish, French, Vietnamese or Russian.
There are 64 immigrant families new to Ritenour schools this year, from countries such as Egypt, Jordan, Togo, Honduras and El Salvador. A Spanish-speaking parent liaison reaches out to young immigrant families, encouraging them to enroll their children in preschool. District administrators have begun exploring a welcome school for immigrant high schoolers similar to one in St. Louis Public Schools, said Mike LaChance, assistant superintendent for curriculum and instruction.
Wyland Principal Kathy Pfeifer has had to make some adjustments as enrollment has grown to include other cultures and languages. Even though the Hispanic population in St. Louis County remains low — 2.7 percent — enrollment in the Ritenour district is about 16 percent, close to what it is at Wyland. Many of those students speak Spanish as their first language.
"We've had to look at the supports for our students, and we've had to look at our instruction as well," Pfeifer said.
This school year for the first time, more minority students than whites attend U.S. public schools, a shift largely fueled by growth in the number of Hispanic children.
Although white students continue to be the largest racial group in the nation's public schools, at 49.8 percent, minority students, when added together, now make up the majority.
Overall, Missouri's schools remain overwhelmingly white. But even in areas of the St. Louis region that are majority white, classrooms are gradually diversifying.
Today, about half of first-grade classrooms in St. Louis County are majority white. But that's down from two-thirds in the 2003-04 school year, according to the Post-Dispatch analysis.
Even in St. Charles County, first-grade classes where 90 percent of the students are white have virtually disappeared.
At Caseyville Elementary in Collinsville, every first-grader was white when today's seniors were in their seats in 2004. Last year, the Hispanic population made up half the first-grade enrollment, according to Illinois state education data.
At Wild Horse Elementary in Chesterfield, 21 languages are spoken by children in the building.
"If you look at our fifth-graders versus our kindergartners and first-graders, there's a big shift," said Patrick Fisher, the principal. Nonwhite first graders, primarily Asians and Hispanics, now make up most of the first-grade class.
In west St. Louis County, much of the change is driven by an increase in Asian students, including children with Indian and Pakistani heritage.
In North County schools, change began more than 15 years ago, as more middle-class blacks moved into white neighborhoods.
In 2001, the Pattonville School Board passed a resolution directing the district to work actively to eliminate the achievement gap between the growing black population and white students.
Then the airport bought out 2,000 homes in Bridgeton for a new runway.
As a result, Pattonville lost nearly 500 white children, changing its demographics rapidly. Each year, the white enrollment declines as the Asian, Hispanic and African-American populations grow.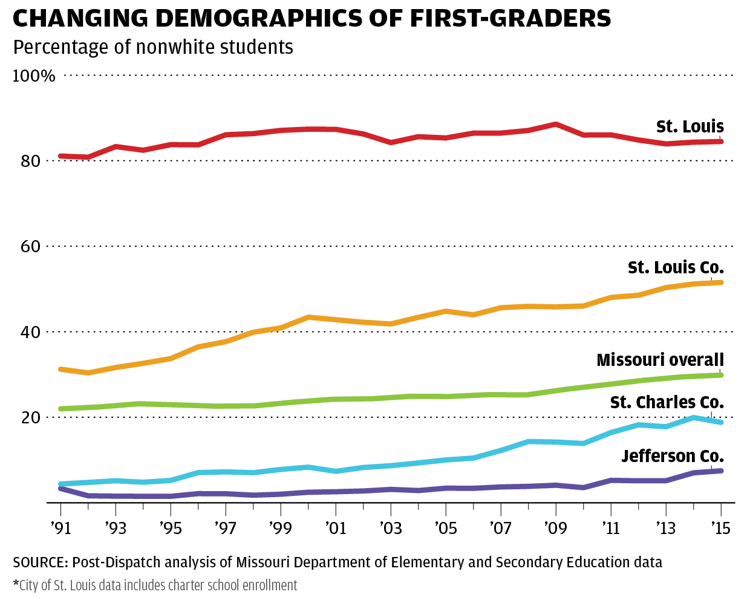 When Mike Fulton became superintendent in 2007, he had the teachers and administrators participate in social justice training to help white staff understand the perspectives of their black students. To serve its growing immigrant population, there's now a full-time English language instructor in every building but one.
Hispanics now make up 12 percent of first-graders at Pattonville, compared to 3 percent of 12th-graders. Its black population is about a third of district enrollment.
"Whether St. Louis is successful long-term will depend on their ability to cross color and culture lines and start to work together as a broad community," Fulton said. "You can go other places in the country where diversity is accepted more. It's a more comfortable place to live, a more comfortable place to work."
At Wyland Elementary, the diverse students of Thompson's first-grade class interact without the self-segregation that often occurs as children get older.
Kylie, who's white, says she plays with everyone. Ja'Kyra, who's black, does too.
Jorge is friends with Gordon Weisz, Keegen Garland and Edwin. As well as everyone else.
"They're all my friends," he said.
Thompson's class often resembles a one-room schoolhouse with children who have wide-ranging reading and math skills. During college, Thomspon learned Spanish by spending a summer in Spain. She uses phrases to communicate with her students who are trying to learn English.
Last week, during the daily writing workshop, Edwin stood at the interactive board in front of his classmates and wrote: "I like to play my frins. I go to the school. I will my frind is Kyng."
To show his progress, Thompson showed the class an image of Edwin's writing sample from November: "I like to the. My The. I. The. To."
He was beginning to write sentences with meaning. Edwin beamed.
"It's literally amazing to watch their growth, what they want to accomplish," Thompson said. "Edwin really wants to learn."
Edwin was a surprise to his parents. His mother was 45 when she had him. Last spring, they moved to the United States.
In Mexico, "Life is very difficult, " Yolanda Rico Baeza said in Wyland's main office, with the help of a school district translator. "Sometimes we don't have jobs. There's nothing to eat."
The family left Mexico in May and settled in Overland. They found an affordable rental house about three blocks from the school. Baeza has a sister and nieces nearby. Her husband found a job in landscaping.
"Here, we don't have much but we find jobs," she said.
Edwin says he's helping his mother learn English, too.
Baeza smiled when she heard this.
After she picks him up in the afternoons, they go home and Edwin takes his schoolwork out of his book bag. The two look at his schoolwork together — the sentences he's begun to write and his math problems.
"I hope that he becomes someone when he grows up," she said. "He says, 'Look, Mom, I did this!'"
And then he tells her about the day.
St. Louis area first-grade demographics
| County | Enrollment | White | Black | Hispanic | Asian | Multiple | Other* |
| --- | --- | --- | --- | --- | --- | --- | --- |
| St. Louis County | 10,294 | 48.40% | 37.70% | 4.50% | 4.60% | 4.40% | 0.20% |
| St. Charles County | 4,344 | 81.10% | 7.00% | 4.80% | 3.20% | 3.40% | 0.20% |
| St. Louis | 3,554 | 15.50% | 76.60% | 4.40% | 1.60% | 1.50% | 0.20% |
| Jefferson County | 2,646 | 92.50% | 1.20% | 2.30% | 1.00% | 2.60% | 0.10% |
| Madison County | 3,064 | 70.50% | 14.70% | 7.60% | 1.00% | 5.70% | 0.30% |
| St. Clair County | 3,275 | 44.70% | 44.50% | 3.90% | 1.00% | 5.40% | 0.30% |