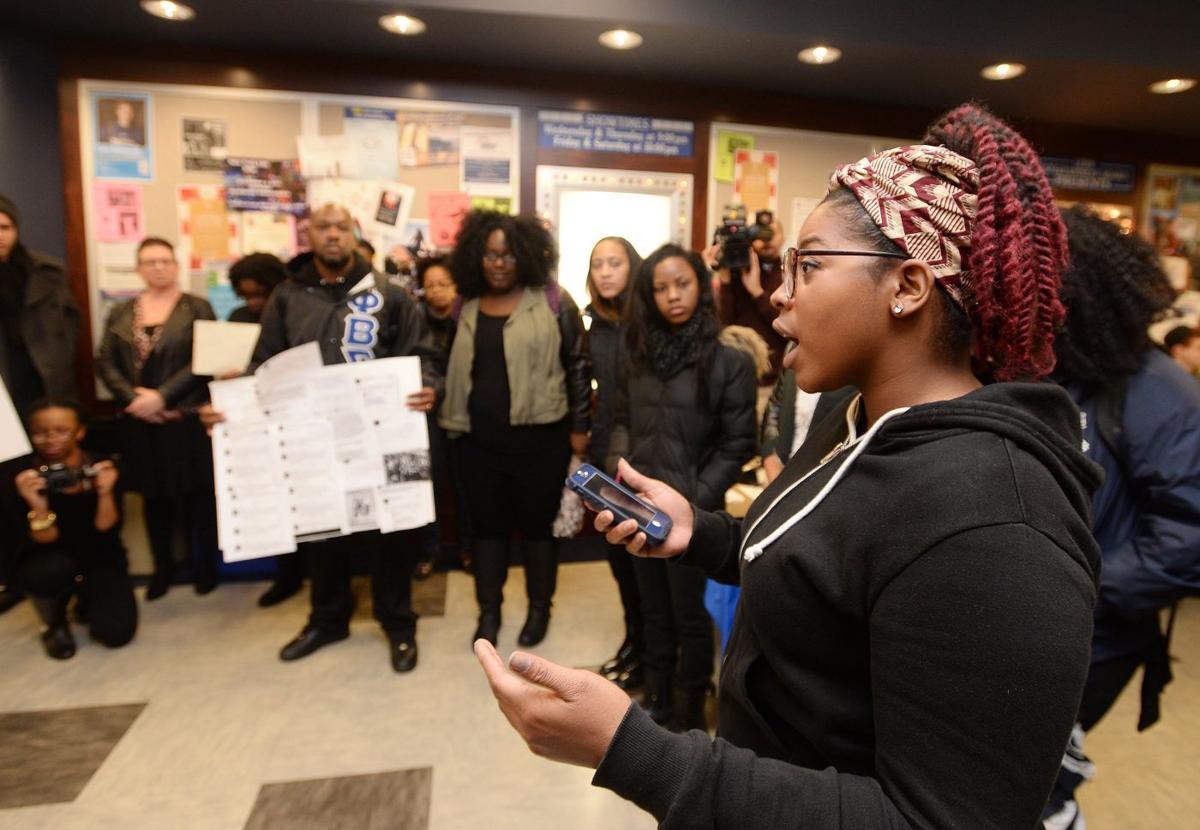 On scores of leafy autumn campuses from California to New York to Washington this week, students invoked the University of Missouri as they protested alleged racial insensitivity by rallying, sitting in, walking out, and, in some instances, making Mizzou-like demands for administrators' heads.
At Ithaca College in New York, more than 1,000 students staged a "die in" Wednesday to show solidarity with their MU counterparts, and to protest racial controversies at their own campus, including repeated use of the word "savage" by two alumni who were leading an academic event.
At the University of Chicago, student organizers were planning a Friday rally at which there would be, instead of a moment of silence, a "moment of shouting." "(W)e ask that Black identifying students do the shouting, and non-Black identifying students listen," organizers wrote on a Facebook events page entitled, "We Stand With Missouri and Yale."
At Georgetown University in Washington, students — again, invoking Mizzou — staged a sit-in at the university president's office to demand a name change for a campus building named after a slave-owning former college president.
Wednesday and Thursday saw a nationwide string of walkouts or demonstrations at more than 30 campuses and universities, the students voicing solidarity with MU students and with those at Yale University. The two schools, engulfed in simultaneous racially explosive conflicts over the past few weeks, are frequently invoked in tandem by protesters and media alike.
By one estimate, there are about 100 campuses displaying solidarity at some level with MU students. Many of them can be found on the Twitter hashtag #InSolidarityWithMizzou.
"These are the children and grandchildren of protesters" from the civil rights movement and other movements of the 1960s and 1970s, said Karen Lincoln, a professor of sociology at the University of Southern California and an expert in the study of social networks. "What we're seeing is a resurgence of that activism."
But with racial issues percolating at colleges for years, why has MU, now, become such a fuse?
One explanation is that, in the long history of students loudly demanding the removal of administrators, this is one of the few times they actually got it.
In short, the success of MU protesters in getting the departures of UM system President Timothy W. Wolfe and Chancellor R. Bowen Loftin grabbed the attention of other campuses in a way that a less concrete conclusion wouldn't have.
"Had the outcome been different — had some concessions been made by the university (short of resignations), for example, which happens quite often — you wouldn't been such a strong reaction to what happened in Missouri," Lincoln said. "It does send a very strong message. Students recognized their power. I don't think they knew how strong they are."
Martha Biondi, professor of African-American studies and history at Northwestern University, predicted that "this is more than an isolated incident. I think it's a genuinely national phenomenon."
Biondi, author of "The Black Revolution on Campus," said dissatisfaction among minority students had been simmering for many years, driven not just by racist incidents but also broader trends such as diminishing numbers of minority faculty members and skyrocketing tuition costs.
"Students often feel isolated. They don't know this is happening in other places," said Biondi. But with the central campus role today of social media, events such as the ones at Mizzou this week pull together those other students in a way that was less likely to happen in previous generations.
"They see that other students are doing it, too. There's a kind of camaraderie that emerges. You're part of a broader phenomenon."
That was the message at Claremont McKenna College in California, where a dean resigned after protests of her vow in an email to serve students who "don't fit our CMC mold."
"You need to hit them where it hurts," the mother of a Claremont McKenna student told the protesters, according to a published report. "It may have taken Missouri many, many, many years to accomplish this week what they accomplished, (but) we have a precedent to follow."
It isn't just protesters who are mimicking what the country has watched coming out of Missouri this week. Hate crimes and death threats also are making the rounds.
On Thursday at Bowie State University in Maryland, a swastika was discovered spray-painted on a column of a building named for the Rev. Dr. Martin Luther King Jr. Among the racial incidents that Mizzou protesters alleged weren't addressed forcefully enough was the discovery in an MU bathroom of a swastika drawn in feces.
And, just as minority MU students reported anonymous death threats last week, someone claiming to be an ex-Mizzou student posted an online death threat last week to all minority students at Howard University, a historically black college in Washington.
The letter writer vowed to shoot any African-Americans he saw on campus, and complained about Wolfe's pressured resignation. "And now the (N-word) at other colleges have to do the same thing?" he wrote.
Lincoln, the USC professor, said one potential outcome to campus protests around the country could be the hiring of more minority faculty members and more "support for students' diversity," which she said would ultimately ease racial tension at colleges. "When you have contact with people who are different, you tend to have better outcomes."