When Moses Gogra arrived in the U.S. at age 11, uprooted from his home and family in West Africa, he could not have imagined the twisted path that would lead him to graduate last week from a St. Louis charter school.
He could not have expected that he would study math — his favorite subject — at Southeast Missouri State University this fall.
He didn't arrive at this point alone. Along the way, the staff at Lift for Life Academy in Soulard, a church community in south St. Louis and two strangers stepped in to lift him up.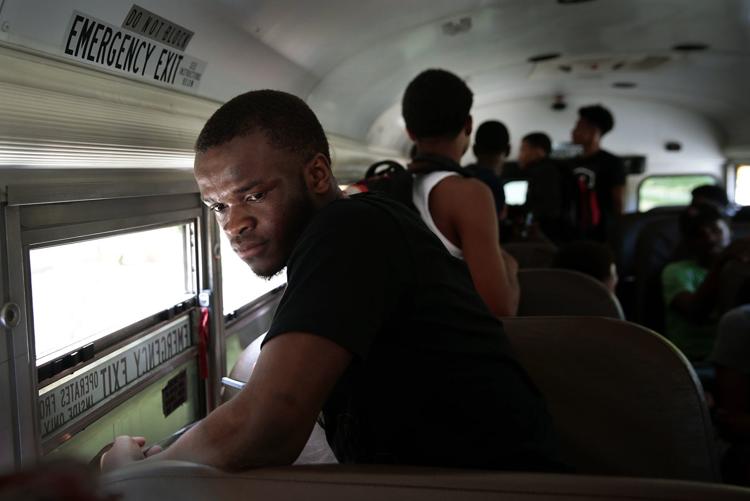 The journey began in 2009 when Moses' stepmother took him from his home country, Sierra Leone, to live in Philadelphia.
The United States was very different.
In Sierra Leone, "everybody knew everybody," Moses said. You could knock on somebody's door and they would welcome you and fix you something to eat.
But if you knocked on someone's door in the States, "they would look at you crazy," Moses said. People called him names. He got into fights. He acted out at home.
After he arrived in the U.S., Moses learned he would never see his mother again — she died in Sierra Leone of health complications after he moved. Moses' father, a university professor, stayed behind in Sierra Leone, a decision that left Moses resentful. Moses' father did not respond to multiple messages requesting comment for this story.
Moses recalls his life in Philadelphia as unpleasant. Eventually, his stepmother sent Moses to live with an uncle in St. Louis.
Strife in St. Louis
Life with his mother's brother was no better, Moses said.
The uncle, Mustafa Suaray, became angry at Moses for coming home late, not doing well in school and stealing things.
As punishment, Moses says, he was forced to sleep in the basement, a situation that Suaray denies.
Things got so bad between them, Moses says, that as a high school sophomore he slept outside near Soulard Market Park for several weeks. Suaray denies Moses slept on the street.
After school, Moses said he would walk several miles to his uncle's place in south St. Louis. While his uncle was out, Moses would sneak into the apartment to get something to drink, take a shower and wash his clothes.
All the while, Moses kept attending Lift for Life Academy, a small charter school in Soulard that prides itself on serving some of St. Louis' most disadvantaged children and fostering supportive relationships between students and staff.
He looked forward to school every day. School was a haven. There he had classmates who greeted him with smiles and teachers who would not let him fail.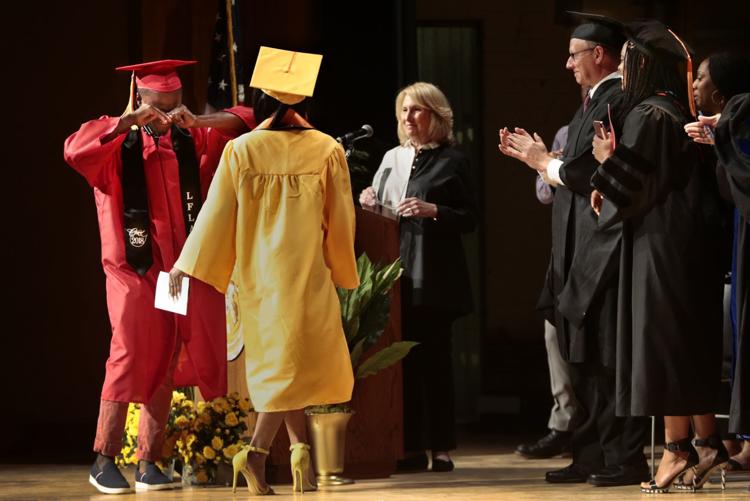 'Christian love'
Their deaths especially shook John and Carla Hagan, a St. Louis couple who have attended Timothy Lutheran for years.
At the same time, Moses' uncle was getting ready to leave St. Louis for Florida. Moses was desperate to stay in St. Louis, but he would become homeless if he did.
When a seminarian at Timothy Lutheran told the Hagans there was a teen who needed a home, it didn't take long for the Hagans to agree to take Moses in. They were empty-nesters, and their two-story house had plenty of room for somebody who was struggling.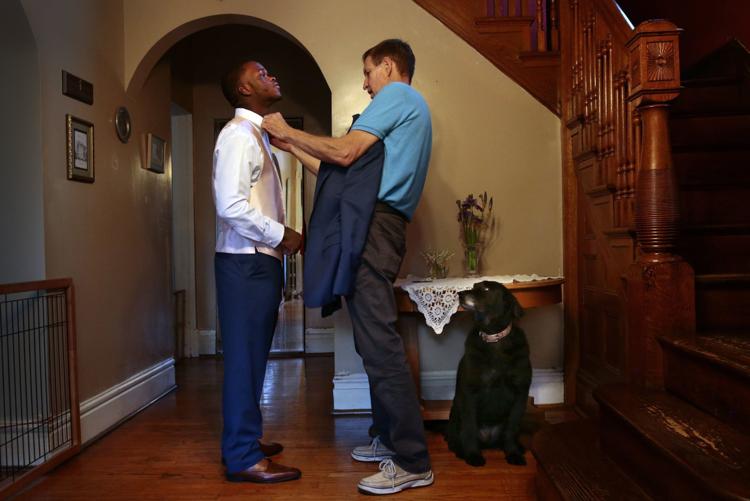 "Out of Christian love, we decided to take in Moses," John Hagan said. "We just felt like it was a chance to help somebody out."
On the day before Moses' 18th birthday, in the summer of 2016, the Hagans drove to his uncle's home and asked if Moses could live with them.
It took Moses about 60 seconds to load his things into the couple's car.
Sometimes Moses' father sent him Facebook messages, trying to reconnect, Moses said. Moses didn't answer him. As for his uncle, Moses says he no longer thinks about him.
Not quite family
The Hagans quickly learned that hosting Moses would not be the same as having a son.
Moses does not say much to people he doesn't know well. It's difficult for him to trust people. He's been a silent and elusive guest at the Hagans' home, who sometimes goes days without seeing him.
On school days, he rose early to catch the bus at 6:15 a.m. He sometimes comes home past 11 p.m. after a shift grilling burgers at a McDonald's where he works as many as five days a week. When he comes home late, the Hagans ask him if he wants supper, but he'll say he only has an appetite for sleep.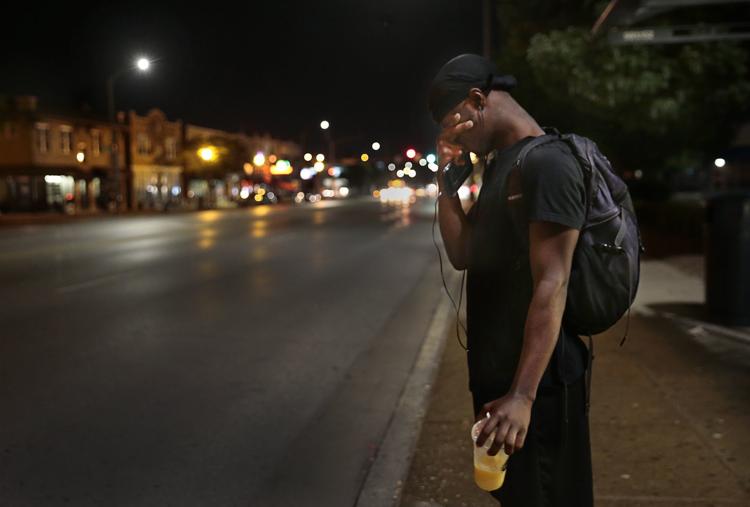 They have tried to make Moses a part of their family. They invited him to family dinners, including Thanksgiving and Christmas. They invited Moses to usher at their daughter's wedding. But Moses has not opened up to them.
"For the last several months, John and I have asked ourselves, what is it that we're doing wrong?" Carla Hagan said.
The Hagans know Moses has struggled. They know they can't parent him — he's 19 years old, already a man. Even so, part of them could not help but wish for another son. Until last month, they had no idea they had been helping him turn his life around.
"Very naively, we did not know what to expect, did not know how Moses has been so hurt and damaged — had no clue," Carla Hagan said. "Now I look back and I can understand it."
Taking charge
It was only a few weeks ago that Lift for Life staff learned Moses had lived on the street.
The revelation came through an Instagram project by classmate Jessika Cole, who interviewed him and documented his story for a "Humans of Lift for Life" project.
"I'm like, Moses, oh, my God, and I asked if he was playing, but he said no, he was serious," Cole said.
Even though nobody knew Moses' whole past, that didn't stop people from wanting to help him move forward.
There was Alison Owens, his favorite teacher, who helped him buy food, came to school on Saturdays to tutor him and his classmates in math, and loved him like a son. There was the staff at Lift for Life, who bought him uniforms when he couldn't pay for them and waived athletic fees so he could play football and run track. There were the folks at Timothy Lutheran Church, where he attends Sunday service and Bible study, who took an interest in his life and became his friends. And of course, there were the Hagans.
After Moses moved in with the Hagans, his grades improved. He got a job. He said he found his self-confidence.
For the first time, Moses is taking charge of his journey. For once, he gets to decide his next destination.
Last Thursday, he walked the stage and received his high school diploma. The school awarded him the Rochelle Weiss Perseverance Award, a $1,000 scholarship. The audience gave him a standing ovation. He cried.
He will attend Southeast Missouri State on a scholarship, the Hagans said. He will live in a dorm. He plans to become an engineer or a statistician.
As Moses told Cole in her Instagram interview:
"I never imagined that my life could be like it is."
Robert Cohen of the Post-Dispatch contributed to this report.