KIRKWOOD • Angel Matthews moved through the crowded hallways of Kirkwood High School under the 20-pound weight of her backpack. The bag was stuffed with more than a half-dozen books, a laptop computer, a binder filled with homework and scholarship applications.
It would be a full day. A discussion of two books in her Advanced Placement literature class. A quiz in precalculus. A dissection of a sheep's heart in anatomy.
Matthews, an 18-year-old senior, had intended to study on the bus ride. But getting to Kirkwood meant waking at 5 a.m. to walk through her north St. Louis County neighborhood and meet the bus as the sun rose. Matthews dozed instead.
There were times she was tempted to abandon the rigor and pace of Kirkwood for Riverview Gardens High, the lower-performing school in her neighborhood that she left in 2013 under a controversial state law. But she didn't want to leave behind what Kirkwood was giving her.
This is where she made varsity cheerleader and was inducted into the National Honor Society. It's where she started learning Mandarin. It's where she saw how more affluent classmates lived and learned how to be confident when she was the only black student in the classroom.
It's also where she realized the deficiencies that troubled schools can inflict on even their best students — shortcomings that are fully apparent when those students move to high-performing classrooms.
When she was a sophomore at Riverview Gardens, Matthews was among the top students in her class. Months into her junior year at Kirkwood, she fell to the middle of the pack.
Here, classes were harder. Expectations were higher. While hundreds of transfer students returned to their old schools this year, Matthews decided to stay at her new one. Her grades had dropped, but she was learning more.
"The only time I do regret it — you know when you're running and you want to give up?" Matthews asked. "I get that feeling sometimes. But in reality, I want to keep going."
Matthews had arrived early this particular morning, as she always does, spending time in the cafeteria around a table with other students from north St. Louis County who had left troubled schools in search of a better education.
For the past two years, Matthews has navigated Kirkwood High with the goal of challenging herself. She signed up for as many Advanced Placement and honors classes as she could. She's done it while working more than 20 hours a week behind the deli counter at Schnucks, arriving home after 9 some nights from cheerleading at games. And then rising before dawn to ride a bus more than 30 miles to school.
Matthews walked into her first period AP Literature class — a college-level course — and took a seat in the circle of chairs. She reached into her backpack for two novels, the binder and a pen. Over the weekend, she'd been swept up by the first chapters of "The Awakening" and "Life of Pi." She was prepared to dive into discussion.
The eyes of 24 other students were on Simao Drew, a teacher in his early 40s who stood in the center of the circle wearing a red Kirkwood High T-shirt and holding a thermos of coffee.
"We'll start with vocab today," he told his students. "Followed by quiz. Followed by tying back into 'The Awakening.' Followed by book groups. Followed by bell."
Shortly after arriving in Kirkwood, Matthews was struck by its pace — how quickly teachers and students moved through their material. The depth and breadth of what was happening here was beyond anything she had known.
The course catalog itself was overwhelming and tempting — dozens of Advanced Placement courses and dual-enrollment classes that would give her college credit while in high school.
Matthews had spent the previous 10 years in three of Missouri's worst-performing school districts. Just one of those years was at Riverview Gardens, a district that touches the northern boundary of St. Louis. Another year was at neighboring Jennings Junior High. The other eight were spent in the Normandy school system, which has become the worst-performing in the state. Matthews' mother had limited housing options.
Matthews had been learning at these schools, she said. But teachers moved at a slower and less-challenging pace.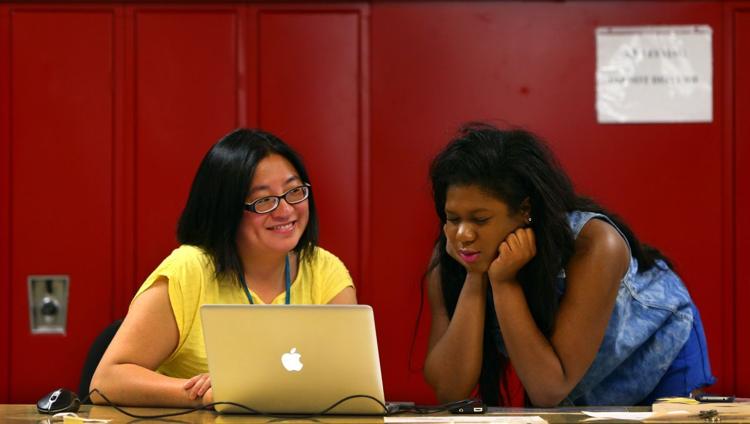 They hadn't given her the foundation she needed to thrive in some of Kirkwood's honors classes she took her junior year. In honors chemistry, Matthews was expected to already know a system of measurements that she'd never been exposed to. And she had never been taught the standard way of reporting scientific data using significant figures.
"I had to sit down and learn this stuff on my own so I could apply it to new stuff I was about to learn," Matthews said. "Logarithms. I didn't know logarithms. It was embarrassing. It was really embarrassing."
A science teacher at the school, John Mackin, tutored Matthews before class several days a week.
In February, Matthews sat beside her friend Danielle Williams on a student panel on education inequity held at the University of Missouri-St. Louis. The two had met in honors English at Riverview Gardens. But they didn't become close until they were both juniors at Kirkwood.
They're often the only African-Americans in their classrooms — an adjustment from their old schools, where nearly all students are black and where teachers didn't expect as much from them.
"I came from Riverview," Williams told the roomful of teachers and principals gathered at the panel event. "Their A's to me didn't count the same as a Kirkwood A. At Kirkwood they're held to a higher standard."
"Going to other school districts, it felt like A's were given to me," Matthews added. "The work wasn't challenging. I didn't have to work hard for my A. At Kirkwood, when I work hard and I get an A, it's a release. It's, 'Oh, my God, I got this A. I worked for it. I earned it.'"
Students shuttling between school districts isn't a new concept for St. Louis.
Over two generations, more than 60,000 African-American students have boarded early-morning buses to more successful schools in affluent, predominantly white St. Louis County suburbs.
Most have come from St. Louis, where voluntary desegregation began in 1983 as a court-mandated attempt to create more racial balance among city and suburban schools.
The state law allowing for student transfers out of unaccredited school districts in north St. Louis County doesn't center around race, but rather school choice for children who live in unaccredited school districts. Most of the children who have exercised the transfer option under this law are black.
Some former students who went through the busing experience in the 1980s and '90s say it left them scarred from feeling like outsiders in predominantly white classrooms. Others say it opened doors of opportunity.
Educators and politicians have debated whether there's any way to measure whether the majority of children who go through the experience are any better off.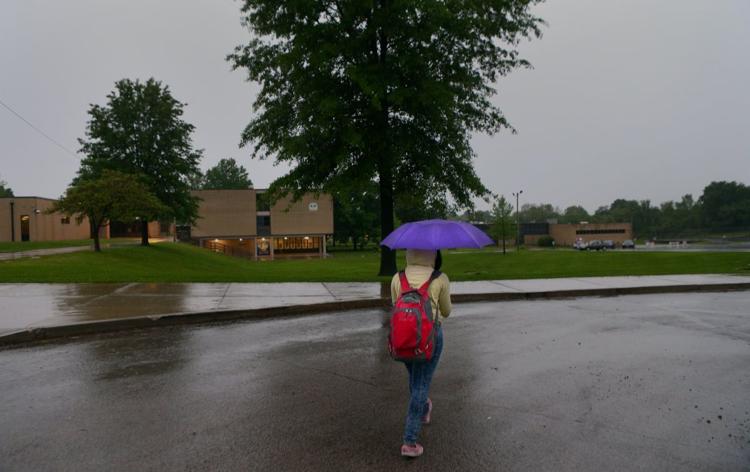 Those questions are being asked anew about students such as Matthews who have crossed district lines under the Missouri school transfer law.
Over two years, hundreds of parents have chosen to send their children to schools outside their neighborhoods. Some have returned to their original schools, saying transferring was not a good experience.
Matthews' younger sister, a junior, left Kirkwood High School after just a few months. She's back at Riverview Gardens High School, getting extra assistance from the Special School District of St. Louis County. Matthews' younger brother is thriving as a sixth-grader at North Kirkwood Middle School. He wants to stay.
This year, 672 Riverview Gardens students are attending more successful public schools under the transfer law; 125 are spread throughout the Kirkwood school system.
"The quality of education they were getting was mediocre," said Shaunna Matthews, Angel's mother, referring to Normandy, Riverview Gardens and Jennings.
"As far as the academics — my baby's now taking Chinese. She went in picking out AP courses, which made me very proud of her because it let me know she wanted more. So, I thank the fact I was able to get her into a school district that could give her more."
Riverview Gardens and Normandy have lost millions of dollars over two years in tuition and transportation costs for more than 2,000 transfer students such as Angel Matthews — half of whom didn't continue as transfer students this year. This has left the two unaccredited districts with fewer resources to educate the 8,400 children who remain in their schools.
This month, the Post-Dispatch documented the continued decline of Normandy High School. There, Cameron Hensley, 18, a Normandy High honors student, opted not to transfer. But in his senior year, his school no longer offered honors classes. He hasn't written an essay, read a book or been assigned much homework since fall.
Shaunna Matthews said it bothers her that the transfer alternative is negatively affecting children — particularly in Normandy — who don't leave unaccredited school districts. But her primary concern is that her own three children have access to successful schools.
"You know what really hurts my feelings?" Shaunna Matthews asked inside the living room of her home in Bellefontaine Neighbors. "If I'm paying taxes into a school district, and it's still failing. While you're failing, you're failing my kids. At some point you have to have your loyalty to your child and get them the best that's out there."
Angel Matthews plans to attend the University of Missouri-Columbia this fall, with ambitions to become a bioengineer.
It's a field that caught her attention last year while taking AP psychology. That class sparked her interest in neurology and cochlear implants. It's held in a lab where about eight students have been learning to cut DNA strips and bind them chemically with new DNA to make brand new genes.
"We learned about the water problems around the world and how they can be improved through bioengineering," Matthews said. "We learned about agricultural problems. That's why I want to go into genetic modification, because I really like that."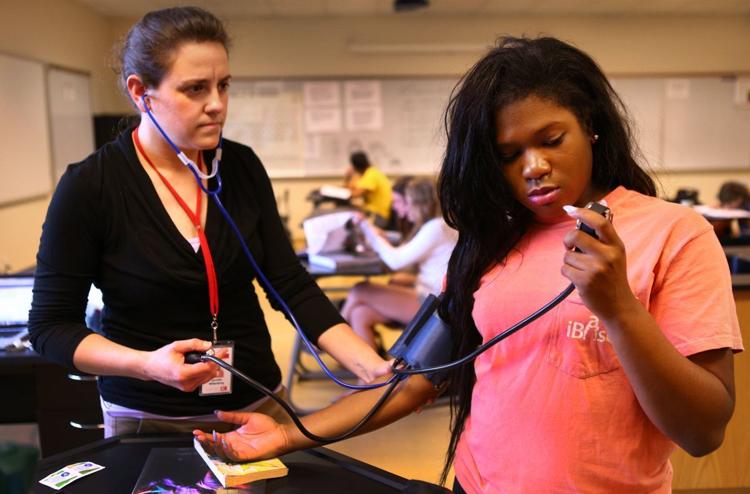 Her anatomy and physiology class opened her eyes to the world of medicine. Among other things, she dissected a cow's eye and a sheep's heart and brain.
"Through that class I was able to go to the Washington University Saturday Scholars program, where we did cadavers," Matthews said, meaning she observed medical students dissecting them. This led to her participation in Mizzou's medical program where she shadowed a neurologist.
On Saturday she wore a red gown and graduated with her 434 classmates at Chaifetz Arena at St. Louis University.
She isn't graduating at the top of her class like she could have at Riverview Gardens, but she's comfortably in the top half.
This bothered Matthews at first. But she's received several scholarships through Kirkwood School District — including its foundation and the high school's PTO. She received a leadership award from Kirkwood High. She is a Gold K recipient, an award given to students who have maintained a 3.5 or higher GPA.
Matthews said she has no regrets in trading class rank for knowledge.
"I feel like I could sit in any college class and be confident, and not wonder if I'm ready for it," she said. "I am ready."
---
EDITOR'S NOTE: An earlier version of this story gave an incorrect spelling of teacher Simao Drew's name. This version has been corrected.