ST. LOUIS • St. Louis University professors are raising questions about a recently announced $50 million gift to fund faculty research and hire faculty, claiming the donation comes with strings that include a say in hiring professors.
The donation — the largest gift in the school's 200-year history — from local philanthropists Rex and Jeanne Sinquefield was announced Aug. 29 as largely open-ended funding of research that would include a subject close to Rex Sinquefield's heart, economics.
Professors in that department have recently outlined their concerns in two memos to administrators after learning that part of the gift would establish a research center whose director was selected by Rex Sinquefield and the dean of the business school, without faculty input — an arrangement they say calls into question the university's policies when accepting gifts.
A SLU spokesman did not respond to a call and an email seeking response on Monday evening.
As of Monday, more than 50 professors had signed a letter written by economics professors Bonnie Wilson and David Rapach that called for the university to clarify that it explicitly bans donors from participating in the hiring, evaluation or promotion of employees.
At an Aug. 24 meeting with the professors, Mark Higgins, dean of SLU's Chaifetz School of Business, told them that $10 million of the Sinquefields' gift would establish the Sinquefield Center for Applied Economic Research in the school, according to Wilson and Rapach.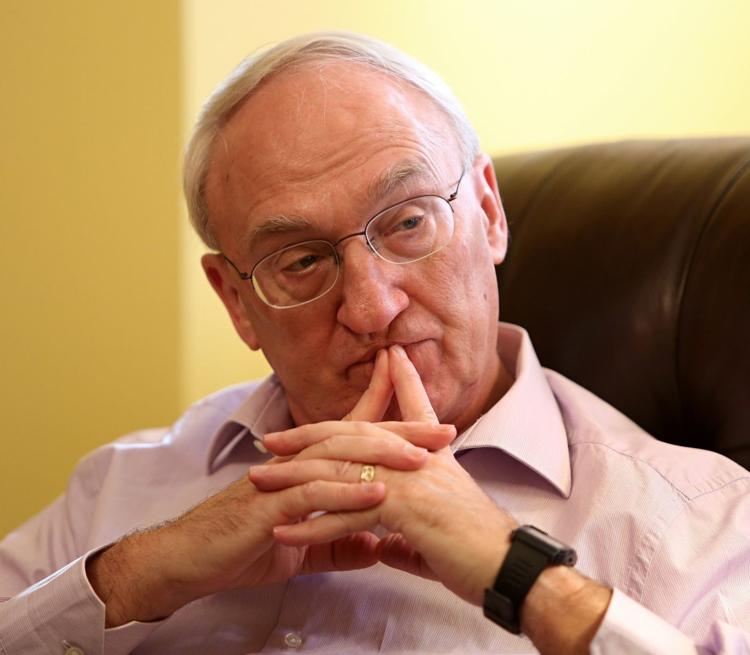 Higgins told the professors that he and Rex Sinquefield would together select the center's director, who would have the title Sinquefield professor of economics. That director and the dean would then hire visiting faculty and researchers, the professors said.
At a meeting three days later, the dean allegedly told Rapach that the director had already been selected and gave him the name of the person, a professor at another university in Missouri.
The hiring violates accepted academic standards and jeopardizes SLU's reputation by giving the impression the donor is influencing research, Rapach said.
"It's a clear violation of academic norms of integrity and independence," he said. "These are ethical standards. Regardless of who the donor is, regardless of the director that was selected, even if it's not happening materially, it gives the appearance that it's potentially happening."
The arrangement also violates SLU's faculty manual, which requires that faculty be hired by a committee of their peers.
The Faculty Senate is expected to discuss establishing a committee Tuesday that would change university policy to more clearly bar donors from participating in employment matters or playing a role determining curriculum or in the direction of funding to students and faculty.
Rex Sinquefield, a retired index fund pioneer, SLU alumnus and member of the university's board of trustees, is known for his political contributions, which often support libertarian-leaning causes and have made him perhaps the most prolific financier of candidates and campaigns across Missouri.
According to Wilson and Rapach, administrators responded to concerns by saying they would ask the Sinquefields about reclassifying the center's director and employees as staff, thereby excluding them from falling under provisions in the faculty manual.
But the change in title would not address the core issues, the professors said.
"Nothing has changed but a labeling," said Wilson.
She said the director and staff would still perform the same job duties, including research.
"I'm actually more concerned when they call this person staff, because as far as I'm aware the university does not have a policy that affords academic freedom protections to staff," Wilson said.
Wilson and Rapach said they think the arrangement was a result of a policy that doesn't clearly ban quid pro quo, not bad intent by administrators or the Sinquefields.
"A number of administrators are on record claiming that the raising of concerns could result in the gift being withdrawn," Wilson said. "In my mind that sounds like the donor could have a quid pro quo expectation.
"What that says to me is our policy isn't clear enough."
Donations are an important and frequent part of funding education and research at higher institutions.
"These are difficult times for schools financially," Rapach said. "If institutions of higher education are willing to compromise ethical standards for example with respect to donor involvement and hiring because of the size of the gift, that doesn't bode well for society," Rapach said.
"You don't want to give the impression at all that schools have a price tag."
Daily updates on the latest news in the St. Louis business community.