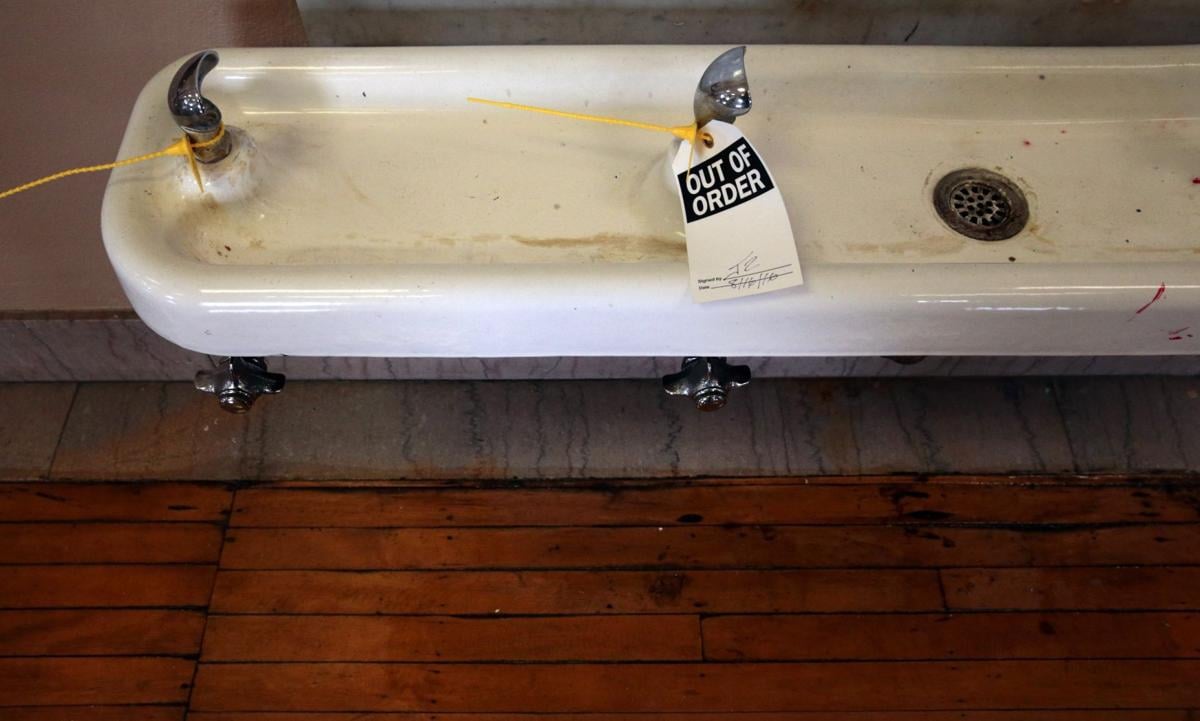 UPDATED with schools where elevated levels of lead were detected in water.
ST. LOUIS • Preliminary results from tests conducted this summer reveal that 30 school buildings in St. Louis Public Schools have elevated lead levels in water.
Students in about half the district's schools started the year this week to find at least one drinking fountain or one sink shut off because of lead. At Meramec Elementary, one drinking fountain and one sink is turned off. At Patrick Henry Downtown Academy, yellow tape and "out of order" tags are attached to the first-floor drinking fountain.
In June, the governing board of St. Louis Public Schools moved forward with voluntary testing of every consumable water source in all buildings that serve children. The $328,000 contract with Environmental Consultants LLC pays for asbestos abatement as well as the water testing.
Consultants collected water samples over the summer from 744 drinking fountains and sinks in each of the district's 74 buildings where children receive any level of service. Of the water sources tested, 82 had elevated lead levels, according to preliminary data.
On Wednesday, parents at the 30 affected schools received letters notifying them of the elevated lead levels and the number of sinks and drinking fountains that are now out of commission.
"They will remain closed until we are able to remediate the lead level concern," wrote Karessa Morrow, principal of Meramec Elementary.
The district is providing bottled water at 12 schools where drinking fountains outside the cafeteria are shut off, or where multiple drinking fountains are no longer operating.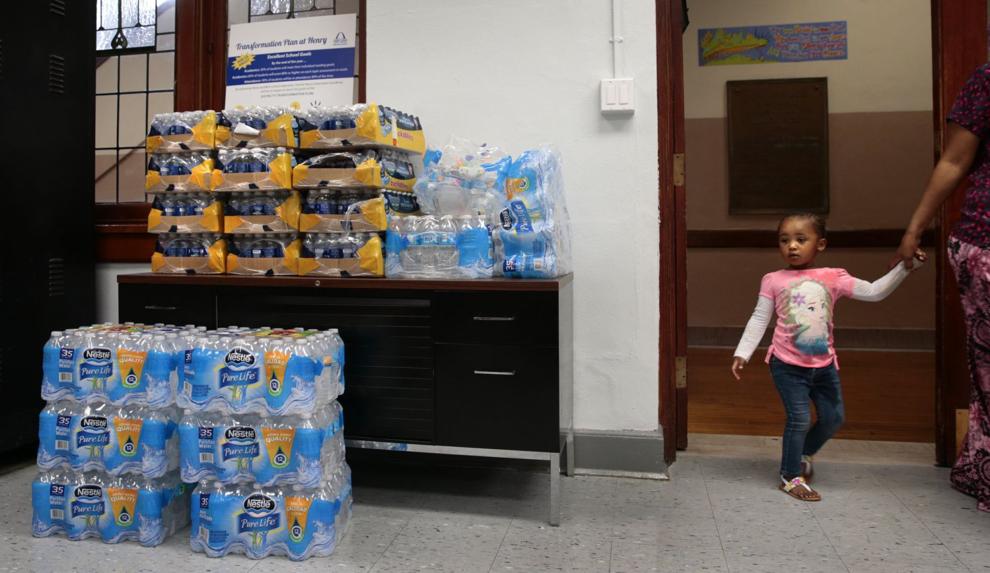 At Patrick Henry Downtown Academy, near downtown, cases of bottled water were stacked in the main office on Thursday. Bottled water is also being distributed due to lead-contaminated water at Carver Elementary, Northwest Academy of Law, Sumner High, Mann Elementary, Sigel Elementary, Peabody Elementary, Shenandoah Elementary, Nahed Chapman New American Academy, Fanning Middle, Clay Elementary, and the old Beaumont High School, where teenagers take career and technical education courses.
Another 18 schools had elevated levels of lead in their water, but most of their drinking fountains had low or non-existant levels of lead. Those schools are: AESM Middle, Busch Middle, Carr Lane VPA Middle, Clyde C. Miller Career Academy, Compton-Drew Middle, Cote Brilliante Elementary, Galludet, Gateway STEM High, Gateway Middle, Herzog Elementary, Hickey Elementary, Laclede Elementary, Langston Middle, Long Middle, Meramec Elementary, Oak Hill Elementary, Roosevelt High and Vashon High schools.
Over the years, crews have removed and remediated lead-based paint at all schools that enroll children under the age of 7. District officials believe it's the first time water in buildings have been tested for lead. The tap water in St. Louis is regularly tested for lead and other contaminants. There is no concern about lead in the municipal water, but older pipes in homes and buildings could be a source of lead.
"Where it's found historically is inside the building's plumbing or in the service line," said Curt Skouby, director of public utilities for St. Louis. "So you might have a lead service line or a lead solder, and some drinking fountains have components that leach lead."
In the district, concern arose after reports of lead contamination in the water supply in Flint, Mich. The district's Special Administrative Board requested that Environmental Consultants do the testing, at a cost of about $900 per school.
Skouby said he had not received findings from the district's tests.
District officials are awaiting final test results and plan to release them on Thursday. The district's report will indicate where high lead levels were found. District officials are already discussing plans to replace drinking fountains, faucets and pipes. After repairs are made, the water will be retested to ensure elevated lead levels are no longer present, district spokesman Patrick Wallace said.
St. Louis Public Schools isn't the only district with aging buildings where lead-contaminated water is possible. A number of districts in St. Louis County and the St. Louis Archdiocese have schools built before World War II.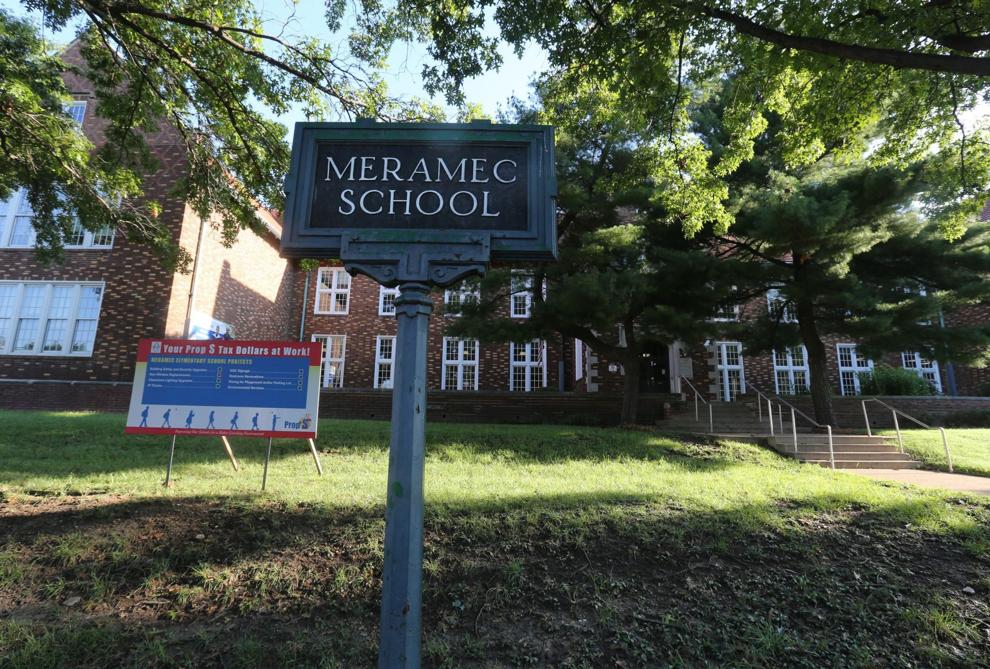 The Environmental Protection Agency requires action to be taken if lead levels in water reach 15 parts per billion. The district lowered the threshold to 10 parts per billion to remove any risk to students, Wallace said.
"In our district, any source that comes back higher than 10 per billion we're shutting down," Wallace said. "There is no way a student or staff member will be able to access water from that source until it is fixed."
No amount of lead — a neurotoxin — is considered safe in the human body. Research has indicated that even low-level lead exposure can contribute to subtle changes in intellect and behavior, which can mean a drop in IQ or the development of learning disabilities.
In 2014, 9.2 percent of young children in St. Louis — or a total of 1,123 who were tested — had a lead level above 5 micrograms per deciliter of blood, the federal threshold for intervention. An additional 2,189 children in the city have lead levels between 3 and 5 micrograms, which can cause developmental delays and a permanent drop in IQ.
Young children are most at risk from negative effects of lead because their brains and bodies are still developing. The main source of lead contamination in Missouri is lead paint in older homes. State law requires annual blood tests for lead for all children under age 6 in St. Louis and six ZIP codes in St. Louis County with older housing stock, including areas of Ladue, Clayton, Richmond Heights, Maplewood, Brentwood and Kinloch.
The 63118 ZIP code, where Meramec Elementary is situated, has the most children with lead poisoning in the city. In 2013, 226 children in the area had blood lead levels above 5 micrograms and 54 had levels above 10.
EDITOR'S NOTE: An earlier version of this story gave incorrect information about the number of drinking fountains and sinks at Meramec Elementary that tested positive for lead. The district has since clarified it is one drinking fountain and one sink at the school, correcting erroneous information in letters sent to parents
Blythe Bernhard of the Post-Dispatch contributed to this story.