NORMANDY • Third-grader Tiffani Cruz has been going to bed early on Friday nights because lately, it's become a school night.
She and other Normandy students are hitting the books on Saturday mornings, spending three hours at school during the weekend to get extra help on math and English language arts. It's part of a new program for Normandy students this year to increase learning and improve test scores in a district that is ranked at the bottom in the state.
To Tiffani, the Saturday "Learning Lab" is just fun.
"She really enjoys it," said her mom, Veronica Cruz, as she dropped Tiffani off at Lucas Crossing Elementary Saturday. "She's been excited each time."
Upstairs with four other children and teacher Audrey Woods, Tiffani worked on what she calls "pizza math" as they went through fractions. They put items meant to be different ingredients on cutouts of slices.
"My pizza is 2/4 or 1/2 pepperoni," she wrote on a sheet of paper for the assignment. Like Tiffani, other students at Lucas Crossing Saturday said they liked coming to school on a weekend.
"Can we learn about rounding numbers?" another third-grader asked Woods as they wrapped up the pizza assignment.
Other students may not be so enthusiastic. Saturday was a sunny fall day with temperatures in the upper 60s, and there were about two dozen students at Lucas Crossing. Attendance has ranged from 20 to 50 children at that building.
The three-hour program provides breakfast and a snack, as well as bus transportation to the school.
The idea of school on Saturday is part of the plan to help the Normandy Schools Collaborative regain accreditation, the loss of which has led to turbulence during the last three years. The state took over in 2014, and a new superintendent, Charles Pearson, started in May.
Just as Normandy was losing accreditation, Veronica Cruz and her husband were moving to the St. Louis area from California. Last year, Tiffani attended Bridgeway Elementary School in the Pattonville District. The family had been living in an apartment but moved when they had the opportunity to rent a house in Normandy at a lower cost.
"I wanted to keep her at Bridgeway, but it wasn't possible," Veronica Cruz said.
The Learning Lab enrichment program, which started a six-week session in October, provides services and interventions for students in second through 12th grade needing additional assistance. Another session is planned for the spring.
The Saturday sessions target students who have tested at basic and below basic levels on state standardized tests in math and English language arts.
For those who show up at school on a Saturday, lower attendance numbers can mean extra individualized attention with teachers, some who specialize in reading and math intervention.
Robert Jackson Jr., a math coach, sat with two students having trouble finding the correct answer to 1,248 minus 653. When a fifth-grader got the wrong answer and went to erase his work, Jackson stopped him.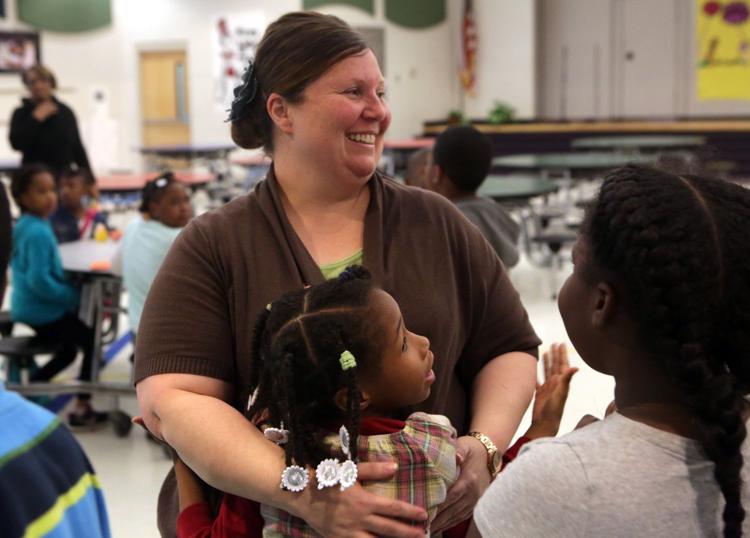 "Don't erase, let's find out what we did wrong," Jackson said. They used cubes and blocks to talk about place value and worked through the problem visually.
In another classroom, alliteration was the lesson of the day for fourth-graders as they learned how writers use different types of language to get their ideas to hit home with readers. In past weeks, they had studied figurative language such as metaphors and similes.
To pay for stipends for teachers to work on Saturdays and other costs of the Learning Lab, Normandy is using part of its federal Title I funds, allocated for programs to improve academic achievement.
More teachers volunteered than spots available, said Brenda Harris, director of human resources for Normandy schools. Administrators wanted the ones with the most experience and success in moving children forward. The teachers then looked at what students were struggling with, and developed lessons to drive the concepts home.
"I think we're going to see results," she said.