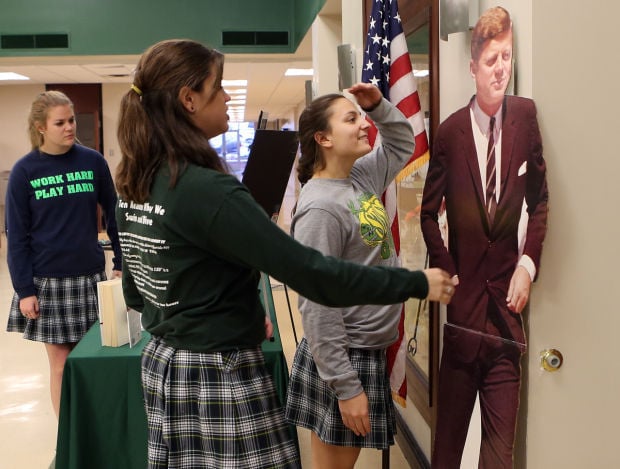 MANCHESTER • John F. Kennedy Catholic High School will close at the end of this school year, according to a letter to parents sent Friday from St. Louis Archbishop Robert Carlson.
Carlson said he accepted the recommendation to close the school "in spite of the efforts of many to improve enrollment and reduce the increases in the cost of education."
In recent years, enrollments at many Catholic schools have dropped significantly. Kennedy Catholic High's freshman enrollment is half of what it was two years ago, with fewer than 50 students.
About 280 students are enrolled at Kennedy this year, according to the school's website. The school has 30 faculty members.
Rumors of potential closure have circulated among parents and alumni for years, as Carlson has worked to improve the academic rigor and Catholic identity at Archdiocesan schools as well as draw more students to them.
In 2012, Carlson stood on the stage at Kennedy Catholic High and announced a plan that aimed to fill about 1,800 vacant seats in the region's Catholic schools by channeling more revenue toward scholarships and pushing for state tax credits for tuition-paying parents.
Called the "Alive in Christ" initiative, Carlson's plan sought to magnify the schools' Catholic identity by stepping up the celebration of Mass, observing regular prayer and ensuring that educators are steeped in the catechism and traditions of the faith.
Despite those efforts, "there has been a diminishing number of Catholic families in this area of the archdiocese seeking a Catholic high school education for their children," Carlson's letter states.
Murray Wehking, who graduated from Kennedy in 1977, said knowing that closure was possible didn't make Friday's news any less difficult to digest. He and his wife broke the news to their son, Tommy Wehking, a sophomore at Kennedy.
"It's a sad day," Murray Wehking said. "It does make it sadder that we'll have to do something to find another school for our son."
Kennedy opened its doors in 1968 and is the only co-ed college prep Catholic high school in west St. Louis County. It's among 26 Catholic high schools in the 11-county St. Louis Archdiocese.
Carlson stated that he had directed Kurt Nelson, superintendent of Catholic education, to contact the presidents at those high schools about considering and welcoming students from Kennedy Catholic.
All current scholarship grants and tuition arrangements will be honored at any of the schools owned and operated by the Archdiocese. Kennedy students who transfer to Catholic schools will receive a $500 transition credit to cover student fees.