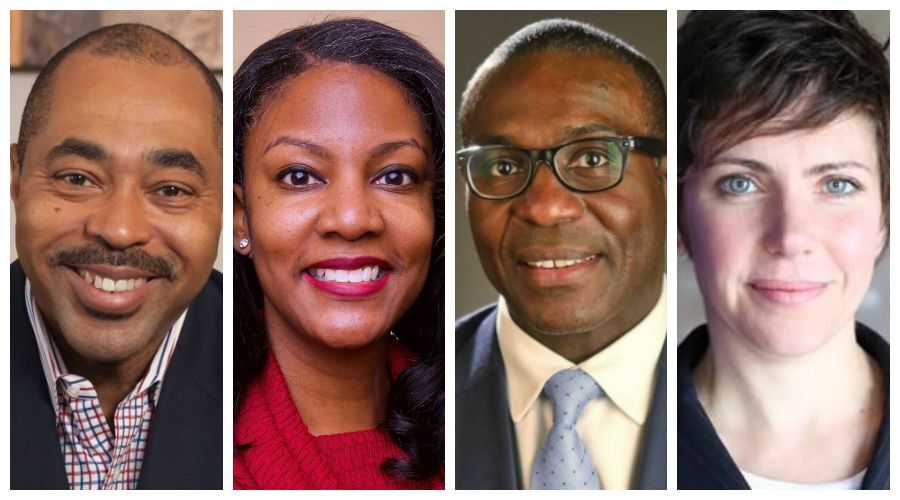 Although the mayor of St. Louis has little influence over the city's education system, candidates for the position have weighed in as the public school district shrinks and charter schools expand.
This year, enrollment in St. Louis Public Schools from kindergarten through high school dropped to around 18,000, while close to 12,000 students enrolled in charter schools.
The 60:40 ratio of district to charter students puts SLPS in a perilous financial position, Missouri school board members said last month. Under state law, charter schools are funded through a tax revenue formula per student, with the total amount then subtracted from the aid allotted to the home district.
The city needs a strategic plan for the size and location of its schools, said mayoral candidate Alderman Cara Spencer.
"We don't willy-nilly open up fire houses or other public institutions — they're thoughtfully distributed," Spencer said. "When people entrust their children to schools in the city, the city needs to do its due diligence by thoughtfully approaching the schools."
Next fall, SLPS plans to close at least seven buildings due to low enrollment. One charter school is set to open and several existing charters will expand. Three more charter schools are in the pipeline for the fall of 2022.
The St. Louis School Board supports a moratorium on new schools in the city, which would require state legislation in order to curb charter schools. Spencer also supports a moratorium, as do mayoral candidates city Treasurer Tishaura Jones and Aldermanic President Lewis Reed.
"We need to focus on enhancing our current school system," Reed said. "I do not want to replace public schools with charter schools. I want to make the SLPS system a world class educational system."
Reed's children attended SLPS and are now in college. The fourth candidate, Republican challenger Andrew Jones, said his children are SLPS graduates and his grandchildren attend public schools outside the city. He did not comment on charter schools.
Spencer's son attends a charter elementary school but she said she is considering SLPS for middle school. She wrote a letter in 2018 to the Missouri school board supporting "a diversity in education options" prior to its approval of Kairos Academies charter middle school, which was co-founded by Mayor Lyda Krewson's son Jack.
Spencer acknowledges that it sends a troubling message to residents and taxpayers when none of the mayoral candidates currently have children or grandchildren in the city district schools.
"We have serious work to do to support our SLPS system," she said.
Charter schools receive public funding but are operated by independent, appointed boards. Charter advocates oppose a moratorium and say parents need more options for tuition-free schools if they are dissatisfied with the district.
The newest charter schools have been supported by The Opportunity Trust, which is funded in part by national grant-maker City Fund. The fund's strategy includes increasing the number of public schools that are run by private boards or nonprofits instead of elected school boards.
Leaders of the advocacy group Solidarity with SLPS, which is circulating a petition for a moratorium on new schools, criticized Tishaura Jones this week for accepting a $500 campaign donation from Marlon Marshall of the City Fund.
Jones said she and Marshall have been friends for years, and that she hasn't accepted donations from any school privatization groups.
As a state representative in 2011, Jones wrote in a Post-Dispatch op-ed, "Let's expand charter schools and give our students a fair chance at succeeding in the future."
She went on to sponsor a 2012 bill that allowed charter schools to open statewide while adding oversight measures. At the time, she told the Post-Dispatch that she planned to "put my money where my mouth is and put (her son) in a charter school."
Jones said her son tried a charter school seven years ago, but it didn't work out. She declined to say where her son attends school now but said she rejects the idea that a parent has to send their child to SLPS to support the district, pointing to her College Kids savings program for the city's public school students.
"SLPS needs an active partner in the mayor's office, and current city leadership has not provided that or met that need. In a recent meeting with Superintendent (Kelvin) Adams, he told me that if the mayor's office or anyone in city leadership indicated that there was a development strategy for north St. Louis, they likely would not have closed schools."
None of the candidates said the mayor should have the power to authorize new charter schools, which former Mayor Francis Slay lobbied for in 2011. Slay's office recruited charter operators to the city after they were first approved in 1999.
"The Mayor's Office helps identify where schools are needed most in order to help direct new charter schools to the priority areas," according to an August 2015 news release from Slay touting eight new charter schools.
One of those schools, St. Louis College Prep, closed in 2019 and its founder was recently sentenced to a year in prison for manipulating attendance data. The other seven charter schools earned the same test scores on average as SLPS — 23% at grade level in English and 19% in math, according to 2019 state records.