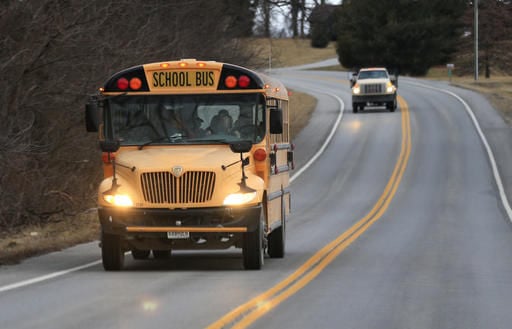 JEFFERSON CITY — Parents may be able to choose which public school their children attend under a proposal given preliminary approval by the Missouri House on Wednesday.
Legislation sponsored by Rep. Brad Pollitt, R-Sedalia, would let traditional public school districts decide whether to allow students to transfer into the district and how many spaces they have. Students could then apply for spots.
Schools could not normally prevent students from transferring out. But during the first two years of the program they could cap transfers out at 5% of previous enrollment, slowing the exodus of students to allow for planning and adjustments.
Pollitt described the proposal as a school choice measure. But unlike many recent school choice proposals, such as charter school expansion, it would keep students within a traditional public school system.
Pollitt offered several examples of when parents might seek transfers for their children:
• A student with dyslexia might need a more specialized reading program not offered in every district.
• Another school district's curriculum might better match a family's politics or values.
• It could be easier if a student attends a district closer to the parent's job.
Amendments added during debate aimed to improve safeguards against students hopping from school to school to play sports.
Another amendment that was approved would allow parents to send their children to any school district in which they pay property taxes.
Representatives on both sides of the aisle praised Pollitt for the effort and compromise that went into the proposal approved in the House.
But a few expressed concern that the proposal could have unintended consequences on some school districts, encourage segregation or exacerbate disparities, especially if not fully funded by the state.
Rep. Kimberly-Ann Collins, D-St. Louis, said several schools in her district have recently closed. She worried the proposal could encourage more students to leave the district, further harming local schools and removing options for families to have children educated in the community where they live.
"I'm more interested in helping students and giving their parents a choice, to keep the choice within the public school system, than I am about whether it helps that particular school or not," Pollitt said after Collins asked him whether the proposal would help struggling schools in St. Louis.
But Pollitt also said his goal was not to close and consolidate schools.
His five-year goal is that "every school district has roughly the same number of students, but they have different students because students and parents are in districts they want to be," he said.
Other concerns related to the ability of low-income or disabled students to participate in the program.
Pollitt's proposal would allocate $30 million to help cover transportation costs to neighboring districts for students on free and reduced-price lunches, a measure of poverty, and to cover additional costs for students with disabilities.
But the Legislature could choose not to fund that part of the proposal, or not to replenish the fund if it runs out.
"One of my concerns is that if we don't fund this we will continue to segregate our schools by class, by race and by ability," said Rep. Maggie Nurrenbern, D-Kansas City. "If we want real change and we want reform we have got to put the money where our mouth is."
Pollitt said his proposal includes safeguards to prevent school segregation. He agreed, however, the legislation wouldn't function properly if underfunded.
"Shame on us in the state of Missouri, shame on my party, if we lose money out of that fund, and it becomes depleted, and this program is successful, and we have more kids that want to participate in that program," Pollitt said. "Shame on us if we don't find the money to make sure those students have the opportunity."