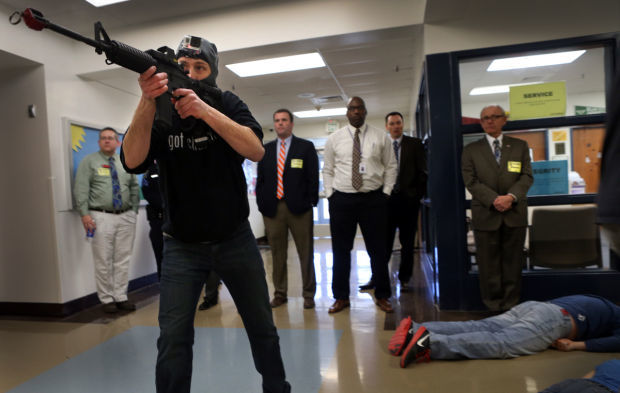 JEFFERSON CITY — Less than a year ago, a special task force convened by Gov. Mike Parson released a blueprint for improving safety in Missouri schools.
The group, formed in the aftermath of the 2018 deadly school shooting in Parkland, Florida, worked for three months on a template that included a recommendation that all schools have an armed officer on hand to quickly respond to threats.
The move by the Republican governor is just one more example of the sudden shift in priorities due to the spread of a deadly virus that has decimated tax revenue and forced government leaders to pare back spending while the economy limps along.
Missouri was already among states spending the least amount of money on school safety programs.
When Parson zeroed out the $300,000 line item as he signed the state's 2021 fiscal year budget on June 30, it put the state dead last in the nation, said Melissa Randol, executive director of the Missouri School Boards' Association.
"Unfortunately, Missouri has historically been one of the lowest in the country. Now we're, of course, 50th. Obviously this money is critically needed by our schools," said Randol, who was a member of the school safety task force.
"We provide a number of services and training to school districts through that on everything from active shooter training to school bus training," Randol said.
It is unclear whether Parson's move will result in training programs coming to a standstill this year. Randol said the center could still offer programs if school districts are willing to pay.
In the best case scenario, Randol said the economy will recover from the pandemic-related shutdowns, resulting in more tax revenue flowing into the state's coffers.
"We're hoping that if there is an ability to restore funding that this will be a priority," Randol said.
In March 2019, school safety was a priority for the Republican governor. He traveled to Blair Oaks High School in Wardsville to sign an executive order forming the task force.
In a speech to students at the school, Parson said, "It is important for me to make sure I do my part to give you the tools you need to be safe every day when you come to school. It is something most of us in Missouri take for granted, but you never know when things can get out of hand."
"Anytime you see what's happening around the county, as governor you start thinking how am I prepared for this, how is Missouri prepared for this," Parson added. "So many times, when these incidents occur everybody huddles up afterward and tries to figure out what could we have done differently, and hopefully we are in front of it."
In August, the task force issued a plan calling for every school to have an armed law enforcement officer.
The panel also recommended the state offer a set of standards for conducting drills and exercises.
"Often drills are conducted without a clear understanding by all parties involved of what is being tested or evaluated, and little to no documentation of the results to help correct deficiencies," the report said.
In an appearance Thursday on KMOX (1120 AM), Parson defended the cuts, saying they reflected only a small fraction of a state budget that exceeds $30 billion.
"There was no state agency that was left untouched, including the governor's office" he said. "Look, everybody in this state realized the economy has took a dive, to say the least, in the last three or four months."
Concerned about COVID-19?
Sign up now to get the most recent coronavirus headlines and other important local and national news sent to your email inbox daily.