HAZELWOOD • The scar on Chris Holmes' left temple could be considered a marker of the measures he will take to make a lesson matter to his journalism students at Hazelwood West High School.
After the fatal shooting of Michael Brown on Aug. 9, Holmes attended what was supposed to be a peaceful vigil the following day in Ferguson. It was the Sunday night before the new school year began in Hazelwood, and he wanted to get an eyewitness perspective from the scene for his students.
His plan: spend the first day of his Introduction to Journalism class exploring how to accurately, responsibly and ethically cover what would likely be a massive news event.
Instead, Holmes became part of the story.
"You never want to put yourself in a dangerous situation, but it made for a great conversation in class," Holmes said last week. "It still does."
Holmes, 48, had been marching on West Florissant Avenue with hundreds of others, taking notes and pictures to capture details from the scene. When night came, the peaceful tone changed to violence. Holmes had parked his car near the QuikTrip that would later be burned. As he headed back to it, he saw the looters.
"I was sad because I didn't want this going on. Intrigued because it was incredibly newsworthy. And a little scared," he said.
Someone yelled out that he was a detective, basing it on his black pants and black polo shirt. He explained he was a teacher, showing a woman the Hazelwood West logo on his shirt. The woman apologized.
A moment later, someone threw a brick, cutting a deep gash on Holmes' forehead. Someone took his phone.
"If it wasn't for several kind young women who led me to a police barricade, I'm not sure what would have happened," Holmes said.
He spent the next five hours at the barricade, where he eventually got bandaged up while waiting to get back to his car and go home. He never got his phone back. Meanwhile, his wife and children were sleeping at home.
The next day, he went to school. Principal Dennis Newell sent him to see a doctor. He came back to school, stitched up and ready to teach, and Newell told him to go home and rest.
"That first day is so important," Holmes said. "I hated missing it."
He knew the kids were probably going to be talking about the teacher who got hurt in Ferguson. So he wanted to make sure they knew the truth.
You're going to need to know this, he told his students the next day. This is what it was really like, he said. Ninety-nine percent of the people were mortified that there was violence. They didn't come for the violence. This was not Ferguson.
"What we saw on TV, while it was news — and I get it, we're journalists, we report the most newsworthy stuff — but most of what we saw was out of context," he said.
Two weeks later, during a schoolwide assembly he thought was about attendance, officials announced that the Missouri Department of Elementary and Secondary Education had named Holmes as the state's Teacher of the Year, and that he will represent Missouri in the national competition. The crowd erupted with cheers.
Newell says Holmes' passion for teaching is unquestionable.
And while his visit to Ferguson may be an example of his dedication, it was not the reason for the honor. The award was based on much more than one night, such as the dropout prevention program he has helped initiate at West. Then there is the spring break trip he and a colleague took students on to the southern tip of Texas to report on immigration issues and teens along the border.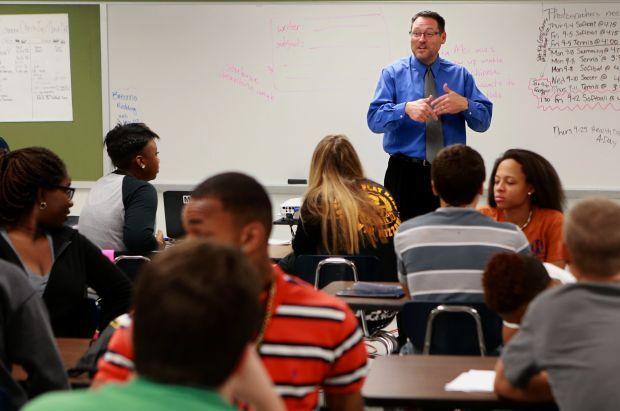 And students say that although he may be one of the most popular teachers at West, he is also one of the toughest.
"Mr. Holmes will push you, no matter what. No matter where you are, you're going to improve," said Onesty Pertillar, a senior.
Holmes, who has taught for the past eight years at Hazelwood West, got his love of writing from his father, who taught college literature and composition. He also saw the difference his father made in the lives of students.
But as a teacher at the high-performing Clayton High School, Holmes didn't feel like he was doing the same. He left Clayton after five years and went to work for an educational software company.
"I lost who I was," he said. "But I always missed teaching."
When a position opened in Hazelwood, a district with at least 60 percent of students living in poverty, Holmes saw more of an opportunity to make a difference.
He believes he is a better teacher now, thanks to the enthusiasm for improvement and openness of ideas among his fellow teachers at West.
"This is a profession where you are never a master at it," Holmes said.
In one of his journalism classes last week at Hazelwood West, an English elective, he paired students with another different from themselves and asked them to interview and write profiles about the other person.
"You're going to find out, there are all kinds of stories," he said.
Onesty called him over about halfway into the class, saying she was stuck. She found out that her interview subject, Dylan Pender, liked guitar and that he played it for his grandmother when she was ill.
Holmes began asking questions. He asked more about Dylan's love of music and the possibility of pursuing it after high school.
When he walked away to help other students, Onesty had more questions for her classmate. She and Dylan laughed, happy to be pulled out of the rut.
"Holmes doesn't give you an answer, he asks you questions," Dylan said. "He wants to keep you thinking."