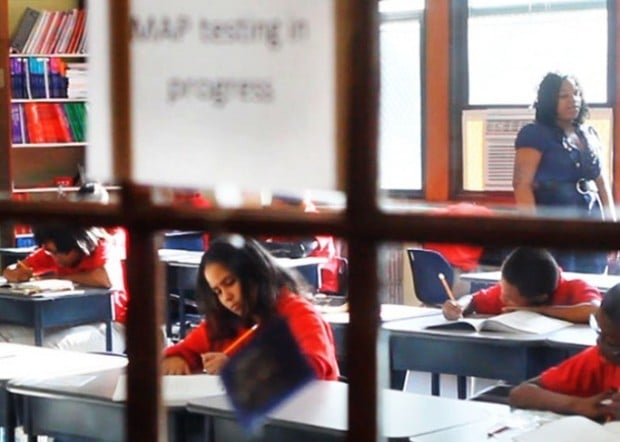 Missouri students made just tiny improvements overall on state tests, but scores in some areas were enough for four struggling districts in the St. Louis area to make gains on a rating system to accredit school districts, according to data released today.
The results mean that St. Louis Public Schools are a small step closer toward shedding their unaccredited status. Normandy, Jennings and Riverview Gardens districts also gained a point each on the Annual Performance Report calculated by the state Department of Elementary and Secondary Education. The state released those district report cards today along with the test scores.
Statewide, 55 percent of students scored as either proficient or advanced in communications arts, up from 54.6 percent. The passing rate in math edged up from 54.3 percent to 55 percent.
"We continue to make steady progress, but we've got a long way to go," said Chris Nicastro, the state's commissioner of education. "We can't afford to leave any of our kids behind."
A handful of districts in the St. Louis area were among the state's best on the exams. Lindbergh ranked third in the state in math and tops in the region, with nearly 84 percent of students landing proficient or advanced scores. Ladue, Brentwood and Kirkwood also took top honors, with more than 77 percent of their students passing math.
In communication arts, Ladue had 79 percent of students passing, followed by Lindbergh and Kirkwood.
This is the first time in nearly a decade that the results do not include an indicator of whether schools and districts made "adequate yearly progress," a label brought about by President George W. Bush's No Child Left Behind law. Missouri is one of 33 states granted a federal waiver releasing it from goals that would have required all students to pass reading and math by 2014.
Instead, state education officials say their new goals under the federal waiver are ambitious, yet achievable, and continue to hold schools accountable for all groups of students — those learning English as a second language or those in poverty, for example. They say parents now only have to navigate one accountability system rather than two.
"They're not the off the hook, it's just that the hook looks different," said Jeremy Ayers, an education expert at the Center for American Progress who has studied plans of different states under the waivers.
The test scores released today carry perhaps the most significance in those school districts that have struggled under the state's accreditation rating system, which also looks at factors such as ACT scores and graduation rates.
Ultimately, districts that are stripped of accreditation — currently St. Louis, Riverview Gardens and Kansas City — face state sanctions.
But while today's results bring a dose of good news to some struggling districts, such as St. Louis Public Schools, the state is being cautious.
The St. Louis district now can boast that it has seven points on the state's 14-point scale for rating districts, enough to technically raise the district to provisionally accredited.
But the final decision on accreditation is up to the state Board of Education and Nicastro, who said Friday she has no immediate plans to make that recommendation. She said the state is seeking sustained improvement over time.
"What we don't want to have happen and what the state board wants to prevent, is that yo-yo effect," she said, referring to changing accreditation status.
The St. Louis district gained an accreditation point by improving high school Algebra I scores.
But overall, the district's combined pass rate on the exams fell. In communications arts, 30 percent of students scored proficient or advanced this year, down from 32 percent in 2011. Math scores fell to 27 percent, 3 percentage points lower than last year.
"I've always said this is a five-year process, not a one- or two-year process. We are making progress," said Superintendent Kelvin Adams, who has been with the district since late 2008.
The Normandy district also made modest gains on the state's rating system, gaining an additional point for Algebra I.
"We're not knocking it out of the ballpark right now, but it's certainly a step forward and a big encouragement over what we've seen previously in our district," Superintendent Stanton Lawrence said.
But Normandy may be more vulnerable to state sanctions.
That's because unlike St. Louis, Normandy is up for review by the state this year. And even with the recent point gain, the district is meeting just five of the 14 standards — a score low enough to deem it unaccredited.
Nicastro said her office still is analyzing Normandy's results.
University City, also up for review by the state board in September, met 10 of 14 standards, gaining two points. Its performance in previous years had put it in danger of becoming provisionally accredited. Like Normandy, state education officials in 2011 had given it another year to improve.
University City Superintendent Joylynn Pruitt said the district has been relentlessly monitoring teaching and learning, focusing on what works.
"We celebrate a little bit, but the hard work continues," she said.
Riverview Gardens, another unaccredited district, met four of the 14 standards and had a decline in the percentage of students passing communication arts, to less than 18 percent. There was a slight uptick in those passing math, to 15 percent.
Some of the lowest scores in Missouri were at the now-defunct Imagine charter schools, closed by the state last spring. At the Imagine Academy of Academic Success, less than 8 percent passed reading and math.
But scores at some charter schools that opened in recent years continued to improve. At City Garden Montessori, in the Tower Grove neighborhood, 73 percent passed communications arts and 55 percent passed math. In its second year, the percentage of students passing math at the Grand Center Art Academy rose to 45 percent from 36 percent last year. Gateway Science Academy had nearly 58 percent passing communication arts and nearly 55 percent passing math.
This school year, administrators say the federal waiver will allow them more control over how to spend federal education dollars. In the past, the rules of No Child Left Behind meant a school that didn't meet certain goals had to pay for outside tutors or the cost of transporting students to a school of their choice. In the Parkway School District, for example, the district spent $130,000 last year on students who used opportunities through those sanctions. This year, administrators will have more flexibility with $300,000 in federal Title I funds.
The money is still going for the kids who need the most help, the district just has more control over how to spend it, said Lisa Merideth, an assistant superintendent.
Critics of No Child Left Behind thought it was unfair to label an entire school as failing if one group of students — such as minorities or those from low-income families — did not meet federal goals.
Jeff Puls, coordinator of testing for the Rockwood School District, said teachers have tried to move beyond those labels and use data to see where an individual student is and determine what he or she needs to learn.
"Our focus is really on the individual child, regardless of whether they fall into one, two or three subgroups," he said.
As part of a federal push to upgrade the nation's worst schools, Missouri has identified its lowest-performing schools. There are 58 schools on its priority list, including 38 in the metro area, some of which get federal school improvement grant money in exchange for reforms. Those could include using data to review the effectiveness of teachers.
Illinois releases its test scores in October.