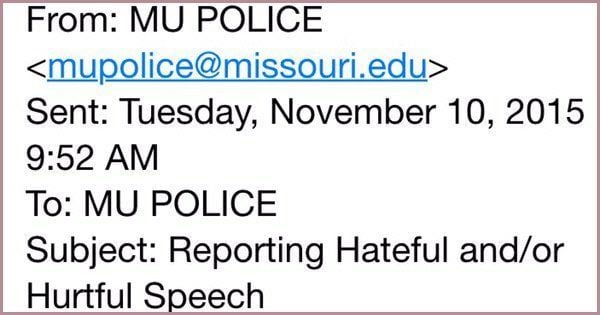 In the wake of racially charged student protests at the University of Missouri, and the exits of two top officials Monday, the Mizzou police emailed on Tuesday new guidelines to students for "Reporting Hateful and/or Hurtful Speech."
• Call the police immediately at 573-882-7201. (If you are in an emergency situation, dial 911.)
• Give the communications operator a summary of the incident, including location.
• Provide a detailed description of the individual(s) involved.
• Provide a license plate and vehicle descriptions (if appropriate).
• If possible and if it can be done safely, take a photo of the individual(s) with your cell phone.
The email states that, "Delays, including posting information to social media, can often reduce the chances of identifying the responsible parties. While cases of hateful and hurtful speech are not crimes, if the individual(s) identified are students, MU's Office of Student Conduct can take disciplinary action."
University of Missouri System President Timothy M. Wolfe announced his resignation Monday, as curators were beginning an emergency meeting over the direction of a campus fractured by protests and accounts of discrimination. His action sent thousands of students to the heart of the campus to celebrate.
The resignations followed weeks of tension on campus over alleged incidents of racial harassment. Protesters charged that Wolfe had failed to adequately address the issues.
Kevin McDermott • 314-340-8268
@kevinmcdermott on Twitter