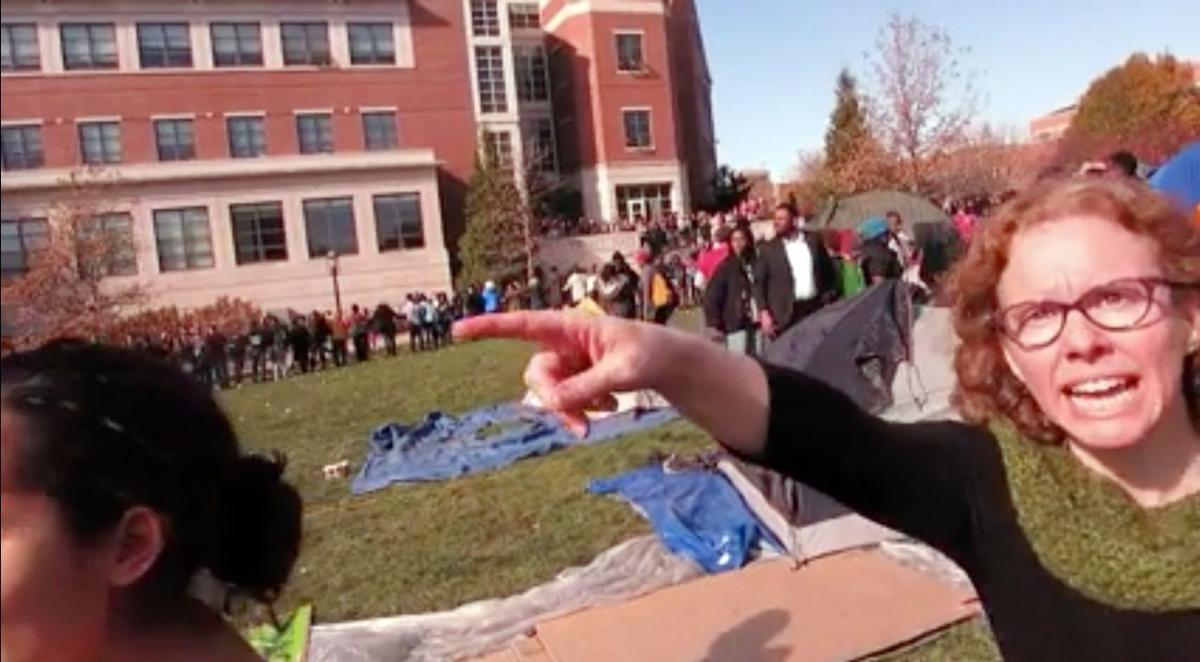 COLUMBIA, Mo. • A University of Missouri teacher was charged with simple assault Monday over her confrontation with journalists during protests in November, which was caught on video.
Melissa Click faces a Class C misdemeanor, punishable by up to 15 days in jail and a $300 fine, for requesting "some muscle" to help remove Mark Schierbecker, a student journalist, from Carnahan Quadrangle on Nov. 9 at the height of student demonstrations over racism on campus.
Columbia City Prosecutor Stephen Richey filed the third-degree assault charge Monday, about two months after MU police sent him the case.
Later, university officials said Click's job as assistant professor of communications was unchanged.
She garnered national attention for confronting student photographer Tim Tai and Schierbecker, a student videographer, after the university system's president and the Columbia campus' chancellor resigned amid protests over what some saw as indifference to racial issues. Some journalists were ordered to leave the public area by Click and others. Schierbecker filed a police complaint.
Click will keep her job for now, Mizzou Interim Chancellor Hank Foley said Monday afternoon at a press conference on the campus in Columbia.
"Today Dr. Click has been charged with assault, and not just assault, but assault on a student reporter," he said. "This is a very bad situation for us all. I want to personally apologize on behalf of the university to Mr. Tai and to Mr. Schierbecker."
But Foley said Click was in a tenure process that could continue until Aug. 1 and that if Click is denied tenure, she would have about a year to leave Mizzou.
Foley said there was no chance Click's employment would be terminated before her tenure was determined. He also said a panel of administrators would determine if Click should be removed from the classroom. She is working from home this week, he said.
More than 100 Missouri Republican lawmakers called in December for Click to be fired. Without mentioning the group by name, Foley said the university needed to follow its slower-moving procedures.
"For those of you who are calling for hasty action, I say this: We have good, strong processes in place and will follow them to their completion and logical outcome," Foley said.
Schierbecker complained, "I think that something fundamentally needs to change within the university if that's going to be their attitude going forward — that they can just sweep this under the rug until a little bit of the attention has worn off."
State Sen. Kurt Schaefer, R-Columbia, said Monday that an "intervention" might be needed, He said, "So far, no one has been accountable here."
But Sen. S. Kiki Curls, D-Kansas City, urged colleagues to consider another side, saying, "The media were extremely pushy. Some of them were very rude, very arrogant, very pushy."
To Sen. Jamilah Nasheed, D-St. Louis, her colleagues' outcry was an "oxymoron" given that the Senate recently moved reporters from a spot on the chamber floor. She said, "(Click) "pushed the press out and we pushed the press out."
Kim Bell and Jack Suntrup of the Post-Dispatch contributed to this report.