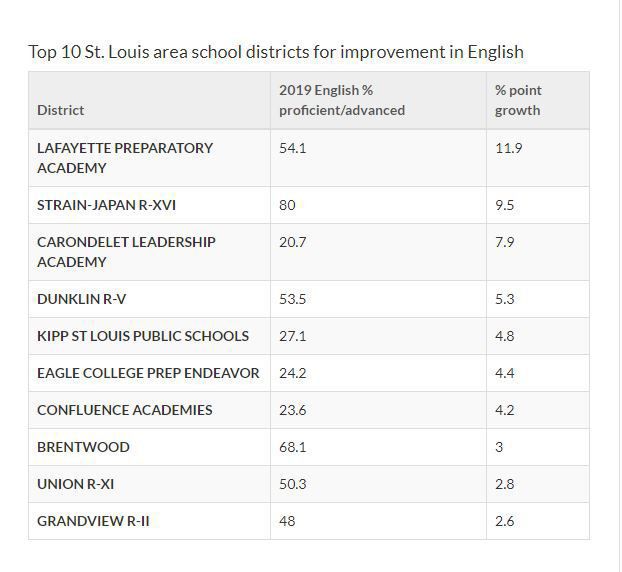 For the second straight year, fewer than half of Missouri schoolchildren are performing at grade level in English and math, according to 2019 test score data released Thursday by the state Department of Elementary and Secondary Education.
Across the state's public and charter schools, 49% of students are proficient or advanced in English and 42% in math. It was the second year students took a more difficult test that caused steep drops between 2017 and 2018.
The data release also included information on student improvement, attendance and graduation rates. The state did not release annual performance report scores this year, which determine the level of accreditation for a district.
In the provisionally accredited Normandy and Riverview Gardens school districts, test scores and attendance rates dropped, according to the scores released Thursday. But the education department did not reveal any changes to the districts' accreditation status.
Normandy had the worst test scores of any district in the state, with 15% of students passing English and 7% passing math. Among other changes, the district opened a new early childhood center and combined its elementary and middle schools this fall in an effort to boost scores.
"We've put things in place to move it forward for our children," said Normandy Superintendent Charles Pearson.
Without the annual performance report scores, it's more difficult to hold districts accountable, particularly for families who are eligible to transfer from unaccredited to accredited districts under state law, said Cici Tompkins of the nonprofit Children's Education Alliance of Missouri.
"If there were some great looking (scores) they probably would have released it," Tompkins said. "I'm concerned they're denying parents' rights under the transfer law."
The decision not to release overall performance scores was to encourage people to look beyond a single number, the state said. The new data includes information on individual student growth, which can be more meaningful than test scores, state education leaders said this week.
"Let's focus solely on the data and let people use the data to ask questions," said Margie Vandeven, commissioner of the state board of education. "We've heard from so many people, 'Our schools are more than test scores.'"
Districts can request their annual performance scores from the state, and the formula to calculate the scores is available to the public, according to Chris Neale, assistant commissioner.
The St. Louis-area school districts with the highest scores in English and math were perennial high performers Clayton, Kirkwood, Ladue, Francis Howell and Brentwood.
There were some other bright spots in the data, including strong improvements for students in high-risk groups (low-income, minority, English learners or students with disabilities) in the Ritenour School District in north St. Louis County.
Ritenour stood out for student improvement in 2019 state tests.
The district's students are about one-third Hispanic, one-third African American and one-third white, said Chris Kilbride, Ritenour superintendent. This year, the district opened a new health center at Hoech Middle School and a new food pantry in Overland that serves 2,500 residents of the district.
Another priority is raising the district's graduation rate of 74%, Kilbride said. In November, the district will premiere a documentary film featuring Ritenour graduates who've gone on to attend elite universities.
"Kids need to see hope," Kilbride said.
Top 10 St. Louis area school districts for improvement in math
| District | 2019 math % proficient/advanced | % point growth |
| --- | --- | --- |
| CARONDELET LEADERSHIP ACADEMY | 21.6 | 10.4 |
| LAFAYETTE PREPARATORY ACADEMY | 41.5 | 10.2 |
| STRAIN-JAPAN R-XVI | 60 | 10 |
| LA SALLE CHARTER SCHOOL | 13.6 | 9.1 |
| THE BIOME | 7.1 | 7.1 |
| SULLIVAN | 50 | 6.5 |
| UNION R-XI | 44.1 | 5.5 |
| CITY GARDEN MONTESSORI | 48 | 5.4 |
| HILLSBORO R-III | 47.5 | 4.7 |
| EAGLE COLLEGE PREP ENDEAVOR | 25.5 | 4.5 |
Top 10 St. Louis area school districts for improvement in English
| District | 2019 English % proficient/advanced | % point growth |
| --- | --- | --- |
| LAFAYETTE PREPARATORY ACADEMY | 54.1 | 11.9 |
| STRAIN-JAPAN R-XVI | 80 | 9.5 |
| CARONDELET LEADERSHIP ACADEMY | 20.7 | 7.9 |
| DUNKLIN R-V | 53.5 | 5.3 |
| KIPP ST LOUIS PUBLIC SCHOOLS | 27.1 | 4.8 |
| EAGLE COLLEGE PREP ENDEAVOR | 24.2 | 4.4 |
| CONFLUENCE ACADEMIES | 23.6 | 4.2 |
| BRENTWOOD | 68.1 | 3 |
| UNION R-XI | 50.3 | 2.8 |
| GRANDVIEW R-II | 48 | 2.6 |
St. Louis area school district English and math scores
| District | 2019 English % proficient/advanced | 2018 English % proficient/advanced | English % point change | 2019 math % proficient/advanced | 2018 math % proficient/advanced | math % point change |
| --- | --- | --- | --- | --- | --- | --- |
| AFFTON 101 | 47.8 | 49.4 | -1.6 | 40.2 | 40.1 | 0.1 |
| BAYLESS | 52.6 | 50.6 | 2 | 44.4 | 43.5 | 0.9 |
| BRENTWOOD | 68.1 | 65.1 | 3 | 68.9 | 67.1 | 1.8 |
| CARONDELET LEADERSHIP ACADEMY | 20.7 | 12.8 | 7.9 | 21.6 | 11.2 | 10.4 |
| CITY GARDEN MONTESSORI | 61.4 | 58.9 | 2.5 | 48 | 42.6 | 5.4 |
| CLAYTON | 74.1 | 74.3 | -0.2 | 72.9 | 74.5 | -1.6 |
| CONFLUENCE ACADEMIES | 23.6 | 19.4 | 4.2 | 14.9 | 18.9 | -4 |
| CRYSTAL CITY 47 | 57.5 | 64.9 | -7.4 | 39 | 43.9 | -4.9 |
| DESOTO 73 | 40.4 | 41.9 | -1.5 | 39.4 | 38.5 | 0.9 |
| DUNKLIN R-V | 53.5 | 48.2 | 5.3 | 40.9 | 39.5 | 1.4 |
| EAGLE COLLEGE PREP ENDEAVOR | 24.2 | 19.8 | 4.4 | 25.5 | 21 | 4.5 |
| ELSBERRY R-II | 47.1 | 51.1 | -4 | 33.9 | 30.5 | 3.4 |
| FERGUSON-FLORISSANT R-II | 26.9 | 29.6 | -2.7 | 17.4 | 17.2 | 0.2 |
| FESTUS R-VI | 65.6 | 66.8 | -1.2 | 62.7 | 62.7 | 0 |
| FOX C-6 | 54.3 | 58.3 | -4 | 47 | 50.2 | -3.2 |
| FRANCIS HOWELL R-III | 68.8 | 68 | 0.8 | 65.5 | 64.7 | 0.8 |
| FRANKLIN CO. R-II | 56.8 | 64.8 | -8 | 58.1 | 67.6 | -9.5 |
| FT. ZUMWALT R-II | 64.5 | 63 | 1.5 | 61.3 | 58.6 | 2.7 |
| GATEWAY SCIENCE ACAD/ST LOUIS | 45.6 | 50.1 | -4.5 | 37.3 | 36.3 | 1 |
| GRANDVIEW R-II | 48 | 45.4 | 2.6 | 41 | 37 | 4 |
| HANCOCK PLACE | 47.1 | 57.1 | -10 | 48.2 | 50.5 | -2.3 |
| HAWTHORN LEADERSHIP SCHL GIRLS | 30.8 | 28.5 | 2.3 | 14.7 | 15.4 | -0.7 |
| HAZELWOOD | 32.8 | 35.2 | -2.4 | 24.7 | 25.2 | -0.5 |
| HILLSBORO R-III | 51.2 | 51.6 | -0.4 | 47.5 | 42.8 | 4.7 |
| JEFFERSON CO. R-VII | 54.2 | 58.4 | -4.2 | 46.5 | 45.9 | 0.6 |
| JENNINGS | 24.4 | 28.3 | -3.9 | 24.9 | 24.2 | 0.7 |
| KIPP ST LOUIS PUBLIC SCHOOLS | 27.1 | 22.3 | 4.8 | 24.1 | 26.8 | -2.7 |
| KIRKWOOD R-VII | 73.3 | 74.6 | -1.3 | 66.5 | 66.7 | -0.2 |
| LA SALLE CHARTER SCHOOL | 17.5 | 15.3 | 2.2 | 13.6 | 4.5 | 9.1 |
| LADUE | 72.3 | 72.5 | -0.2 | 70.6 | 70.5 | 0.1 |
| LAFAYETTE PREPARATORY ACADEMY | 54.1 | 42.2 | 11.9 | 41.5 | 31.3 | 10.2 |
| LIFT FOR LIFE ACADEMY | 22.6 | 22.3 | 0.3 | 20.8 | 21.5 | -0.7 |
| LINDBERGH SCHOOLS | 64 | 71 | -7 | 59.7 | 64.7 | -5 |
| LONEDELL R-XIV | 57.1 | 60.5 | -3.4 | 42.9 | 54 | -11.1 |
| MAPLEWOOD-RICHMOND HEIGHTS | 60.9 | 61.4 | -0.5 | 46.9 | 47.1 | -0.2 |
| MEHLVILLE R-IX | 53.6 | 53 | 0.6 | 45.2 | 42.6 | 2.6 |
| MERAMEC VALLEY R-III | 49.9 | 50.7 | -0.8 | 42.5 | 40.4 | 2.1 |
| NEW HAVEN | 56.5 | 57.7 | -1.2 | 48.4 | 52.9 | -4.5 |
| NORMANDY SCHOOLS COLLABORATIVE | 15.4 | 19.8 | -4.4 | 7.3 | 12.5 | -5.2 |
| NORTH SIDE COMMUNITY SCHOOL | 46.1 | 49.2 | -3.1 | 43.5 | 48.4 | -4.9 |
| NORTHWEST R-I | 52.2 | 53.4 | -1.2 | 47.2 | 47.9 | -0.7 |
| ORCHARD FARM R-V | 61.4 | 61.5 | -0.1 | 46.3 | 51.9 | -5.6 |
| PARKWAY C-2 | 64.5 | 65.4 | -0.9 | 61.1 | 61.1 | 0 |
| PATTONVILLE R-III | 52.2 | 53.8 | -1.6 | 44 | 43.9 | 0.1 |
| PREMIER CHARTER SCHOOL | 39.3 | 40.1 | -0.8 | 31.8 | 30.7 | 1.1 |
| RITENOUR | 34.2 | 36.8 | -2.6 | 28.2 | 29.8 | -1.6 |
| RIVERVIEW GARDENS | 15.7 | 17.8 | -2.1 | 8.7 | 12.5 | -3.8 |
| ROCKWOOD R-VI | 66.7 | 68 | -1.3 | 58.7 | 60.7 | -2 |
| SILEX R-I | 57 | 60.3 | -3.3 | 47.3 | 49.8 | -2.5 |
| SPECL. SCH. DST. ST. LOUIS CO. | 13.5 | 18.9 | -5.4 | 3.8 | 7.9 | -4.1 |
| SPRING BLUFF R-XV | 70.9 | 82.9 | -12 | 73.9 | 79.7 | -5.8 |
| ST LOUIS LANG IMMERSION SCHOOL | 35.6 | 36.4 | -0.8 | 35.2 | 37.2 | -2 |
| ST. CHARLES R-VI | 53.5 | 56 | -2.5 | 48.6 | 46.9 | 1.7 |
| ST. CLAIR R-XIII | 48.7 | 51.6 | -2.9 | 37.2 | 36.3 | 0.9 |
| ST. LOUIS CITY | 23.2 | 22.7 | 0.5 | 18.5 | 19.2 | -0.7 |
| ST. LOUIS COLLEGE PREP | 21.9 | 24.1 | -2.2 | 15.5 | 15.1 | 0.4 |
| STRAIN-JAPAN R-XVI | 80 | 70.5 | 9.5 | 60 | 50 | 10 |
| SULLIVAN | 57.5 | 58.2 | -0.7 | 50 | 43.5 | 6.5 |
| SUNRISE R-IX | 55.1 | 57.3 | -2.2 | 51.1 | 49.1 | 2 |
| THE ARCH COMMUNITY SCHOOL | 3.4 | 8.3 | -4.9 | 0 | 0 | 0 |
| THE BIOME | 25 | 25 | 0 | 7.1 | 0 | 7.1 |
| TROY R-III | 48.5 | 51.4 | -2.9 | 44.5 | 45 | -0.5 |
| UNION R-XI | 50.3 | 47.5 | 2.8 | 44.1 | 38.6 | 5.5 |
| UNIVERSITY CITY | 33.5 | 31.8 | 1.7 | 26.3 | 23.5 | 2.8 |
| VALLEY PARK | 46.5 | 54.3 | -7.8 | 42.5 | 47.1 | -4.6 |
| WARREN CO. R-III | 51.9 | 53.4 | -1.5 | 42.4 | 42.2 | 0.2 |
| WASHINGTON | 56.9 | 59.6 | -2.7 | 44.8 | 44.4 | 0.4 |
| WEBSTER GROVES | 64.5 | 64.7 | -0.2 | 60 | 60.9 | -0.9 |
| WENTZVILLE R-IV | 59.5 | 61.1 | -1.6 | 53.4 | 54.6 | -1.2 |
| WINDSOR C-1 | 55.8 | 53.8 | 2 | 46.4 | 50.2 | -3.8 |
| WINFIELD R-IV | 39 | 39.9 | -0.9 | 29.2 | 28.9 | 0.3 |
| WRIGHT CITY R-II OF WARREN CO. | 42.8 | 46.1 | -3.3 | 27.5 | 31.6 | -4.1 |
| | | | | | | |