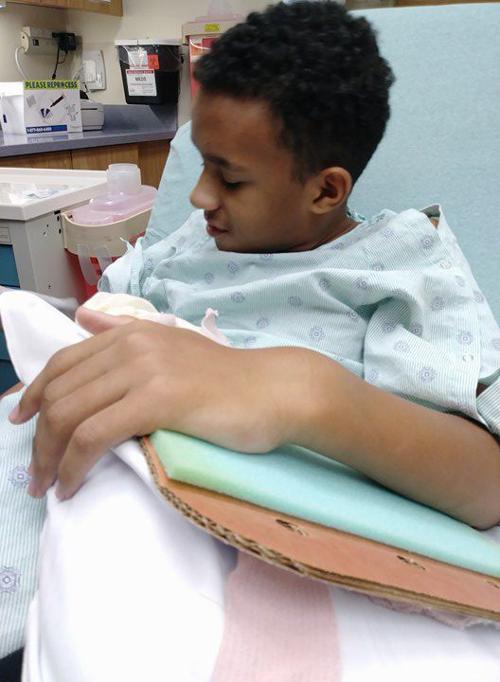 A woman says a school resource officer broke her son's arm in two places Wednesday, but police say the officer had to restrain the 12-year-old because he was violent and had slammed a teacher against a metal door frame.
Rachel Kozma also says she was told that her son, Tyrese Leggitt, would be suspended and face a school discipline hearing.
Ritenour School District spokeswoman Michelle Mueller said the district couldn't give specifics on incidents involving student discipline because of federal student privacy laws. But she said the school's punishment for assaulting a teacher ranged from suspension to expulsion.
"The safety of our staff and of our students is always our priority, and we'll do whatever we need to do to make sure that our students and staff are safe," Mueller said.
The incident began on Wednesday at Hoech Middle School when a classmate was talking to Tyrese and "messing with him," Kozma said. The classmate's comments made her son upset. St. Ann Police Chief Aaron Jimenez said Tyrese had been threatening to hit a classmate.
Kozma said her son was on medication for oppositional defiant disorder, or ODD, which means he has a harder time snapping out of angry behaviors or emotions. Kozma said she had previously worked with school staff to develop a behavior plan for Tyrese for times when he would get upset.
Tyrese was trying to leave the classroom, but his teacher blocked him from leaving because she was afraid he would assault other students, Jimenez said. "The teacher did the right thing," he said.
Kozma said Tyrese had pushed the teacher, but Jimenez said the boy had picked up the teacher and thrown her into a metal door frame. The impact caused the teacher to hit the back of her head and she had to go to an urgent care clinic, he said.
An assistant principal called the school resource officer to deal with Tyrese, who had left the school building, Jimenez said. The officer asked the student multiple times to come inside, but Tyrese was still about to leave the school grounds. The student shoved the officer, who almost fell backward. The officer then pulled the student into an arm restraint, but because the student was kicking and flailing, he hurt his arm during the restraint.
"Nobody wants to see anything happen to a juvenile, but unfortunately this kid was so violent that that was the only thing we could do to keep this child under control," Jimenez said.
Jimenez also said Tyrese had a history of being physically violent and had assaulted his mother in the past. He said police had been called to their home before because the boy had punched, kicked and shoved his mother.
Ritenour says it has been adopting that approach in the past few years. For instance, the district has calm-down rooms in its elementary schools where staff can help students who are acting out process their feelings and come to a resolution.
But because of student privacy laws, Ritenour wouldn't say whether Wednesday's incident merited such an approach.