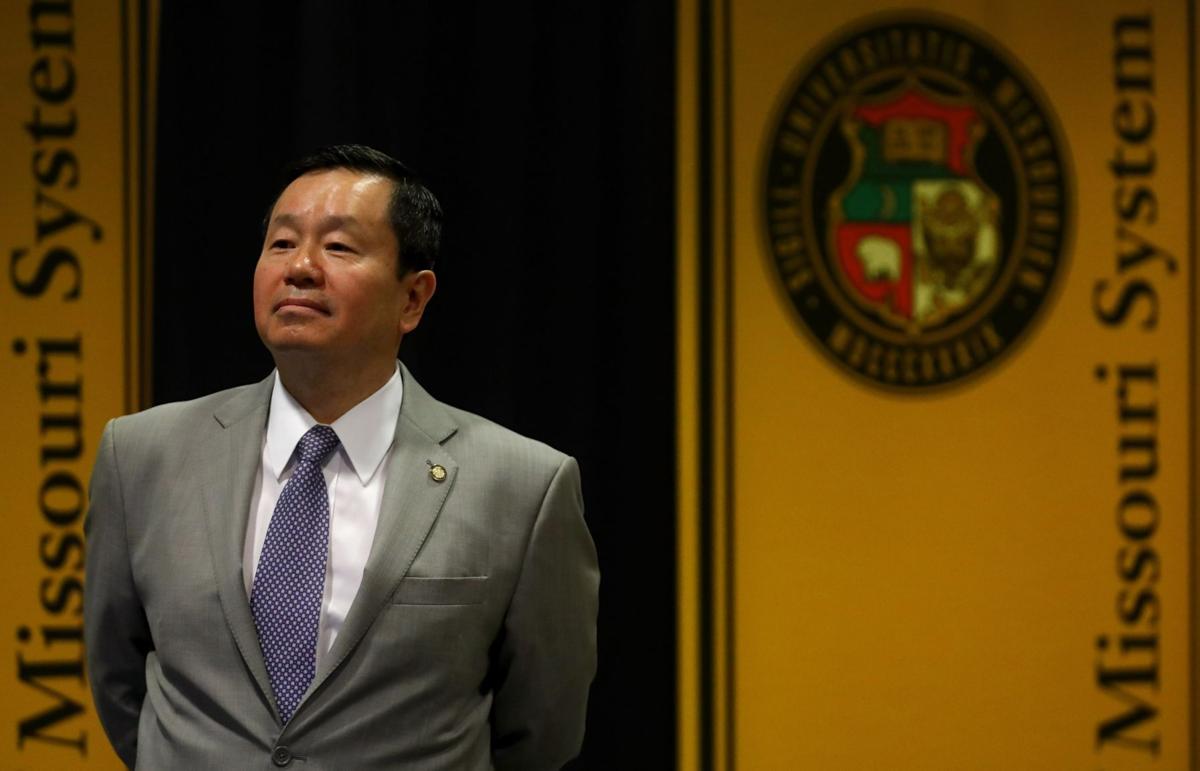 COLUMBIA, Mo. — The University of Missouri Faculty Council on Thursday approved a resolution censuring MU Chancellor and University of Missouri System President Mun Choi for not following procedures for promotion and tenure of faculty members.
The vote was 12 in favor, seven against and three abstaining, though many more in the Zoom meeting didn't vote.
The measure has no practical effect, except to acknowledge that Choi has been censured by the faculty council, said Dennis Crouch, the council's parliamentarian and associate professor of law.
"There is no particular impact of this statement," Crouch said. "It's just a statement that you did something wrong."
Specifically, the resolution charges that Choi failed to read the recommendations of the Campus Promotion and Tenure Advisory Committee before making decisions on promotion and tenure, contrary to the UM System Collected Rules and Regulations.
"Shared governance is not shared if faculty advice on such important matters is ignored out of hand," the resolution reads.
It seeks an apology from Choi.
Instead of apologizing, Choi said Johannes Strobel, professor of information science and learning technology, who introduced the resolution, was out to get him. Choi made the comments in a discussion of fear of intimidation on campus.
"There is some personal vendetta to be reflected in our discussions," Choi said of Strobel. "This could have been discussed and easily explained."
Calling out Strobel in the public meeting is an example of intimidation, said Tom Warhover, journalism professor.
"Isn't that retribution enough?" Warhover asked.
Choi said he wanted to share his perspective.
"Do we live in a society where there has to be some accountability?" Choi said.
Many of those on the faculty who feel intimidated won't talk with Choi at all, said Rabia Gregory, associate professor of religious studies.
"You cast aspersions on one of our colleagues and try to downplay his credibility," Gregory said.
The reason for the low number of votes is that they felt intimidated by Choi, Gregory said.
"It is going to be very difficult for you to convince us you are listening," she said.
That's not how he sees things, Choi said.
"I don't believe that your view is reflective of the rest of the community," he said.
The discussion came after faculty council vice-chairman Graham McCaulley presented initial findings of its investigation that neither Choi or any university official put any pressure on police to investigate KBIA health reporter Sebastián Martínez Valdivia for vandalizing the Thomas Jefferson statue on campus. Police weren't directed by anyone, McCaulley said.
"We did not find that Sebastián was unfairly targeted," McCaulley said.
Police saw a comment by the reporter on social media and saw that he also had some resemblance to someone in a photo taken of the statue being vandalized, but the brief questioning convinced them he wasn't involved, MCaulley said.
He regrets sending an email to the reporter in which many people were copied, Choi said.
"I have not found a widespread level of intimidation on campus," Choi said. "Intimidation is amplified if there is retribution."
The faculty council meeting began with a so-called Zoom bomb, someone who logged into the meeting shouting profanities.
Be the first to know
Get local news delivered to your inbox!