JEFFERSON CITY — Missouri education leaders said they fear state lawmakers' reactions to a new rating system that downgrades nearly every school district in the state.
Under the annual performance scores released Tuesday, 112 or close to 20% of school districts would be considered provisionally accredited or at risk of losing accreditation based on 2022 data, compared with six districts currently.
The median score for districts under the new system is 77%, down from 96% in 2018 when scores were last reported. The scores reflect standardized tests, student growth, graduation and attendance rates along with school culture and other factors.
The new performance metrics are more rigorous and scores should not be compared to previous years or used to rate the quality of schools or teachers, state education officials said.
"This is a new system, it really is different and I think it's very preliminary to take what we're seeing and make blanket judgments," said Doug Hayter, executive director of the Missouri Association of School Administrators. "We think some of the short decline during COVID simply emphasizes the importance of public education, having a highly qualified teacher in every classroom."
The results came as the Missouri House on Tuesday gave initial approval to an open enrollment plan that would allow students to attend class in districts where they don't reside. The vote to advance the bill was 82 to 67, with four lawmakers voting present. The bill needs at least 82 votes to advance to the Senate when leaders bring it up for final approval.
"The timing from a political standpoint certainly helps maybe to back some specific agendas," said Mehlville Superintendent Chris Gaines.
School boards statewide including Mehlville have passed resolutions this year opposing open enrollment "to focus resident taxpayer resources upon the education of students who reside in the district."
"No credible research shows that open enrollment improves student achievement" and "past legislation has been discriminatory against students with special needs," reads the board's resolution.
The new scoring system is the primary component of school district accreditation, although any changes won't be made until three years of data is available in the 2023-2024 school year. By then, struggling school districts will have had a 10-year reprieve from losing their accreditation status.
No school district in the state is unaccredited, which would trigger a state law allowing students to transfer to higher performing districts even without an open enrollment policy.
The legislation approved on Tuesday would cap the percentage of students who may leave a district at 3% of the previous year's enrollment, and states that districts wouldn't be required to accept students under the program.
Opponents said the bill would leave certain school districts behind, but proponents said the program would encourage competition and force lagging districts to improve.
"This is a pretty good bill if you really don't care what happens to the communities across Missouri," said Rep. Gary Bonacker, R-House Springs, a member of the Northwest School District's Board of Education.
"We will have 3% probably for several years leave the district because it is so much more convenient for them to go to a school district that has more to offer than my school district, because of the demographics," he said.
The sponsor, Rep. Brad Pollitt, R-Sedalia, asked, "why should any school district in the state who is supported by taxpayer dollars be afraid to compete in their academic programs?"
In the end, one Democrat — Rep. Ian Mackey of St. Louis County — joined with 81 Republicans in voting for first-round approval of the open enrollment measure.
Twenty-four Republicans joined with 43 Democrats in opposition.
Under the new scoring system, seven St. Louis-area districts fall in the provisionally accredited range, or below 70%, including Ferguson-Florissant, Hazelwood, Normandy, Ritenour, Riverview Gardens, St. Louis and University City. Only Normandy and Riverview Gardens are currently provisional, which puts them at risk of losing accreditation.
Half of the charter schools in St. Louis fall in the provisional range: City Garden Montessori, Confluence, Hawthorn, Kairos, La Salle, Momentum, North Side Community and St. Louis Language Immersion. The state doesn't accredit charter schools, but their scores are used in renewal decisions.
Local districts that scored in the top 10% statewide include Brentwood, Clayton, Festus, Fort Zumwalt, Francis Howell, Ladue, Kirkwood, Rockwood, Webster Groves and Lafayette Preparatory Academy charter school.
Bright spots in the scores
For the first time, the new rating system gives equal weight to student improvement along with test scores.
Bayless in south St. Louis County scored higher than any other district in the region on student growth in English and math, and growth in English for subgroups including Black, Hispanic, low-income, disabled and non-English speaking students.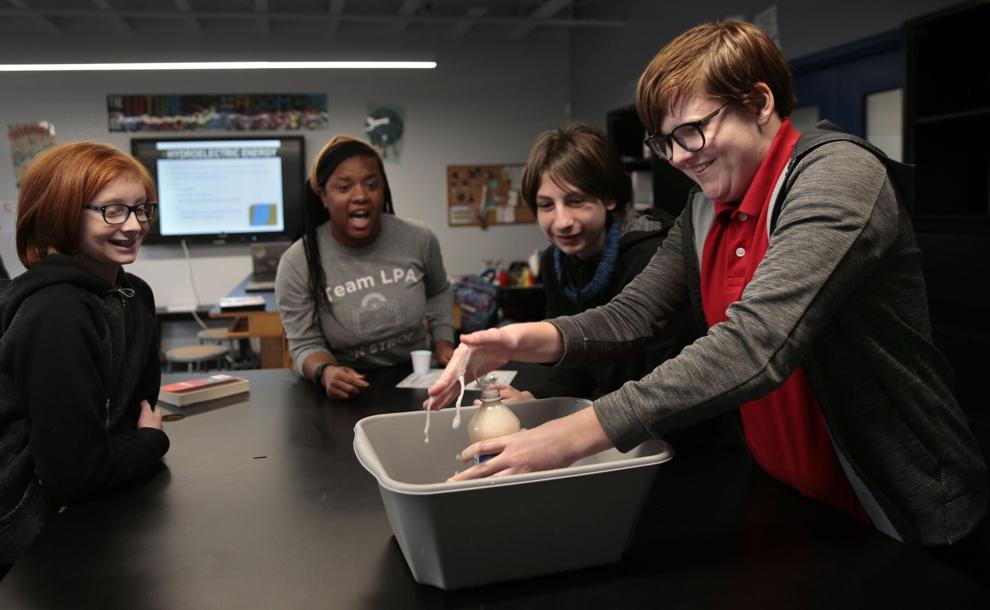 Nearly 20% of Bayless students speak one of 35 native languages other than English. More than half qualify for free or reduced lunch, a marker of poverty. During the pandemic as most schools have lost students, Bayless is the only district in the county that has grown enrollment by more than 1%.
The mantra at the district of 1,800 students is "high expectations with high levels of support" said Superintendent Amy Ruzicka.
At Bayless, every teacher in every subject is considered a literacy coach. The district pays for teachers to earn math specialty certificates. Teachers were given more say over the writing curriculum.
Students can attend intensive tutoring programs and new extracurricular activities with after-school transportation. When 90 students tried out for soccer, the district created an intramural program so every kid could play.
"It's giving every student the opportunity to connect to school and a trusted adult and find their passion," Ruzicka said. "We want them to find success and find another reason to be here."
Another standout in the data was Lafayette Prep in St. Louis, which outperformed all charter schools and most districts in the state in 2022. At its monthly meeting Tuesday, the state board of education awarded the school with a coveted 10-year renewal, a decision that is typically made every five years.
Sarah Ranney, executive director, describes the school as a "joyful community where our kids, families and staff are known and valued for who they are."
There are 400 students in preschool through eighth grade with long waiting lists for some grades, Ranney told the state board. The school has one of the lowest poverty rates in the city at 26% in 2022, but Ranney believes the number is undercounted because not all families fill out financial forms.
Students take two specialty classes a day in music, technology, gym and art. They prioritize recess and exploring nearby Lafayette Park. Math challenges are incorporated into every subject. On Monday, students and staff dressed in adventure gear while reading books in tents they built for "Camp Read-a-Lot" as part of Lions Love Literacy week.
"The numbers are one data point," Ranney said. "If you asked our families, they would have told you that we were the best school in St. Louis before the test scores showed that."