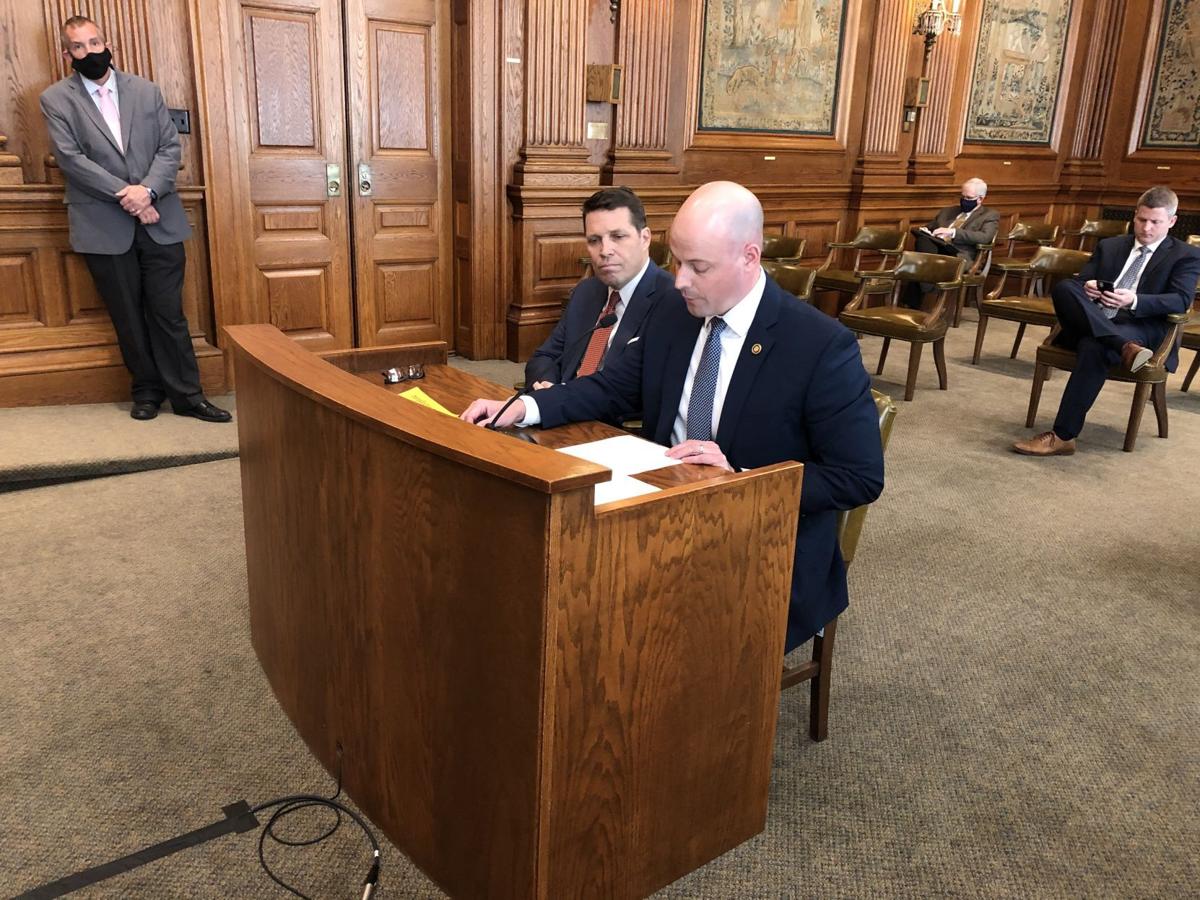 JEFFERSON CITY — After about three hours of debate on Thursday, the Missouri Senate shelved the nomination of Todd Graves to the University of Missouri System Board of Curators.
Although the Senate could resume debate on the nomination as early as next week, the pushback underscores lingering unease with Graves, who was an ally of Eric Greitens during the former governor's short tenure.
The delay also highlighted continuing concern among some lawmakers that some campuses of the university systems are underrepresented on the board.
Graves, the former chairman of the Missouri Republican Party, became a lightning rod for criticism again after Gov. Mike Parson announced his nomination on March 18.
His opponents have cited a list of dust-ups over the years connected to Graves; others said they were concerned that the nine-member board lacks members with ties to the system's St. Louis, Kansas City and Rolla campuses.
Parson, a Republican, stood by his nomination at a news conference after the Senate action.
"He's the guy we picked and we're going to stay with him," the governor said.
During Thursday's debate, Sen. Greg Razer, D-Kansas City, held the floor for about two hours, starting at about 11:30 a.m., delaying a vote on the nomination.
The University of Missouri-Columbia alumnus focused his comments on the four-campus university system in general rather than Graves' nomination.
During debate, Sen. Justin Brown, R-Rolla, praised one current member of the Board of Curators, David Steelman, who is also from Rolla, where the Missouri University of Science and Technology is situated.
"It's important to have somebody like that for our campus that … can mentor these, these new members coming on," Brown said.
"I think we owe him a debt of gratitude," Razer said.
Steelman in late February raised concerns about university lobbyist Steve Tilley allegedly using the university to generate business for his other lobbying clients. Steelman said in a Feb. 24 email to University President Mun Choi that he feared being replaced if he didn't "play ball" with Tilley, the Missouri Independent reported Wednesday.
On March 18, Parson announced he was replacing Steelman with Keith Holloway, of Cape Girardeau.
Razer said he would like someone on the Board of Curators to have ties to the University of Missouri-Kansas City.
"I would like to see someone on the Board of Curators who has a connection to my campus — to UMKC — who understands the importance of that institution to my city, to our region and to our state," Razer said.
At about 1:45 p.m., Sen. Denny Hoskins, R-Warrensburg, began holding the floor with Sen. Paul Wieland, R-Imperial, who voted against advancing Graves' nomination on Wednesday in the Senate Gubernatorial Appointments Committee.
Wieland was among two Republicans — including Sen. Mike Moon of Ash Grove — to ask Graves pointed questions during his confirmation hearing Wednesday about his time as party chairman, his tenure as U.S. attorney for the Western District of Missouri, and his law firm's work on a $400,000 secret report for the Missouri Gaming Commission.
But the Senate Gubernatorial Appointments Committee still advanced Graves' nomination to the full Senate on a 7-4 vote, with Wieland and Moon joining with two Democrats to oppose Graves.
Wieland asked Wednesday for the committee vote to be postponed because he had lingering questions, but committee chairman Sen. Dave Schatz, R-Sullivan, moved to advance Graves anyway.
On Thursday, at around 2:30 p.m., Schatz, who is also the Senate president pro tem, tabled the nomination.
This isn't the first time a governor's appointee has run into resistance.