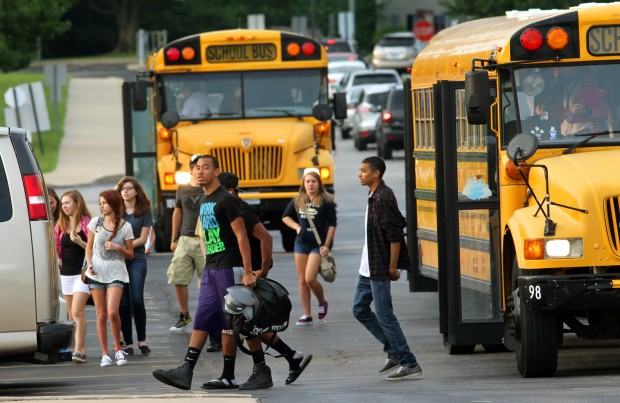 Normandy School District Superintendent Ty McNichols has begun identifying teachers and programs that must be cut to cover the $15 million cost of students who transferred out of his unaccredited school district.
At the same time, he is working to bolster academics, attendance and the graduation rate in the hope of earning a better state rating for his schools. But even McNichols is skeptical this goal is achievable in a mere matter of months, he said Tuesday at a policy breakfast at the Show-Me Institute.
"We can't do that if we're going to take $15 million and do less, but expect more, and do it by February," he told about 40 people gathered at the think tank's building in St. Louis' Central West End. "The reality is, we're not going to be able to cut $15 million. That would be 80 percent of everything we do."
McNichols shared a panel with Mehlville and Kirkwood superintendents Eric Knost and Tom Williams. They expressed frustration with Missouri's school transfer statute. It allows students in failing districts to transfer to higher performing schools at their home district's expense. The Missouri Supreme Court upheld the statute in June, prompting 2,600 children in the unaccredited Normandy and Riverview Gardens systems to enroll in schools throughout the region.
Knost and Williams voiced little concern about the law's impact on their own schools, which took in about 400 students, mostly from Riverview Gardens. Instead, their concerns were directed toward the region's two unaccredited school systems and the 7,500 students who chose to remain there.
"How do we provide them with the resources and support to help them get accredited?" Williams asked.
"We cannot fix a community by depleting its resources," Knost said.
The first tuition bills for the approximately 1,600 Normandy transfer students arrived last week at the district's central office. Normandy has two months to pay them or else the Missouri education department will withhold funding.
Knost said the conversation needs to shift toward rebuilding the two districts. He also said lawmakers must alter the school transfer law without trying to expand school choice or making the "fix" so broad that it results in inaction.
But James Shuls, education policy analyst for the Show-Me Institute, said there's merit to tax credit scholarships to help parents pay for private schools. He said broadening the transfer law to include such scholarships could save unaccredited districts money, because some private schools charge less for tuition than some area districts.
This idea was met with skepticism from the superintendents, who said most private schools won't accept all students as public schools do, regardless of the students' academic standing.
"Very prestigious private schools accept students all the time," Shuls said. Much work remains to be done in Normandy. In the 2012-13 school year, the north St. Louis County district received the lowest performance score of any district in Missouri. McNichols said the intense focus on literacy will help students get caught up but that reaccreditation won't happen overnight. Nevertheless, the transfer application process begins once again in February.