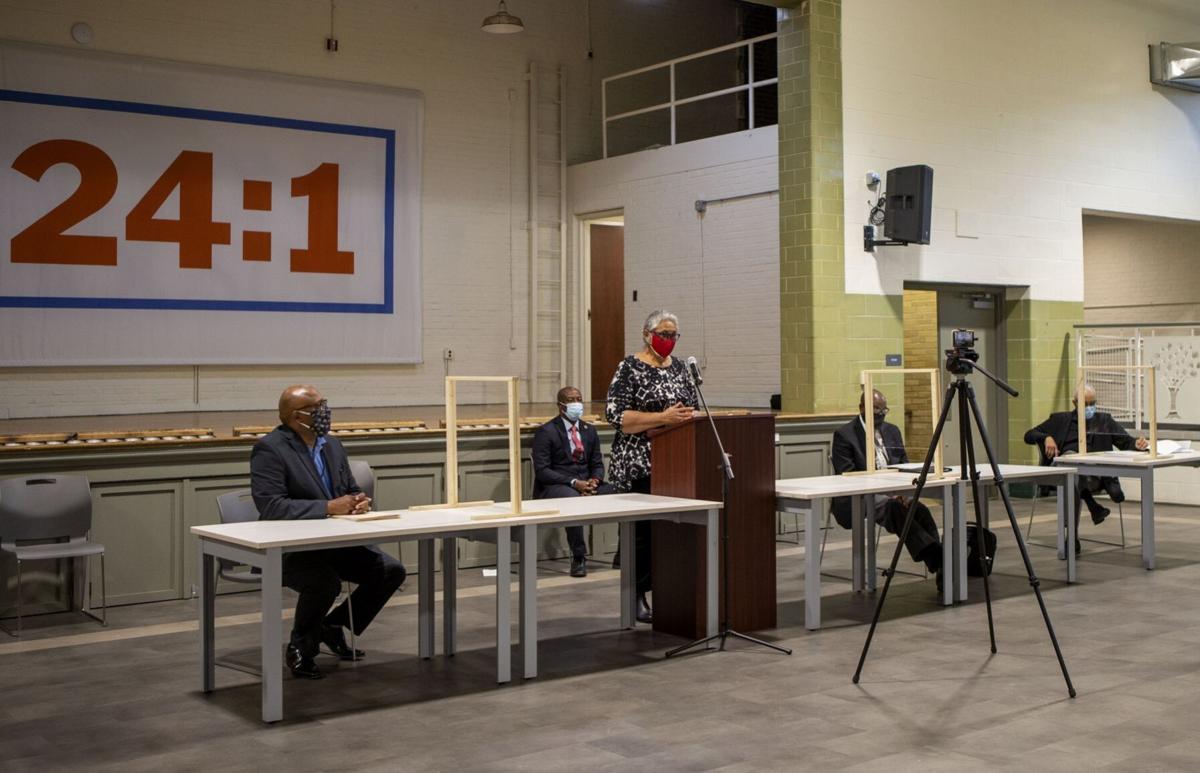 Two new members will join the Normandy Schools Collaborative's executive board following calls for the removal of the district's top leaders, state education officials said Thursday.
William Humphrey and Michael Jones were appointed by unanimous vote of the state school board, creating a seven-member board to oversee the provisionally accredited school district.
"They are deeply passionate, deeply committed to improving opportunities for the students in Normandy," said Missouri Education Commissioner Margie Vandeven at a special meeting of the state board.
Normandy community leaders had called for the ouster of Sara Foster and Tony Neal, president and vice president, respectively, of Normandy's Joint Executive Governing Board, accusing them of undermining efforts to return the district to full accreditation.
State board members said adding two members with school board experience would help rebuild trust with the community.
"We don't have the hearts and the minds of the citizens who send their children to the district," said Carol Hallquist, a state board member from Kansas City. "I've heard from all the residents who feel betrayed and they feel left out. I believe, in the short term, adding two members is the best solution for our children."
The Normandy board hired Robinson a year ago at a salary of $215,000 with a three-year contract. The school district, which has been provisionally accredited since 2017, cannot attain full accreditation until Robinson acquires a Missouri superintendent certificate. Robinson has said he will complete the requirements by the start of the 2021-2022 school year.
Pamela Westbrooks-Hodge, a member of the state education board, said earlier this month that it would be a "mistake" not to remove Foster and Neal. On Thursday, she said the additions of Humphrey and Jones are "a bright spot in Normandy's longer road to recovery."
New board member Jones has been involved with the 24:1 Municipal Partnership's protests against Normandy leadership but said it's too soon to speculate on Robinson's future. Jones said that he will focus on "what we do to elevate and educate Black children."
Brian Jackson, mayor of Beverly Hills, said he is confident the newly expanded board will deal with the "nonsensical" superintendent hire.
"These are two very serious-minded individuals, they won't be rubber stamps for anybody," Jackson said.
Jones served on the state board of education from 2011 to 2020 and has held various community leadership positions including senior policy adviser to former St. Louis County Executive Charlie Dooley, chief of staff for former St. Louis Mayor Clarence Harmon, and served as a St. Louis alderman.
Humphrey previously served as an elected member of the Normandy School Board and is retired from the Greater St. Louis Area Council of the Boy Scouts of America.
The Normandy board is expected to hold elections for new officers within two weeks.
State education officials said Thursday that Normandy schools could be returned to local control as soon as the April 2022 election.
The state board also plans to revisit the status of Riverview Gardens School District, the only other district in the state under an appointed board.
"We don't have the hearts and the minds of the citizens who send their children to the district. I've heard from all the residents who feel betrayed and they feel left out. I believe, in the short term, adding two members is the best solution for our children."

Carol Hallquist,

state education board member