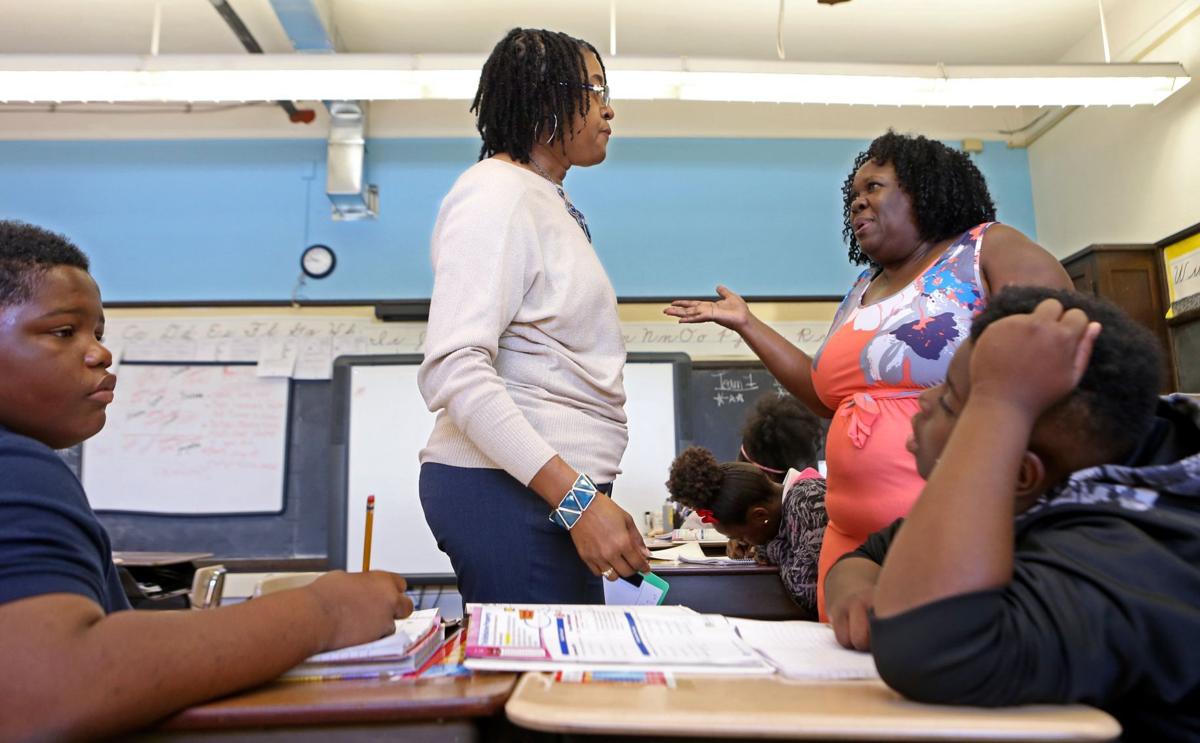 JEFFERSON CITY • Just three years after an unprecedented and turbulent state takeover, the Normandy school system will regain provisional accreditation, a major step toward restoring its status in the eyes of the public.
The Missouri Board of Education voted unanimously Friday to upgrade Normandy's accreditation effective Jan. 2, citing improvements in not just academics but system leadership and school culture.
"It would be wrong to deny the children and the Normandy community this status," board member Mike Jones said. "The reality is, this is a good day."
With the vote to provisionally re-accredit Normandy, no school district in Missouri will be unaccredited.
Provisional accreditation is one step closer to full accreditation, which is considered a district's basic seal of approval.
"This was a short-term goal. The long-term goal is that we truly create a quality system," said Normandy Superintendent Charles Pearson after the board's vote and a round of applause.
When evaluating school districts, the state looks at a number of factors, including academic achievement, graduation rate, attendance and college and career readiness of students. Normandy's score on its annual state performance report rose from just 7.1 percent of all points possible in 2014 to 62.5 percent this year. The school system has scored as well as a provisionally accredited district for the past two years.
Last school year, 34 percent of Normandy students scored proficient or advanced on state tests in English and 19 percent did so in math, up from 24 percent and 12 percent respectively in 2015. Its four-year graduation rate increased from just 53.6 percent in 2013 to 81 percent this year.
Normandy has made these gains even while most of its 3,100 students come from low-income families, which studies show increases the risk of poor academic performance. Education officials overwhelmingly say that achieving academic success is more difficult if students come to school hungry, witness violence in their neighborhoods or have unstable families.
Normandy's improvements were significant enough for the Missouri Department of Elementary and Secondary Education to recommend upgrading the district's accreditation status.
With Friday's vote, the approximately 600 Normandy students who transferred to schools in accredited districts will lose the right to do so. But all of the 20 districts and charter schools that receive Normandy students have already signed agreements with Normandy to let transfer students stay at their current schools at least until the end of this school year. Many have agreed to allow those students to stay until they reach a natural grade transition point. Most will also accept a lower tuition rate of $7,000 from Normandy. The agreements say Normandy doesn't have to pay for transfer student transportation.
The transfers will cost Normandy $5 million this year.
Friday's vote marks a dramatic change in the board's view of Normandy, even from two years ago.
In 2010, the district absorbed students from the failing Wellston School District that the state dissolved. In 2013, the district lost its accreditation amid academic failure and violence in the schools. In 2014, the school system was near bankruptcy after losing 1,100 students in its first year of complying with Missouri's transfer law.
As a result, Normandy received more intense state intervention than any other district in Missouri.
The beginning of the takeover was painful — the state department replaced half the district staff with inexperienced teachers and cut the high school's honors and Advanced Placement classes. Parents and students said they couldn't remember school being worse.
In 2015, officials slammed Normandy High School after a Post-Dispatch story revealed that students there weren't learning much.
But under the leadership of Pearson, who took the helm in 2015, the school system worked to rebuild what was lost in the takeover, restructure schools for better school climate and establish a culture of academic improvement.
Normandy leaders created a kindergarten center, moved sixth-graders from the middle school to elementary schools and expanded preschool to focus on closing achievement gaps before kindergarten. The school system now has a financial reserve of 15 percent.
Normandy also benefits from close and structured partnerships with local organizations such as the Wyman Center, Beyond Housing, For the Sake of All and Affinia Healthcare that provide services to meet students' physical, social and emotional needs. Area school districts also stepped in to share staff training and other resources with Normandy educators.