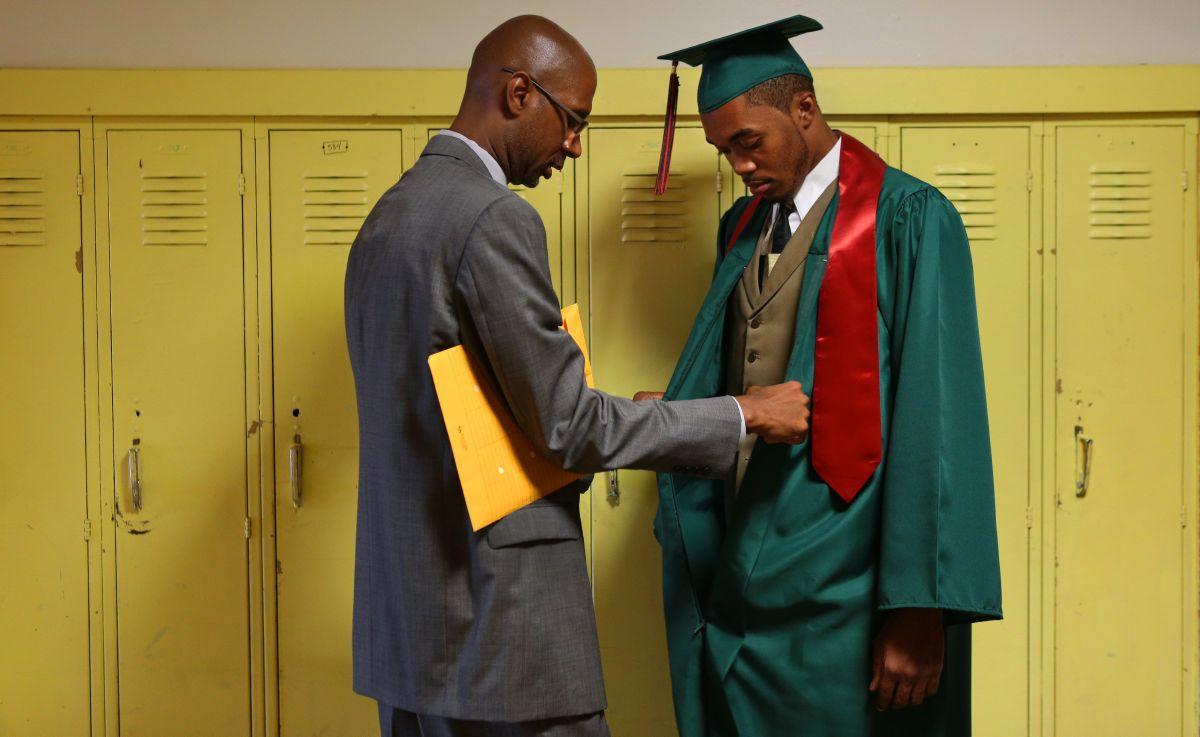 OVERLAND • Beneath silver stars dangling from the ceiling, teachers from Normandy middle and high schools nursed margaritas at the Signature Room, a strip mall bar off of Interstate 170.
It was one day after graduation — the last hurrah of the school year. But as the sounds of "Smooth Operator" filled the room, it was clear this group felt anything but relief.
Since fall they have been at the front lines of the school transfer situation, attempting to create a normal classroom environment for nearly 3,000 children whose school system is in turmoil. Now, as they sat around circular tables and waited to help themselves to the buffet, some of them wondered if they'll still have jobs after the state seizes control of the district.
Their union leaders were there to answer questions.
"We're going to be here to support you, walk you through the situation," said Charles Smith, president of the Missouri National Education Association. "It's times like these that we need to remain unified. We need to remain like a family."
The state's move to intervene in Normandy represents an unprecedented takeover of a school system in Missouri — one that involves eliminating electoral control and implementing direct state supervision. It has left the district's teachers in the lurch. When the district turns into the Normandy Schools Collaborative on July 1, all district contracts will dissolve. Normandy teachers who would like to return must reapply.
But their working conditions might change. For a few years, at least, teaching in Normandy's seven schools will become more like a private-sector profession. Tenure will be lost, making it easier for district administrators to fire anyone considered ineffective.
"There has to be some uncertainty," Smith said. "There has to be some trepidation. There has to be some despair."
At the start of the school year, about 650 people worked for the district — with about 300 of them teachers, according to the district's budget. Midyear layoffs reduced that number by about 15 percent.
Normandy has some of the most experienced teachers in the region. At Barack Obama Elementary School, for example, the average teacher has 21.5 years on the job, according to the Missouri education department.
And yet, Normandy was the worst-performing district in Missouri last year, based on its graduation rate, ACT scores, standardized test performance and other metrics.
Even so, Education Commissioner Chris Nicastro has said most teachers likely will be rehired for the next school year — given the shortage of time before the start of the new year in August.
But this offered little assurance to the teachers who gathered at the Signature Room last week.
Most districts are done hiring. The job fairs are over.
"It's too late for all of us to start looking for something else," said Ninfa Matiase, who teaches high school biology.
The state's move to restart the district is similar to what happened in 2010 when the state lapsed Riverview Gardens, a district northeast of Normandy.
An appointed board replaced the elected one. Staff who wanted to stay had to go through interviews and take a screening test. The district spent a month hiring close to 400 teachers — 65 percent of whom were returning staff. About 100 district teachers were told to move on.
Four years later, Riverview Gardens' academic performance remains below state standards. The transfer situation is expected to deplete Riverview Gardens' budget next year, potentially leading to deeper state intervention.
"In our opinion, the steps they took in Riverview Gardens were not successful," Smith said to the teachers, who sat with their arms folded or chins propped up in their hands. "We don't need to see that again."
The group at the Signature Room was skeptical the state will act in Normandy students' best interest.
Teachers pointed out that they know the many challenges their students face at home. Many of them change schools multiple times during their education career and come from low-income and disadvantaged backgrounds. Their talents aren't always reflected in standardized test scores, said Judy Davis-Edwards, who works at Normandy Middle School.
"We know their needs," she said.
Since 2010, Missouri education officials have taken a series of steps that has eroded confidence in this district — and not just from teachers.
That year, the Missouri Board of Education dissolved the failing Wellston district and folded its students into Normandy schools, which were already struggling. Then in 2013, the board stripped Normandy of its accreditation.
The loss of accreditation led to the transfer situation, which has allowed about 1,000 students to enroll in higher performing schools. Under the state's student transfer law, Normandy must cover tuition and transportation expenses, which has drained millions of dollars from the district.
As the state moved to intervene at Normandy, teachers say they were left out of the process. They say they were not invited to give testimony by the task force that produced key recommendations to the state.
"How can you give a recommendation to (the state education department) without talking to us to give a front-row account to what our students are dealing with?" said Duane Foster, a high school fine arts instructor. "And we're the ones made out to be incompetent."
On Wednesday, state education officials and Normandy Superintendent Ty McNichols met in Jefferson City to discuss issues such as staffing for the new Normandy district. The department will make a recommendation on whether to alter Normandy's accreditation status in June, potentially altering the transfer situation.
"As the State Board of Education stated last week, we want to keep schools open in the Normandy community, but it will not be business as usual," Commissioner Nicastro said in a statement.
And to the frustration of teachers gathered in the Signature Room, it will happen with or without their support.