ST. LOUIS • Nikiya Phillips was all jitters, as most 12-year-olds would be, before delivering the speech this week at her sixth-grade promotion at Cote Brilliante Elementary School.
She was chosen for this moment for one simple reason. "Because I've been here so long," she said.
Just she and one other sixth-grader have been at the school since kindergarten — a feat that's increasingly uncommon at this elementary school in the city's Ville neighborhood, and at others in St. Louis. Last year, the number of students who managed to start and end their elementary careers at Cote Brilliante was one.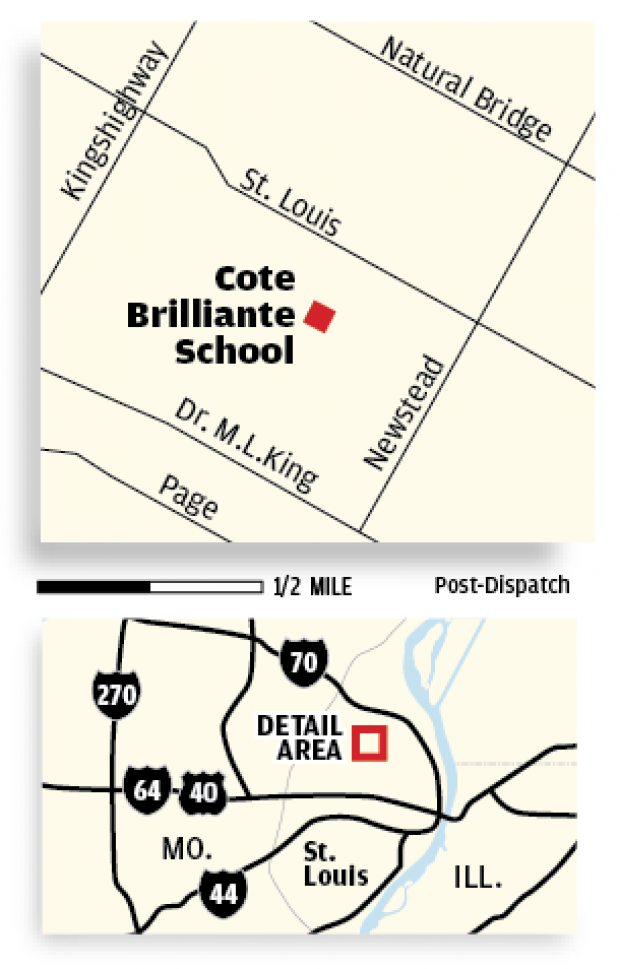 Students come and go from this neighborhood school at a rate that's 10 times higher than at many schools in neighboring school districts, but it's a rate that's on par with many city schools. Nikiya, in a white sparkly sundress and pink flower in her hair, told the crowd of about 100 parents and family members about teachers she'd had — many of whom her 22 classmates never shared.
By sixth grade, some children at Cote Brilliante have transferred multiple times. Some years, only a handful of students who start the school year will finish it in the same classroom.
It's a story that's all too common in St. Louis Public Schools and other struggling school districts, where students bounce from one school to the next for a range of reasons. They move because their families suddenly can afford a better neighborhood, or can no longer afford their existing one. They move because of job changes, transportation disruptions or family turmoil.
And it's a story that's much different from those in more affluent school districts, where mobility rates are a fraction of what they are in St. Louis. In the Kirkwood School District, for example, more than half the pupils finishing at the five elementary schools this year started kindergarten there. Most will go on to the same middle school and high school.
Nikiya's classmates will attend about a half-dozen middle schools throughout the city and county. She herself is the third generation of her family to attend Cote Brilliante. Her family has moved twice since fifth grade — first to north St. Louis County, then to University City, both times in search of safer neighborhoods. Nikiya's mother, Tonishia Love, a home health aide, used her grandmother's address around the corner from Cote Brilliante to keep Nikiya there.
"I didn't want to move her from school to school," Love said.
In 2008, the Special Administrative Board that oversees St. Louis Public Schools began looking into the mobility problem in city schools, from kindergarten up.
Mobility in the city school system is the highest in the region, according to the Missouri Department of Elementary and Secondary Education, with a 119 percent mobility rate in the 2011-12 school year. Riverview Gardens and Normandy school districts followed, with rates of 81 percent and 59 percent, respectively. Those rates, however, take into consideration only transfers to and from high schools — not elementary or middle schools.
Research shows a correlation between high mobility and poor academic achievement. A 2012 study by the Thomas B. Fordham Institute and Community Research Partners, for example, shows that third-graders in Columbus, Ohio, who changed schools once midyear had a 28 percent drop in reading proficiency rates compared to those who stayed at the same school. Passing rates were 37 percent lower for the group that moved three or more times.
So in 2008, the governing board at St. Louis schools began a program called "Option to Remain." It offered students who had moved the choice of finishing the year at their school by providing bus transportation to their new address, as long as it was within school district boundaries.
More than 1,000 students participated. The state covered $750,000 — or about 40 percent — of the cost. The district paid for the rest.
The following year, a school district study showed that students were performing slightly better on standardized tests than those who were uprooting midyear. The Special Administrative Board believed the program was worth the money.
But in 2010, the program stopped. State money dried up.
Last school year, nine elementary schools in St. Louis had mobility rates that exceeded 100 percent. That meant there were more transfers in and out of the school that year than the total enrollment.
At Cote Brilliante, the rate was 117 percent. The school had 110 transfers in, 84 transfers out. Enrollment was 166.
The number of transfers doesn't necessarily reflect individual students. Sometimes the same student will transfer multiple times. But at Cote Brilliante, that is the exception, Principal Karen Jones said.
Three weeks before the school year ended, Jones was enrolling three new kindergartners.
"It happens throughout the year, even in May," she said.
The Ville, once a thriving working class area of the city, is a deteriorating patchwork of vacant lots and abandoned homes, roughly between Martin Luther King Drive and Fairground Park.
Fifty years ago, there were enough children to fill the five school buildings that have closed in the area this past decade — Marshall Elementary, Simmons Elementary, Turner Middle, Turner Middle Branch and Williams Middle.
Students who walk to Cote Brilliante on Cora Avenue pass burned-out buildings and vacant homes that are caving in. More than 800 buildings in the neighborhood are scheduled for demolition, Alderman Samuel Moore of the Fourth Ward said. The neighborhood has 2,500 empty lots.
"It's Third World conditions," said Moore, who has lived in the Ville since 1956. "It's unacceptable."
But neighborhood conditions aren't apparent inside Cote Brilliante. Wooden floors shine. Classrooms are tidy. At the sixth-grade promotion, red and white streamers draped across one wall, with a sparkly 2013 beneath them.
Parents at the event described the school as a family.
Each time new students arrive, Jones ensures they're paired with a buddy. She makes it her priority to know as much about each student as possible.
"I know everybody's name," she said. "I know every child in this school."
It's why Stephanie Pork didn't transfer her daughter, Kaylon Scott, when the family moved to Dellwood two years ago.
Kaylon's grandmother also lives within the school's attendance boundaries. Pork would take Kaylon to her grandmother's home each morning before work. From there, the school bus would take Kaylon to Cote Brilliante.
Otherwise, Kaylon would be attending a school in the Riverview Gardens School District. And Nikiya would have been the only Cote Brilliante sixth-grader who could claim this week that she'd finished the same school she'd started.