JEFFERSON CITY — A drastic change to the state's public education system that would allow students to transfer to school districts where they don't live narrowly won final approval Wednesday in the Missouri House.
Final passage followed two days of debate that saw two dozen Republicans joining with Democrats to vote against the plan when it came up for initial approval Tuesday.
The measure, sponsored by Rep. Brad Pollitt, R-Sedalia, on Wednesday escaped the House with a slim majority — 85-69 — three more votes than constitutionally required to advance legislation to the Senate. Kansas City Democratic Rep. Mark Sharp voted present.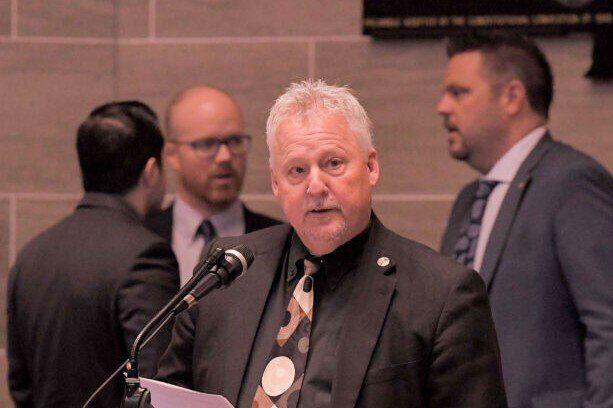 The legislation allows districts to limit the number of students transferring out to 3% of the district's previous year's enrollment. And districts wouldn't be required to accept students under the program.
The transfer program wouldn't begin until the 2024-2025 school year.
Opponents said the bill would leave certain school districts behind, but proponents said the program would encourage competition and force lagging districts to improve.
Pollitt asked, "Why should any school district in the state who is supported by taxpayer dollars be afraid to compete in their academic programs?"
Rep. David Tyson Smith, D-Columbia, said while some children would be placed in a better situation, he said, "we can open up sinkholes around the state where people are devastated."
Pollitt said state aid schools receive would transfer with the student to the nonresident school. But, local revenue sources would not travel with the student to the new district, he said.
"The local taxes stay local," Pollitt said. "If a district loses a student, any local property taxes … that all stays in the district where the parent lives. The only money that follows the student is the state money."
The legislation creates an $80 million "Parent Public School Choice Fund" to cover special education and transportation costs.
Rep. Sarah Unsicker, D-Shrewsbury, questioned whether it would be enough.
"Basically they'd be taking students at a loss," she said of receiving districts. "That would automatically put a cap on the number of students they can take. And if one of those children had extraordinary needs ... they would either reject that student or reject other students because of that child's needs."
"No, I wouldn't say that," Pollitt said. "That's the reason I'm asking for the $80 million in the parent fund to pay for transportation costs and pay for any additional special ed costs" in addition to what they receive from state formula aid.
"That doesn't seem like a lot for special education needs," Unsicker said.
Pollitt reiterated the program was voluntary and that districts don't have to accept any transfer students.
"I think they look at class sizes, and how many students they have in a class, and whether they can accomodate," he said.
Rep. Deb Lavender, D-Manchester, said the measure would pose special challenges in the St. Louis metropolitan area. St. Louis County alone has 22 separate school districts, including some of the state's richest and poorest, she said.
Lavender sought to contrast St. Louis County with Springfield Republican Rep. Bill Owen's account of the situation in his hometown.
He said Springfield had already implemented an open enrollment system that had been successful. Springfield Public Schools is the largest single school district in the state.
"If they're smart, they're going to say 'how do we compete?'" Owen said of St. Louis County districts. "That's really what we had to do, because (if not), there would've been movement."
Lavender said it is "wonderful" if a district has multiple high schools to choose from. "But that's not what St. Louis looks like," she said. "How we think these are the same, and (how) one policy fits everyone, is beyond my grasp."
Rep. Raychel Proudie, D-Ferguson, said the measure "disproportionately affects African American children" and "excludes individuals with disabilities."
"This bill is trash," she said. "It is absolute trash."
In regard to students with disabilities, Pollitt referenced a 2019 decision by the 7th U.S. Circuit Court of Appeals upholding a Wisconsin open enrollment law limiting transfer options for students with disabilities.
"They can reject a child if they don't have staff or a program already in place," Pollitt said.
The proposal now moves to the Senate for consideration, where similar legislation has died in 2021 and 2022.