The would-be freshmen already had overcome the odds by graduating and getting into college — something their parents had not achieved.
But roadblocks still exist.
Some are big ones, such as realizing that even with financial aid and scholarships they can't afford tuition after all.
Other problems are simple ones that may never cross the minds of students from higher-income families.
Some can't find a ride to get themselves to a campus outside of the area. Some lack the cash for a bus or train ticket, or access to a credit card to book a flight.
This is when the college dream disappears for so many high school graduates from families living in poverty.
Elbert Dogan is among them.
A week before he was supposed to move into his dorm at Tennessee State University, he reviewed his finances to make sure he was set. He wasn't.
"I realized I didn't have enough," he said. Even with financial aid, Elbert was short $6,000 a semester, he says.
Knowing his friends would be leaving soon, he avoided them.
"They were going to go to college," Elbert said. "That was supposed to be me, too. I felt left behind. Like maybe my life isn't going to go the way I want it to."
Talk to principals at high schools in high-poverty, urban districts and they will tell how every spring, seniors such as Elbert graduate with college acceptance secured. And every fall, a chunk of them don't actually make it there.
It could be a family crisis. A missed deadline to accept a scholarship or financial aid. Sometimes it's cold feet about heading far from home, to experience something no one close to them has tried. They have no one to ease their nerves about living with a roommate, finding books for classes or fitting in. No one to assure them it will all be OK.
A six-month check on the class of 2014 showed that about 27 percent of graduates from St. Louis Public Schools who had planned on attending college or other post-secondary education or training were no longer doing so, according to data gathered by the state department of education.
It rarely happens to students who are better off — who are not the first in their families to go to college. At Clayton High, where all 2014 graduates had an above-average ACT score, more than 97 percent were still in college or other post-secondary education well into their first semester.
Those are the kind of students who are now ZeCora Smith's classmates at Washington University.
While some of her classmates from Clyde C. Miller Career Academy won't make it to college, ZeCora always knew she would go. Her grandmother instilled in her the importance of education.
ZeCora was described as a "fierce" leader in high school. She was president of her senior class, prom queen, the producer of her own YouTube show. She graduated with honors.
Yet, when she envisioned herself in college, it was never at a place like Washington U.
That's where College Bound counselors came in. They changed her sight line.
The St. Louis program began nine years ago. Through an application process, it finds promising high school students who have financial need and who would be first-generation college-goers. Then, over several years, counselors provide them with special support to get there.
It started with two school districts and 36 students, and has grown to serve students in dozens of districts. There are 680 students in the "To and Through" program, split about evenly between those in high school and those in college. Outreach workshops provide college prep information to hundreds of high school freshmen.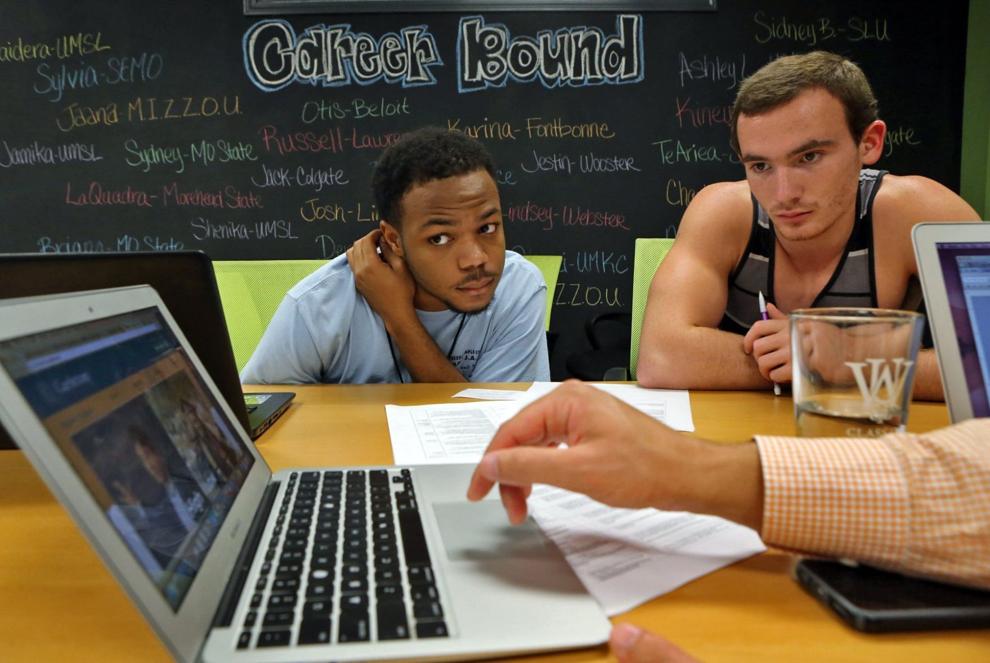 The program has seen 94 percent of its students go to college within six months of graduating from high school. Its first class had 54 percent of students graduate within six years with a four-year degree, leaders say. They anticipate a steady increase in the six-year graduation rate to about 65 percent.
Executive Director Scott Baier says the deep, caring relationships that grow over years give students more perspective when choosing a college, guiding them to best-fit choices based on their needs, tempering that with honesty and understanding.
"She deserved to be at an elite university," Baier said of ZeCora Smith. "The first thing we did for her as a sophomore was convince her of that."
The same went for Michael Watson, whose baseline score with College Bound on the ACT was a 17. The last time he took it, in October, he got a 24. He had his sights set on a campus with a large student population.
"I did start off closed-minded, not very open to things," Watson said. He later realized a small liberal arts college was a better fit. He secured one manageable loan, but the bulk of his expenses are covered through academic scholarships and grants at Kalamazoo College in Michigan, counselors said.
College Bound operates as a safety net for first-generation college-goers in St. Louis, one that stays with them year-round. It's not about just the logistics of applications, acceptance and paying for college. Counselors get to know a student during his or her high school career to help that student find the right place to be successful and earn a degree, the first step in overcoming generations of poverty. Counselors spend countless hours with each student over his or her high school career, doing more advising and coaching than is available in many urban high schools.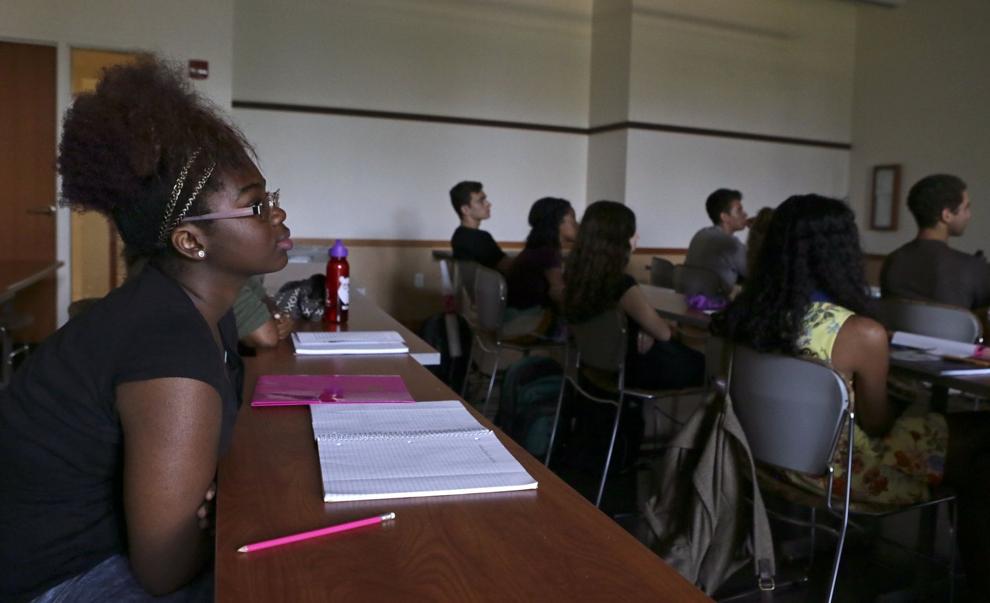 The National College Access Network has given kudos to College Bound not only for its "to-and-through" approach to college access and success, but also for its partnership in the drop-in college entrance help center run by St. Louis Graduates and others during the summer.
The center has counselors available to combat "summer melt," a term for what happens when students are accepted but do not make it to any college in the fall. Nationally, it happens to 10 percent to 20 percent of college-eligible students, according to the U.S. Department of Education, although some estimate it's closer to 40 percent.
When students leave for college, College Bound counselors stay connected with students in the program. In the last five years, that has been the trend among similar programs across the country — facilitating not only college access, but success in college, said Kim Cook, executive director for the National College Access Network. That's important for first-generation college students who don't have family members who experienced the transition and growing pains of college. For example, one low grade could send a student spiraling, feeling as if they don't belong at college.
"This is a whole network of people there to say, 'You do,' " Beck said. "They are that resource and cheerleading squad."
That support is especially crucial during the summer after high school ends, when they are transitioning to college. In recent weeks as students left for school, five who were enrolled in the College Bound program realized they didn't have a way to get to campus. After the students' efforts to find solutions were exhausted, counselors rented cars and drove the students, who had panicked and worried that their college careers were over before they started.
"We make sure they don't melt away," said Taylor Smith, who coached Michael in the program at College Bound. "We know how to problem solve."
But ZeCora and Michael are not out of the woods yet.
Students who grow up in poverty are so much closer to having one problem destroy the chance of success in college and the opportunities that follow, Baier said.
"We're that extra bear hug around a kid, there to protect — and also push," he said.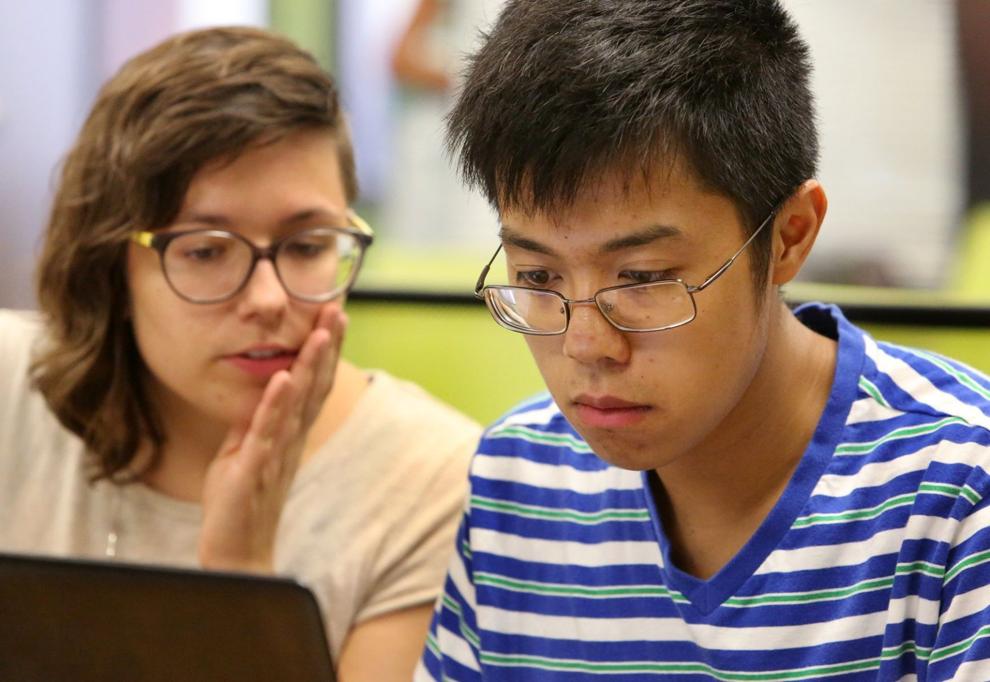 The struggles go beyond academic or social problems at college. Student who can afford to take unpaid internships to beef up their resumes to land their first jobs have an advantage over those who must work a low-wage, non-career-related position to help support their families back home.
Those from well-off families are eight times more likely than those in poverty to earn a bachelor's degree by age 24 — 77 percent vs. 9 percent, one study found.
And while the percentage of students from low-income families who graduate from college has barely increased in decades, degree-earners from the most affluent families have jumped to 77 percent in 2013 from 40 percent in 1970, according to an equity report released this year from the University of Pennsylvania and the Pell Institute for Study of Opportunity in Higher Education.
For ZeCora, the transition to Washington University has had its stresses.
"It's definitely different and takes some getting used to," she said. "I'm used to being a big fish in a little pond. Now, it's the opposite."
It started to hit her last week, her second week of college.
Instead of praise, peers deemed two of her pieces in an art class "less than successful."
And at times, she has felt invisible.
At Clyde C. Miller Career Academy, nearly all the students looked like her.
Most of the faces passing her at Washington University do not. Though the university has projected a big jump in the diversity of its freshman class this fall, black students still make up a small percentage, anticipated to be about 9 percent.
ZeCora acknowledges, even as she sits in class at one of the nation's most prestigious universities, that the thought of transferring has crossed her mind. Going to a place where she's more comfortable, somewhere she feels represented.
In her gut she wants to. But she won't, she says.
"Sometimes easy isn't the best," she said after conversations with her mother, her high school English teacher and her coach at College Bound. "You have to push through."
Her goal is to one day lead a nonprofit organization for underprivileged children to express themselves through art.
She also wants to be an example for her two younger brothers.
"You don't have to be just like everybody else," she said. "You can follow your dream."
As for Elbert, he says he isn't letting go of his college dream even if he didn't make it to Tennessee State this semester. He says he is trying to figure out financial aid and other scholarships to go to college in the spring semester. Meanwhile, he is looking at job options for the next few months.
He hadn't planned on being here in September.