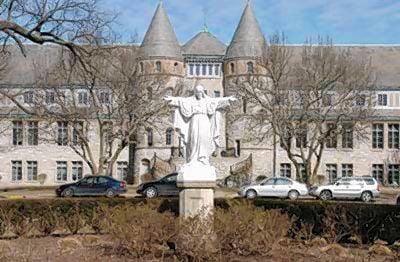 A Villa Duchesne high school student reported she received a note with a racial slur in her locker last week on the heels of Donald Trump's presidential inauguration.
The anonymous note, which included a partial use of the n-word, read: "hes (sic) president now bitch. you'll never be anything more than an a nigg… you know lol."
The student who received the note took a photo of it on her Snapchat account and wrote:
"You know what's sick? this is someone I walk the halls with everyday. someone violating me. belittling me. people wonder why I have a 'bitch' attitude at school. Bc every single day I hurt more and more. Thank u villa duchesne."
The school does not know who wrote the note or whether the author is a student, said Sapna Jos, the school's director of marketing and communications. The school is looking to identify the author. Jos said she couldn't discuss possible disciplinary action.
"Our hearts go out to the student who received this note and to all who saw its message and were hurt by it," Baber wrote. "Even as we acknowledge this pain, I ask us to pray for the unknown author. What must you have experienced to be so filled with hate?"
The school convened its students Monday morning to talk about the note. Jos said several members of the school community alerted the school to the note over the weekend.
Villa Duchesne is an independent, all-girls Catholic school in the affluent community of Frontenac. Part of the school's mission is to prepare students "for lives of faith in God, integrity, leadership and service to others," according to its website.