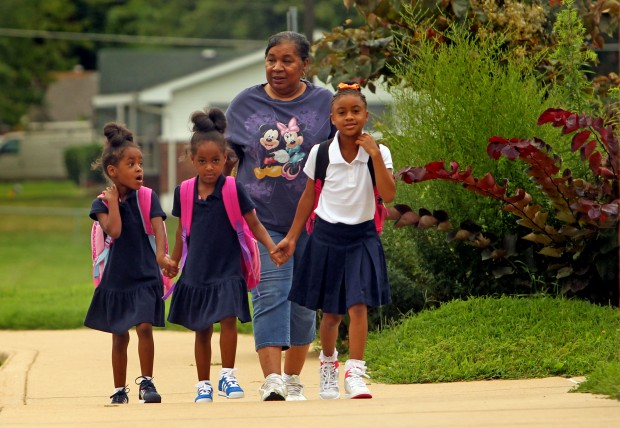 BELLEFONTAINE NEIGHBORS • Riverview Gardens School District officials outlined a series of proposed budget cuts Tuesday that would offset at least part of the $15 million in tuition and transportation costs associated with the school transfer program.
The proposed $2.8 million to $3 million in cuts avoid laying off teachers. Instead, the district would freeze 15 unfilled positions and not replace others who leave. The professional development budget would be slashed, the bus contract modified, and other savings found in areas of technology and facilities.
With those savings, the operating fund balance in this north St. Louis County district is projected to drop to $7.1 million by June 30, from $25 million, according to data presented to the district's Special Administrative Board. If transfer expenses remain the same in the 2014-15 school year, the district would be $7.1 million in the red.
"I don't know where we're at if we don't get assistance for 2014-15," said Enos Moss, finance director for Riverview Gardens. "We will be bankrupt."
Two months into the school year, officials in the unaccredited Riverview Gardens and Normandy school districts are working through the difficult choices of slashing their budgets in response to the financial drain presented by the transfer situation.
About 2,200 students in both districts have enrolled in higher performing school systems under a state Supreme Court ruling that upheld Missouri's school transfer law. It allows children in unaccredited districts to transfer to better performing ones at their home district's expense.
Today, teachers in Normandy are expected to learn details of staff reductions. Normandy Superintendent Ty McNichols is scheduled to present the reductions — including a possible school closure — to the district's school board Thursday night.
The Missouri Department of Elementary and Secondary Education is asking the Legislature for a $6.8 million supplementary budget request to help Normandy to remain solvent through the end of the school year.
The financial situation in Riverview Gardens is less dire, due to the district's larger fund balance that will enable its schools to finish the year. But nevertheless, Moss presented the Special Administrative Board with a grim picture.
A drop in property assessments has hit this district hard, with decreases of 18 percent to 24 percent, depending on the area. As a result, Riverview Gardens officials expected to spend $5.5 million more than the district brought in this year.
The transfer situation added to the district's financial headaches. The district paid more than $2 million in tuition and transportation expenses for August and September. Following a presentation on the district's academic goals in science, social studies, reading and math at each of its 12 schools, Moss said the amount the district has to spend educating is now $6,867 per student — a drop of about $1,400.
"That's difficult — if not impossible — for us to identify cuts to offset that drop," Moss said.
But Lynn Beckwith, president of the Special Administrative Board, said the cuts may not be enough to satisfy Missouri lawmakers. Attrition isn't the only way to cut staff, he told Moss.
"It may come to a point where active positions are cut also," he said.
Beckwith told Moss and Superintendent Scott Spurgeon that they should not expect the Legislature to alter the school transfer statute to halt the process, partly because the law does not directly impact rural parts of the state at this point.